Presented By
What to Do on Your Trip to Dominica, the Caribbean's Wildest Island
This untamed jungle island is building with an eye for sustainable luxury.
Presented By
Steps leading to Layou River in Dominica

| David Madison/DigitalVision/Getty Images
A rigorous hike at Boiling Lake is rewarded with a soak in sulphuric hot springs

| David Madison / Getty Images
Note: The US State Department has issued a Level 3 travel advisory to reconsider travel to Dominica. For more information about travel advisories and protocols currently in place in Dominica, click here. For now, use this guide as inspiration to satisfy your wanderlust safely from home.
Rivers made for rafting and tubing adventures, hinterland hiking trails to a Boiling Lake, a snorkeling reef that effervesces with volcanic vents, and a pod of resident sperm whales are just a few reasons why you should probably ditch your normal life for a trip to Dominica.
This tiny but mighty island lies between Guadeloupe and Martinique in the Eastern Caribbean -- but you won't find crowded beaches or overpriced fruity cocktails here. Dominica is all about total immersion into raw, rugged nature. Its tropical rainforest terrain features an absurd number of waterfalls, and just as many opportunities to lose yourself (in a good way) in its unspoiled beauty.
After Hurricane Maria devastated the island in 2017, Dominica has rebuilt with a focus on sustainability and luxury eco-properties, hoping to revamp its sluggish tourism. Home to the island's first wind turbine, Rosalie Bay Eco Resort reopens this February 2020. Made entirely of sustainably sourced Guyanese hardwood, the boutique Secret Bay property reopened late 2018. And 2019's biggest opening was right next to Cabrits National Park, where the 151-room Cabrits Resort & Spa Kempinski Dominica (with solar panels and a grey water system) debuted as Dominica's first true five-star hotel.
More new luxury properties are on the horizon, including the Anichi Resort & Spa from Marriott in 2020. Now's the time to visit Dominica before the rest of the world shows up -- which is why we've named it one of our 20 Places We're Dreaming About in 2020. Here are some of the best things to do while you're there.
Know before you go
Dominica's dry season runs between February and April and brings the most pleasant weather. This also happens to coincide with one of the most original carnival celebrations in the Caribbean, Mas Domnik, when an explosion of French and Caribbean traditions, music, and dancing take over the streets of Dominica's capital, Roseau.
Traveling may be on pause, but that doesn't mean your dreaming and planning has to be. With The Marriott Bonvoy Boundless™ Card, earn 6X Points at 7,000+ hotels participating in Marriott Bonvoy™ and 2X Points on all other purchases, including future flights. For the journey ahead, carry a card that's here for you now.
Day 1: Getting to Dominica
For being one of the least developed islands in the Caribbean, Dominica is relatively easy to access. Flights come in from points around the Caribbean, including St. Maarten, Guadeloupe, Martinique, Barbados, St. Lucia, and Antigua. Silver Airways flies from San Juan, Puerto Rico, to the island several times a week. Most flights land in the later afternoon, so spend your first night settling into your hotel and acclimating to the tropics.
If you arrive on one of the few morning flights, head into Roseau to check out town and grab lunch at the The Great Old House, with delicious island dishes that might include octopus ceviche or curry goat. Or, hop on an afternoon whale watching tour to spot resident pods of sperm whales, maybe even passing humpbacks and dolphins. Whale sightings are most common between November and March, but the cetaceans can be seen year-round in clear waters around the island.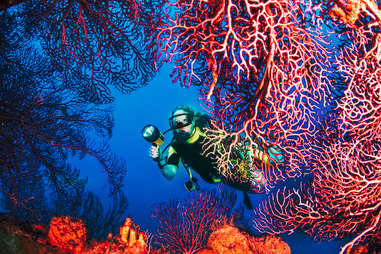 Day 2: Dive Dominica's incredible reefs
Cruise out from the docks in Roseau with Creole Divers Dominica for a snorkeling or diving trip. The captain schedules trips to Champagne Reef where you'll snorkel above volcanic vents that send curtains of bubbles to the surface.
Divers won't want to miss sites like L'Abime (The Abyss), a plunging wall with gorgonian fans, black corals, and yellow tube sponges that bristles with eels, lobster, and all manner of tropical fish. Another excellent diving operator to consider is Nature Island Dive, which works with Jungle Bay in Soufrière.
MORE:The best places around the world to scuba dive
Day 3: Head inland to chase waterfalls
Rent a car or hire a driver for a drive inland through the Roseau Valley, an extra-lush area reached by steep, winding roads that sees more than 400 inches of rain a year. A stop at Freshwater Lake -- often enshrouded in mist at an altitude of 2,500 feet and at the center of an old volcano -- is a must. Caldera Cafe, at the tiny visitor center, can give you a taste of the local bush rums (strong tipples infused with locally grown bits like ginger and guava) and offers tasty meat pies and plantain patties, too.
Your next stop might be Trafalgar Falls, where a 10-minute walk (look for shy agoutis along the path!) brings you to plunging 200-foot twin waterfalls. Wear your suit, because you can find little pools at the base to dip into. Next, stop at the nearby Titou Gorge, where you can swim through a narrow gorge to a waterfall at the end (a scene from Pirates of the Caribbean was filmed here).
Day 4: Time for a hike
Dominica is a hiker's paradise. If there's one jaunt you shouldn't miss, it's the hike from Laudat to the flooded fumarole at the Boiling Lake -- the second-largest boiling lake on the planet, at over 200 feet wide. Be warned, this is one of the island's most demanding trails -- count on it taking three to four hours, each way. Hiring a guide to join you isn't mandatory, but is recommended for getting the most out of the experience and learning fun facts about the unique volcanic terrain along the way. The bubbling depths themselves are usually cloaked with vapor, but on a clear day you can see all the way to the neighboring island of Martinique on the horizon.
Reward your muscles afterward with a soak in the sulphuric hot springs in the tiny village of Wotten Waven, a short drive south, where the simple restaurant at Le Petit Paradis can cure whatever else ails you with their locally famous homemade rum punch.
Day 5: Embark on a river adventure
In a wetland area on the north side of the island, the Indian River is Dominica's widest, and a gorgeous place to head out on a rowboat safari with Cobra Tours through flowering foliage to spot egrets, herons, crabs, and more. Your guide will no doubt stop upriver at the Indian River Bush Bar, where you can try the signature "Dynamite" drink, a potent rum concoction made with the juices of limes, guinep, passionfruit, and gooseberry, then spiced with island cinnamon. For sunset, make your way to Red Rocks, an unusual volcanic formation along the northeast coast that looks especially beautiful in the morning and evening light.
MORE:More tips on hiking trails, waterfalls, and what it's like to visit Dominica
MEET THE WRITER
A freelance travel writer since 2001 when she quit her desk job in Florida to travel the world and live in Australia and New Zealand, Terry Ward has written for such publications as The Los Angeles Times Magazine, Conde Nast Traveler, and Scuba Diving Magazine.
When was the last time you were in Dominica?
I've been dying to get to Dominica for years (I got as close as Guadeloupe once), and finally made it there in November, 2019. For years, I've heard about how gorgeous the island's reefs and diving are. I went diving my first day and it lived up to all expectations -- pristine, brilliant, and brimming with fish life!
What's the most memorable thing about Dominica that sticks out in your mind?
I really enjoyed chatting with my taxi driver on the way to Roseau one day. He told me about his days working at Cabrits National Park as a park ranger and shared his memories of weathering Hurricane Maria with his family. He told me the one Caribbean island that's still on his bucket list (he'd been to several) was Jamaica, which I thought was interesting, since I saw some similarities between the two islands (they're both quite wild with nature) during my trip.
Number one can't-miss recommendation for a visitor?
Don't miss getting out on the water here to marvel at the mountainous shoreline from that special angle or do some whale watching. You'll get great island views even on the short trip from Roseau to Champagne Reef.
Next big trip you have planned in 2020?
I'm going to Vista Verde Ranch in Colorado for some snowy fun in January and planning a month in Galicia, Spain, with my family in May.