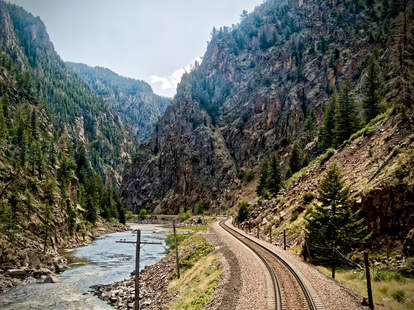 Epic Cross-Country Train Rides Trump Wants to Shut Down
Since the "Trump train" glided into the White House, major changes to public transportation haven't exactly dominated the news -- which makes sense when you've got issues like health care and national security to contend with. It's still a bummer, though, because there's a chance that traveling through some truly great parts of America is about to become a whole lot harder.
According to reports, the president's new budget will completely eliminate funding to Amtrak's long-distance train rides, leaving Americans to choose between expensive flights and tedious bus routes that can add literal days to travel time. As of 2016, long-distance routes accounted for 4.6 million of Amtrak's ridership, and offer the only service to 23 of the 46 states served.
Only time will tell if these beloved train routes get the ax, but until then, here are the most beautiful and iconic journeys to experience before it's too late.
Amtrak Coast Starlight

| Courtesy of Amtrak
Route: Los Angeles -- Seattle
Distance: 1,377 miles
Length: 35 hours
Price per ticket: $121 one-way, reserved coach
The Coast Starlight runs a daily service from Los Angeles to Seattle that covers some of the most stunning territory in the good ole US of A. It's undoubtedly one of the greatest ways to explore the West Coast (and way less effort than driving up the PCH yourself). On this route, riders can soak up sun in SoCal, come face-to-face with Steinbeck's Salinas, and eat hipster donuts in Portland. And while the city stops might be a plus, the real treasure comes from the natural landscapes that pass beyond the window: miles and miles of rugged Pacific coastline, the peaks of Mount Shasta, and the billowing Cascade Range in the Pacific Northwest.
Bonus: The Coast Starlight is part of the Trails & Rails program, a partnership between the National Parks Service and Amtrak that was designed "to foster an appreciation of selected region's natural and cultural heritage." Passengers on this route can learn more about the Juan Bautista de Anza National Historic Trail between San Luis Obispo and Oakland, as well as the Klondike Gold Rush National Historical Park between Seattle and Portland.
Amtrak California Zeyphyr

| Flickr/hobnogs
Route: Chicago -- San Francisco (Emeryville)
Distance: 2,438 miles
Length: 51 hours 20 minutes
Price per ticket: $170 one-way, reserved coach
One of the most rugged train routes in the US, it's hard to imagine that the original pioneers once made this same trek in covered wagons. This daily train from Chicago covers the flatlands of Nebraska across the Rocky Mountains, Utah, the Sierras, and finally San Francisco Bay. This ride might not exactly be the Oregon Trail, but it's worth considering an upgrade to a sleeper cabin for the two-day journey.
Bonus: To have a real "sea to shining sea" moment, combine the California Zephyr with the Lake Shore Limited line to travel from New York City to San Francisco for as little as $213.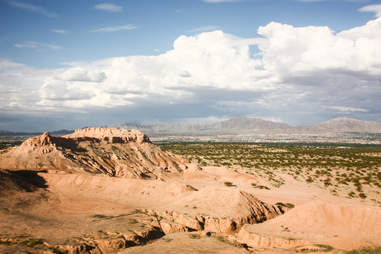 Amtrak Sunset LImited

| Flickr/Michael Zhou
Route: New Orleans -- San Antonio -- Los Angeles
Distance: 1,995 miles
Length: 48 hours
Price per ticket: $136 one-way, reserved coach
From the swamps of Louisiana to the deserts of the Southwest, this is the course to take for sweeping sunsets and saguaro cacti. The Sunset Limited departs from NOLA three times weekly and is the ideal gateway to Texas' Big Bend National Park. It continues along the Mexican border, past the luxurious spas of Arizona, and into the glitz and glamour of Hollywood. To truly experience the changing landscapes of this nearly 2,000-mile route, head into the Sightseer Lounge Car, grab a beer from the bar, and watch the world fly past the car's floor-to-ceiling windows.
Bonus: In Los Angeles, connect to the Pacific Surfliner and head south to San Diego, where you should have a go at the country's best craft beer scene and take a trip down to Tijuana before some newfangled wall makes it too difficult.
Amtrak Crescent

| Courtesy of Amtrak
Route: New York -- Atlanta -- New Orleans
Distance: 1,377 miles
Length: 30 hours
Price per ticket: $130 one-way, reserved coach
The Crescent serves as a bridge connecting two of America's most iconic cities. Starting in the Big Apple, it snakes its way past big-time historic landmarks like the Statue of Liberty, Independence Hall, and Thomas Jefferson's Monticello before descending into the South. In Atlanta, visit the home of Dr. Martin Luther King Jr. and grab a chili dog at The Varsity. Then use the rest of the trip to study up on our DestiNATION New Orleans travel guide; it's packed with tips from locals on how to have a kick-ass weekend in the Big Easy.
Bonus: Learn more about the life and times of MLK and the Civil Rights Movement with a Trails & Rails program from Atlanta to NOLA operated by the Martin Luther King Jr. National Historic Site.
Amtrak Empire Builder

| Flickr/Patrick Rasenberg
Route: Chicago -- St. Paul/Minneapolis -- Spokane -- Portland/Seattle
Distance: 2,257 miles (Chicago -- Seattle)
Length: 46 hours
Price per ticket: $181 one-way, reserved coach
Following in the footsteps of Lewis and Clark, the Empire Builder gives you a hearty dose of that American frontier spirit. It heads out from Chicago and traverses the majestic landscape of America's Northwest, from the Big Sky Country of Montana to the formidable Glacier National Park. Get a little luxurious and opt for a Superliner bedroom suite that easily fits four adults and comes with not one, but two private bathrooms.
Bonus: The Empire Builder has a handful of Trails & Rails programs that operate on various schedules. Check the schedule to find the offerings that include lessons on Klondike Gold Rush National Historic Park, Bear Paw Battlefield, and the Knife River Indian Villages, among others.
Amtrak Texas Eagle

| Courtesy of Amtrak
Route: Chicago -- San Antonio
Distance: 1,306 miles
Length: 32 hours, 25 minutes
Price per ticket: $110 one-way, reserved coach
Anyone that's ever driven through Texas will probably agree that kicking back in an observation car is a far less grueling method of crossing the beastly Lone Star State. Journey over the Mississippi and across the Ozark Mountains before hitting Dallas, Austin, and settling into San Antonio. Hop off the train and head straight into the Alamo City to experience the vibrant culture of a city heavily infused with Latin culture and genuine Texas twang.
Bonus: Three times weekly, riders can continue on to Los Angeles via the Sunset Limited train line.  
Sign up here for our daily Thrillist email, and get your fix of the best in food/drink/fun.
Tanner Saunders is an editorial production assistant at Thrillist who wishes his MetroCard got him to New Orleans.