This coffee shop looks like a giant camera
If you've ever been enjoying a delicious cappuccino and thought to yourself, "The only thing that could possibly make this already delicious cappuccino taste even better is if I was drinking it inside a giant 30-foot-tall camera(!!)", well, put down that delicious cappuccino, 'cause we've got something to show you: the Dreamy Camera café in Yangpyeong, South Korea.

Definitely not one of Starbucks' six weirdest locations, this two-story, camera house was designed and built by husband and wife Park Sung-hwan and Kwak Myung-hee, both retired army helicopter pilots turned photography enthusiasts/camera collectors. It took six years to complete.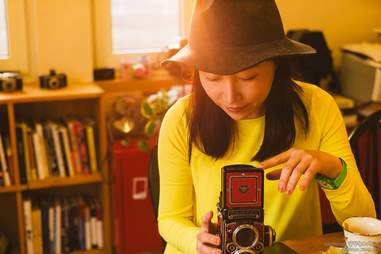 While the couple originally wanted to build a giant Leica Rangefinder, the design proved too difficult to pull off. They settled on a classic Rolleiflex twin-lens camera. Also, this is not the wife -- it's a "beautiful guest looking at the Rolleiflex camera" while enjoying a coffee. Just so you know.
The photography theme doesn't begin/end at the front door, though -- the inside of the café's plastered with polaroids of guests, features a collection of classic cameras, and serves a menu displayed inside photo albums, among other subtle touches.

<br />
Located 40 miles outside of Seoul, Dreamy Cafe is accessible by subway and train. It takes about 90 minutes to two hours to get there, but if you can't make the trip, you can go inside right here.
Sophie-Claire Hoeller is Thrillist's über-efficient German associate travel editor, who's had frequent flyer status since her mother gave birth to her in a Lufthansa terminal. Follow her @Sohostyle