Drink Scotch. Fly Falcons. And Everything Else to Do in Scotland's Speyside Region.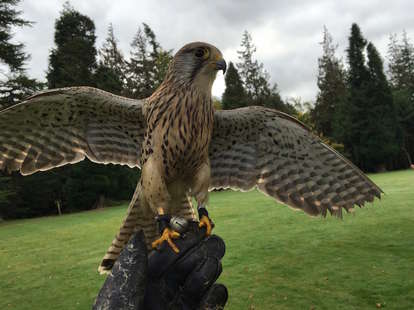 The Scotch-producing island of Islay gets a lot of attention from devoted whisky drinkers because of its peaty reputation. Chest-thumping loyalists -- many of whom can't even pronounce the place -- make a beeline for it when their planes touch down in Edinburgh.
And sure, you'll obviously want to visit Islay at some point, but consider heading in the opposite direction first -- to Speyside. Not only does this equally Scotch-soaked region look like the set of Braveheart, but it's actually (much to many people's surprise) home to the greatest concentration of malt whisky producers in the country, with over FIFTY distilleries. Also, there are falcons. That you can train. As well as all of these other activities that you should absolutely do while you're there.
Hit the Malt Whisky Trail & Speyside distilleries HARD
Multiple locations
This is why you came to Scotland after all, right? The Malt Whisky Trail hits all of the relevant highlights, including Glen Moray, The Glenlivet, Glenfiddich, and Cardhu. Other can't misses include Ballindalloch (ummm, it's in a castle), The Balvanie, and The Macallan -- but only if you catch them before they shut down for a mega bucks renovation that'll transform the distillery from historic to cutting edge. Let companies like Speyside Whisky Tours take the driving off your hands and help you to plan your attack.
Take the Explorers Tour at Glenfiddich
Dufftown
If you're going to pick one distillery for a full-blown tour, however, make it Glenfiddich. After watching a brief (not at all terrible) video, you'll wind your way through every facet of the distilling process -- each room smacking you across the face with new aromas -- before ending the tour with some heavy dram sampling.
The independently owned distillery hasn't changed any part of the distilling process since whisky first flowed through its stills in 1887. A high point is seeing master blender David Stewart's brainchild: the solera system used to produce the 15yr vintage. If you're totally hard core, and the 90min "Explorer's Tour" isn't cutting it, there's also a half-day experience dubbed the Pioneer's Tour for the ultimate Glenfiddich groupie.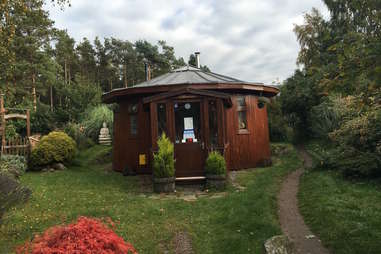 Figure out how to bring one of these cool whisky houses home
Moray
Remember those fermentation wash backs you spotted on your Glenfiddich Distillery tour? Well, people living in the hippy dippy Findhorn Ecovillage have turned them into houses. Once Glenfiddich decides to replace the wash backs, it ships the retired ones 28 miles north to this crunchy, sustainable living community. Wind your way through various hobbit houses until you find the clump of barrel houses. If want to unplug, consider staying in Findhorn as a short-term guest.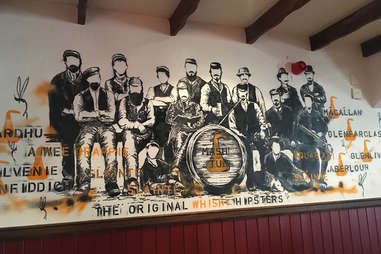 Visit the original whisky hipsters
Aberlour
The mural inside the Mash Tun in Aberlour screams out for selfies, so hopefully you brought your stick. "The original whisky hipsters" is scrolled across the bottom and serves as a reminder of Speyside's prominent distilling past. Don't leave without eating a true Scottish masterpiece: a large field mushroom stuffed with haggis, chorizo, and Drambuie topped with fresh mozzarella. Of course, wash it down with some whisky from the Glenfarclas Family Cask Collection -- they have one bottle from each consecutive year from 1952 to 1999.
Get a grip on a 4,000-year-old sport
Cairnie
Speaking of hipsters, don't let them in on the secret that is falconry, lest they start setting up falconry centers in the middle of Bed-Stuy and naming birds after rare strains of hops. No, the "sport of kings" that blew up in popularity as recently as the Middle Ages involves man and birds of prey finding food (usually rabbits) together. And while you won't actually hunt rabbits, you can take a range of falcons, owls, and eagles for a little training run at the Huntly Falconry Centre, gifting your Instagram pics for ages. The Centre is open April through October and a session costs $99 per person.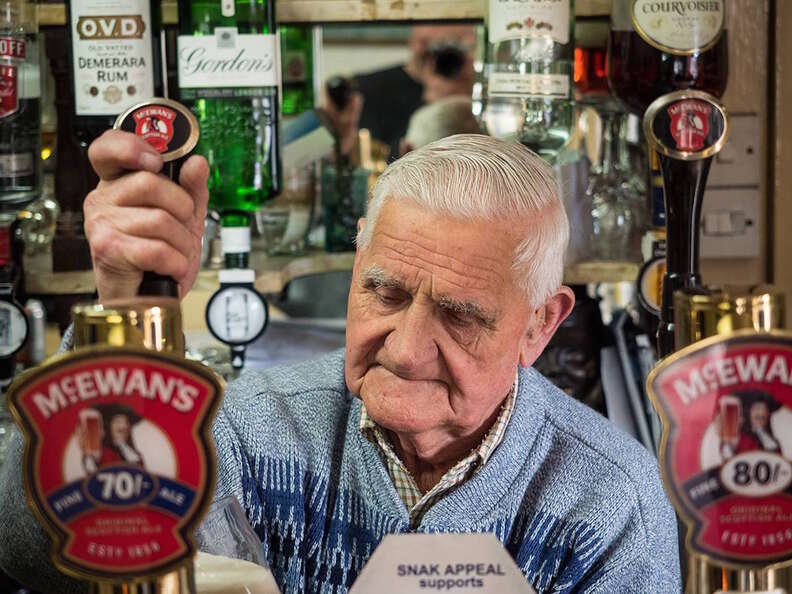 Grab a drink at the Fiddichside Inn
Aberlour
… just don't be a jerk and ask the lone bartender, Joe Brandie, for a dram from a bottle off the top shelf -- he is an octogenarian, after all. Manning the stick at this blink-and-you'll-miss-it pub for 50 years (even though he hasn't had a drink himself in 15), Old Joe diligently puts peanuts and the precisely correct beer in front of the workers who stumble in after every shift. But beware, it may take a moment for him to warm up to non-Gaelic visitors. It's worth it though, because Joe's stories can help you plan the rest of your trip. Find The Fiddichside Inn in Craigellachie.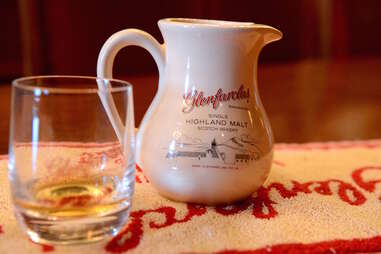 Try a terrific whisky portfolio inside a ship... sort of
Ballindalloch
The tasting room (and the bar) at Glenfarclas is made from the wooden walls of the RMS Empress, a storied Australian ship that launched in 1919, helped with rescue efforts after the great Kanto (Japan) earthquake of 1923, and was torpedoed during WWII. Yes, why not enjoy a little nautical history with that special 30-year-old Scotch?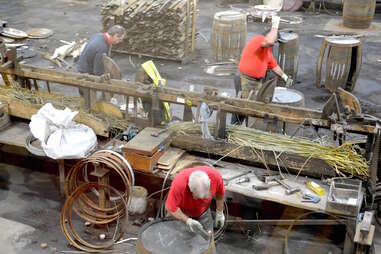 Tip your hat to the unsung whisky heroes
Craigellachie
Distillers get all the props -- some even celebrity status. But coopers are the salt of the earth and deserve some love too. Without them, the Scotch couldn't mature. Coopers at the Speyside Cooperage still use traditional methods to repair 100,000 oak casks a year. (A cask can last up to 60 years and usually goes back for several repairs over the course of its life, in case you were wondering.) From the second-floor gallery, you can watch the coopers and their apprentices hard at work; just pay attention to the Hungarian with a Santa Claus figure -- he's the Cooperage's first foreign employee. He rode his motorcycle from Hungary to Scotland to beg for the job, and now is the star of the show.
Drink deceased drams in a Scotch institution
Craigellachie
You could pretty much sing 700 bottles of Scotch on the wall at The Quaich (tucked inside the 122-year-old Craigellachie Hotel), since there's a good chance you've never seen this many single-malts in one place in your life. But before you go all crazy ordering a dram of whatever seems like the most fun to pronounce, check out a very special page at the end of the bible (errr menu). "Another one bites the dust…" it begins before going on to list all the whiskies they pour from since-shuttered distilleries. Before you taste a little history, though, hit the downstairs pub, The Copper Dog, for some dinner.
Stock up at a Spirited Shop
Dufftown
Now, take everything you learned from you Scotch exploration and put it to good use stocking up on your favorite bottles at The Whisky Shop in Dufftown. The store's near museum quality collection; try-it-before-you-buy it attitude; and ease of shipping to the US put it at the top of the list. And passionate store manager Vicky Keough (who goes by the nickname, Lady of the Drams) will make sure you leave with exactly what you came in for.
Sign up here for our daily Thrillist email, and get your fix of the best in food/drink/fun.
Laura Hayes is a DC-based dining writer and photographer covering all things edible. When the Syracuse broadcast journalism grad isn't stacking burgers on burgers in her stomach, Laura is crushing some CrossFit. Follow her@BTMenu.