Presented By
How to Crush a Weeklong Trip to Dubai, the City of the Future
In the world's most global city, get a glimpse of what the future has in store.
Presented By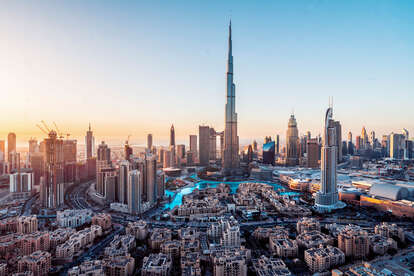 Note: The US State Department has issued a Level 3 travel advisory to reconsider travel to the United Arab Emirates. For more information about travel restrictions in Dubai, click here. Expo 2020 has been postponed for one year until October 2021. For now, use this guide as inspiration to satisfy your wanderlust safely from home.
Dubai is THE city of the future, a mega-sized metropolis glimmering with sky-high architectural feats, driverless trains, and dizzying light shows. Flights from New York's JFK airport take about 13 hours (even longer if you're flying from the West Coast, although Middle Eastern airlines are quite cushy as far as air travel goes) and run upward of $700 round trip, probably putting Dubai squarely in the "someday" section of your bucket list. But there are some pretty compelling reasons why someday should be now.
This October, Expo 2020 will unveil the latest technologies from around the globe in an urban paradise crafted from Dubai's incredible $8.7 billion investment. The Museum of the Future will also open; one of the world's grandest architectural spectacles. Shaped like the eye of a sewing needle, the structure was designed by an algorithm, and is the first building ever made using 3D printing technology.
That's why we've named Dubai one of our 20 Places We're Dreaming About in 2020. Besides checking out Expo 2020, we've laid out a nifty recommended itinerary, complete with things to do, day trips to take, places to stay, and, perhaps most importantly, tips for saving a few bucks.
Day 1: Experience the "world's largest mall"
After that long transatlantic haul, driving from the airport is the easiest, quickest way to get into the city. There are taxis parked outside the arrivals area, or you can order an Uber. It only takes about 20 minutes on the highway to Downtown Dubai, traffic pending. Public transport takes quite a bit longer, and also probably includes walking and changing metro lines or to a bus (with enough luggage and the desert sun, that may be a hard pass). For an idea, the metro goes directly to the Burj Khalifa/Dubai Mall station from the airport in about 45 minutes.
Check in, chill out, and ease into Dubai with some retail therapy (read: air-conditioning). Dubai Mall, the world's largest mall in terms of total area, is where you'll find brand-names from literally everywhere. It's the closest thing to a United Nations of shopping and snacking, with a massive food court and countless restaurants spread throughout. Yup, there's even Cheesecake Factory, Shake Shack, and the Filipino fast-food chain Jollibee. Plus, what other mall do you know that's open to midnight?
More mega-malls to get lost in: Mall of the Emirates, Ibn Battuta (the world's largest themed mall with architecture inspired by Tunisia, China, and onwards), and Dubai Outlet Mall.
Day 2: See the sights of Downtown Dubai
Dubai Mall is connected to the entrance up to the observation deck of the world's tallest building, the Burj Khalifa. By now, you've already seen it -- that pointy tower piercing the sky at twice the size of the Empire State Building. Can't miss it! Make sure to buy tickets online, they sell out fast. Tour companies often bundle the Burj Khalifa with other attractions and activities in various tour packages, which is usually the best value.
Post vertigo recovery, catch a free performance at Dubai Fountain, the world's largest dancing fountain, putting the Bellagio's to shame. It splashes and shoots water synchronized to tunes by Michael Jackson, Andrea Bocelli, Edith Piaf, and so on (daily show times are here). Across the water, you'll also be able to see the spaceship-like Dubai Opera House, the world's most high-tech theater.
Traveling may be on pause, but that doesn't mean your dreaming and planning has to be. With The Marriott Bonvoy Boundless™ Card, earn 6X Points at 7,000+ hotels participating in Marriott Bonvoy™ and 2X Points on all other purchases, including future flights. For the journey ahead, carry a card that's here for you now.
Day 3: Be a beach bum
Take advantage of the mild morning air with a stroll around Dubai Marina. Inspired by False Creek in Vancouver, the artificial canal's Marina Walk has awesome skyscraper views with plenty of cafés and shops along the way. Beyond the luxury yachts, watch out for impressive buildings like the 75-story Sulafa Tower and Cayan Tower, the world's tallest structure twisting in a 90-degree spiral.

But don't forget, you're still in the desert and thou shan't leave without a little vitamin D. Coastal Dubai's got plenty of sandy stretches to choose from. Marina Beach is the convenient, obvious choice here, but there are also several beaches on Palm Jumeirah, a large man-made island shaped like a palm tree off the coast. It's part of an artificial archipelago made by dredging sand using GPS precision technology. Crazy, right?

A little bit farther away is Jumeirah Beach, Dubai's longest public beach, with its happening boulevard; and Umm Suqeim Beach, a much quieter stretch where sundowns sketch around the breathtaking Burj al Arab. Shaped like a traditional dhow sailboat, the glittery structure sits on an artificial island out to sea. Alternatively, you could also join the DJs and model beach bods at Drift Beach Club.

Dubai's beaches also have plentiful opportunities for water sports, including the latest in water sports technology, hydroflying. Water pressure from jet boots or a jet pack launch you into the air faster than you can say "Elon Musk." Just don't give in to the self-loathing of ungraceful, convulsive crash-landings.
Day 4: Explore Old Dubai
Now go back in time: Head out to Bur Dubai, the heart of Old Dubai. There's so much to discover here, but a good first stop is the Al Fahidi Historic District.

At the Sheikh Mohammed Centre for Cultural Understanding, you can take part in a range of activities -- walking tours, traditional Bedouin-style meals, and guided mosque visits. Book in advance on the website.

Next, at the Dubai Museum, dive a little deeper into Dubai's turbo-transformation from a pearling village to a futurist's dream. The exhibits start at the Al Fahidi Fort, Dubai's oldest building, and features archeological finds, boat replicas, and more.

Afterward, wander the narrow lanes of Al Fahidi Historic District and happen upon all the great little food spots and boutiques in heritage buildings. Some of our favorites: the MAKE Art Café, XVA Café (a nice courtyard venue), and the Alserkal Cultural Foundation.

When the sun disappears, the hustle ramps up in Old Dubai, and it's the right time to check out the traditional markets known as souks. Jump on an abra (a wooden boat) crossing Dubai Creek to the Deira Old Souk station. In the chaotic Deira neighborhood, discover the Gold Souk and Spice Souk, which have both existed since Dubai's humble beginnings. Gander at glittery things and buy handicrafts, spices, and souvenirs all while getting buzzed on burning incense and second-hand shisha smoke.
Day 5: Food tour on the Dubai Water Canal
A good meal is always around the corner here, but to learn about the people and cultures behind the kitchens, Frying Pan Adventures is a great tip. The company offers a range of food tours for polishing off Arabic, Indian, and Persian cuisine, with some souk- and abra-hopping mixed in too. Tours are priced at around $100 for 4.5 hours and they're widely known as the best.
In the evening, there's time to go to the Dubai Water Canal. While so much of Dubai prizes style over functionality, the artificial channel is actually crucial to Dubai's transport scheme, lessening road traffic and funneling crowds. It's handsome, too -- especially at night. Check out the huge waterfall, illuminated by solar-powered lights, which disappears thanks to motion sensors when boats approach. You can see it on a dhow cruise or from one of the pedestrian bridges.
Day 6: Desert adventure
The desert is at your doorstep. Time to get on the dunes. There are a lot of options to get your heart valves pumping with adventure sports like riding four-wheel-drive jeeps, quad bikes, or sandboarding. Alpha Tours offers a range of cool activities at fair prices.

Sand wedgies not your thing? What about IMG Worlds of Adventure, the world's largest indoor theme park with Marvel and Cartoon Network rides, about a 20-minute drive from Downtown?

Naturally, you may need to a few drinks to settle the adrenaline comedown. Alcohol is taxed for an arm and a leg (like $8 for a beer), but if you're dead-set on toasting, try Buddha Bar or Long's Bar -- or for a splurge, sunset cocktails at Skyview in the Burj Al Arab.
Day 7: Day-tripping to Sharjah or Abu Dhabi
You've come all this way to the United Arab Emirates, so why not see, well, another emirate? Abu Dhabi and Sharjah are both swiftly accessible from Dubai thanks to big, new highways and some of the world's highest speed limits. Confident drivers might be comfortable renting a car; otherwise, a one-way bus ticket costs under $10 (comfortable, but takes longer) and taxis are about $50-$80 (traffic jams notwithstanding, of course).
Abu Dhabi is an hour's drive away, and worth the trip to visit the Louvre Abu Dhabi (yes, the petit ami of the Louvre in Paris) and grand Islamic architecture. The emirate prides itself on being more artsy and cultured than its neighbor, but there are a couple of rivalrous super-sized attractions here too, like an F1 circuit and the Ferrari World and Warner Bros World theme parks.
Just a half-hour's drive in the opposite direction from Dubai is Sharjah. Like Old Dubai, Sharjah is known for heritage buildings and art (so if you liked that, you'll love it here, too). Standout sightseeing includes the Sharjah Art Museum, Mleiha Archaeological Site, and the Museum of Islamic Civilization. Be aware that Islamic law here is much more hardline than in Dubai -- avoid hassle by dressing conservatively and forgoing public displays of affection.
MEET THE WRITER
Barbara Woolsey is a Canadian journalist and guidebook author whose travels have spanned over 50 countries and five continents by plane, train, and motorbike. Born and raised on the prairies to a Filipino mother and Irish-Scottish father, her multicultural upbringing has fueled a life's passion for storytelling across cultures and borders. Barbara's career started in Bangkok working for Thailand's largest English-language newspaper, then traveling Asia as a TV host. Now based in Berlin, she writes guides for Lonely Planet and Fodor's, and contributes to Thrillist as well as other publications such as Reuters and The Guardian. Find out more via her Facebook and Instagram.
When was the last time you were in Dubai?
My first visit to Dubai was last year with my good friend and mentor Andrea Schulte-Peevers, who has authored Lonely Planet's Dubai guidebook for several years now. She already had me at "world's tallest building," but researching the cycles of the city's evolution, I knew I had to go. I'm hoping to attend World Expo next year.
What was the most surprising thing about Dubai you didn't expect?
Despite being drawn in by all the newfangled mumbo-jumbo, I fell hard for Old Dubai. The DNA of modern Dubai is all about showing off, and Old Dubai's souks and little streets are the polar opposite. For me, that contrast is a large part of Dubai's appeal.

What's your favorite memory from your trip?
On my final night in Dubai, I stayed at the Palazzo Versace working on an article for a luxury hotels magazine. It was a hallucination of opulence. Marble columns, elaborate chandeliers, Medusa heads, loud baroque prints, and beautiful Russians everywhere you look -- just a taste of how the high-flyers roll here and how insane the hotels here are.

What's the number one can't-miss thing you'd recommend doing in Dubai?
Book an experience at the Sheikh Mohammed Centre for Cultural Understanding, such as a guided tour of the gorgeous Jumeirah Mosque, which is open to non-Muslims, or a traditional Bedouin sit-down meal.

How easy is it to get around for English speakers?
Dubai is mostly populated by foreign workers, so you'll get around fantastically with English. While you're bound to hear some Arabic from the neighboring restaurant table or mall passerby, English is widely used. For the most part, Dubai is very "tourist-friendly," but travelers should still respect the strict rules and customs in this part of the world, as punishment for breaking the law can be harsh.

What's your top tip or piece of advice for someone going for the first time?
Downtown Dubai can get pretty expensive, but you can save by staying in Old Dubai and checking out furnished apartments on sites like Airbnb. There are Carrefour supermarkets everywhere, and plenty of basement-hidden (but perfectly good) Arab and Indian restaurants, as well as cheap street falafel and shawarma. Dubai is super spread out though, so be prepared to compensate with time in taxis and Ubers, as it won't be realistic to take the metro everywhere.

Next big trip you have planned in 2020?
In 2020, I'm starting off by working on guidebooks for Prague, Glasgow, and Burgundy for Lonely Planet and Michelin Green Guides. However, I'm certainly hoping for another adventure to Central Asia or the Middle East soon.

What's your ultimate bucket list destination you've always wanted to visit?
Wiling out in a ger in the Gobi Desert.
Subscribe here for our YouTube channel to get your fix of food/drink/fun.