There are many different ways to hail the arrival of spring. Some people clean their houses. Others might hunt for chocolate eggs in their backyards. And then there's the option to eat pierogi, dance the polka, and maybe spank someone with a pussy willow branch. Who's to say which tradition is the better option?
A pre-Christian holiday that now traditionally takes place on the Monday after Easter, Śmigus-dyngus is a Polish holiday that ushers in the new season. It's celebrated differently from community to community, and in much of Poland it's hardly celebrated at all. That said, it typically—and questionably—involves boys squirting water on girls and spanking them with pussy willow branches (though in recent decades, girls have been encouraged to give those spankings and soakings right back to the boys). The holiday can sometimes involve additional rituals, including elaborate buffets, door-to-door processions of men and boys dressed in elaborate costumes, exchanging elaborately painted eggs, and even the drowning of a straw effigy.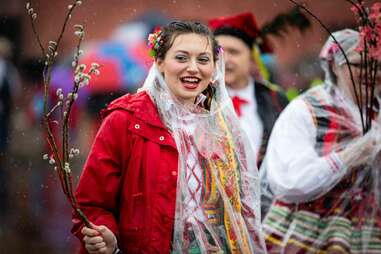 Despite its Polish roots, Śmigus-dyngus is becoming increasingly popular in the US, where it's been dubbed "Dyngus Day." Though there are small celebrations in Polish-American enclaves all over the states, the two biggest festivals are in Buffalo and Cleveland, where tens of thousands of people gather each year to eat, drink, and dance the polka.
In Buffalo, a city that has proclaimed itself "Dyngus Day capital of the world," events take place all over the city's Historic Polonia District. Once reportedly home to the second largest Polish population outside Warsaw, Buffalo first celebrated Dyngus Day in the '60s, initially as a fundraiser for a local Polish neighborhood club. Over the years, though, as more and more people left the city's Polish district, interest in the holiday began to decline—as did the look of the neighborhood.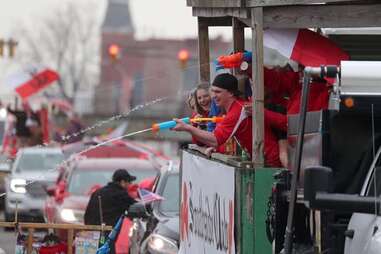 That's where Dyngus Day Buffalo promoter Eddy Dobosiewicz comes in. Almost 20 years ago, in response to the neighborhood's deterioration, he decided to bring back the celebration. "I wanted to shine some light on that particular area, because I wanted to stop the destruction and the decomposition in the hopes of resurrecting it in some capacity," he explains. At the very least, he hoped to highlight the significance of the area.
He started with a parade, reaching out to a local church hall, some private social clubs, and a few family-owned taverns that already held observances of the event to participate, bringing the whole thing under the Dyngus Day umbrella and branding it as a larger festival. With the fest's quirky traditions, it started to get coverage on local news and in the papers and more and more people started coming. The event has grown each year ever since, and now draws between 50 and 100,000 people annually, depending on the weather.
Speaking of that weather, Dobosiewicz says he thinks Dyngus Day has taken off in town in part because of when it falls on the calendar. "It's a time between the seasons when it's not cold enough to do winter activities and it's not warm enough to do summer activities," he explains. "Nothing else is going on. It's limbo time."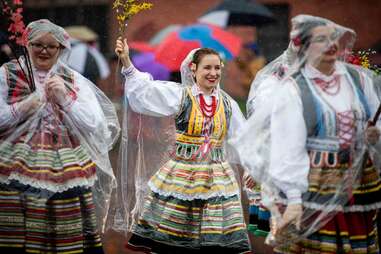 This year, attendees can purchase a $15 "Pussy Willow Pass" that gets them access to about 15 bars, restaurants, and churches in the district and elsewhere in town, as well as the festival's main grounds, Pussywillow Park. There, attendees can munch kielbasa and pierogi from a range of food trucks and stands, all while watching both klezmer and polka bands perform (headliners include the Kielbasa Kings and the Jimmy Sturr Orchestra). Given that the event is sponsored by Tyskie, a fine Polish beer, the suds are bound to be flowing as well.
Buffalo's Dyngus Day culminates in a grand parade through the city, with most floats and organizations sporting the bright red and white of the Polish flag. The fest's website the parade is a celebration of "camaraderie and joy mixed with nostalgia and hope," hailing Dyngus Day's growth from just a little get-together of neighbors to this massive event that the whole city comes together to celebrate.
Dobosiewicz says his biggest hope is that Dyngus Day helps expose younger Buffalonians to Polish culture and history—and in particular the history right in their own backyard. "Polish people in Buffalo have been here for generations, and it's the biggest ethnic ancestry group in the area," he says. "Still, young people have been so distanced from it that they don't know all the traditions and customs. When we first started, people were embarrassed by their Polish ancestry and they would deny it, in part because of the Polish jokes that were so prevalent. Now I think there's a turnaround of that perception, meaning we've done our job and we've had some fun while we're doing it."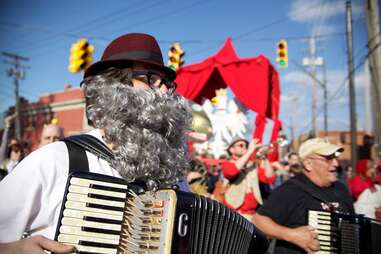 Go a little farther west along Lake Erie's shores and you'll find Cleveland's Dyngus Day, which was started by a local personality and business owner named Justin Gorski and his wife Laura. He'd long DJed polka 45s at a bar called the Happy Dog, strapping on a fake beard, a hat, and sometimes even jokingly pitching pierogi into the audience. Additionally, the two had attended a number of Dyngus Days in Buffalo and liked them, and so about 12 years ago, the pair decided to launch their own version in Cleveland's Gordon Square neighborhood.
"Justin basically put on his accordion and went bar-hopping," says Adam Roggenburk, whose company Heritage Productions now helps put on the event. "It started off the first year with a couple hundred people and then it grew year after year after year. In 2019, it was 72 and sunny and we had probably 50,000 people, but then COVID hit. Now, we're building it back up."
"I think Cleveland's Dyngus Day is different from others because we involve so many local people," Roggenburk says. "All the different food people, the beer vendors, the bakeries, they're all local. We have a special beer that's made by a local brewery. We're really trying to tie in the culture of Cleveland with our food and our entertainment. It's all local, with people everyone here in Northeast Ohio knows."
Cleveland's Dyngus Day doesn't have a parade this year, but they do have an amateur accordion contest, a pierogi eating contest, and a Miss Dyngus Day pageant, the contestants for which are pulled from the crowd pretty much at random. (For those who want to juice their chances in terms of getting asked, there's a questionnaire you can fill out online in advance. It's full of questions like, "Tell us about your pierogi making skills," and "What does your favorite babushka look like?")
Cleveland's Dyngus Day shares a common goal with the event in Buffalo, aiming to lift up its surrounding neighborhood. "We have our two Dyngus Day headquarters stages, but we really use Dyngus Day to promote the economy throughout all of Northeast Ohio," Roggenburk explains. "Venues can use the festival's name and we can promote it so we might have 10 to 15 food vendors at the actual street party, but we're also promoting the 50 to 100 other restaurants and bars that participate throughout the whole area."
Perhaps uplifting the community is the real Dyngus Day tradition, after all.