Photo by Andy Cochrane
Photo by Andy Cochrane
Ride a Motorcycle Across 5,000 Miles of African Dirt on the Adventure of a Lifetime
Get good and gritty from Uganda to South Africa.
Travelers, start your engines: You are now entering The [Scenic] Route, a rip-roaring exploration of the world's most incredible international road trips, from lush Rwandan jungles and ancient Peruvian mountains to seaside Irish villages, dreamy Japanese forests, and twisty Romanian hillsides. For more reasons to hit the pavement—plus tips, interviews, and a custom road-ready playlist—cruise over to the rest of our coverage here.
Inspiration, in most cases, isn't born out of routine. Or perhaps better said, the best ideas often come at the hardest times. Such is the genesis story of my motorcycle ride across a large swath of African soil, measuring out 5,000 miles from Uganda to South Africa.
Six months before I embarked, I sat on the side of a dirt road in the southern Sierra with my friend Sean, riffing on how to get out of our current pickle. We were testing new electric motos and things weren't exactly going to plan. Our co-conspirators, Marlin and Josh, were busy hooking up a tow rope in hopes of limping a bike back to Bishop. The entire week was a comedy of errors—dead batteries, broken belts, blown tubes—which set the scene for a big idea.
I asked Sean about his dream trip, thinking little of it. His answer was as immediate as it was simple. After years living in Uganda, exploring rural roads on a beater four-stroke, he chirped, "I've dreamt of riding across Africa for a decade."
A handful of months later, relying on some mystery cocktail of hustle, luck, and collective penchant for mischief, we set out to do just that.
The early planning process
While there's no set moto route across Africa akin to the Pan-American Highway in our hemisphere, there is a well documented thoroughfare from Cape Town to Cairo. It stays mostly on tarmac, paralleling the southern coast to Durban, then north through Mozambique and Malai, before heading to Dar es Salaam, Nairobi, and Addis Ababa, followed by a final push to Cairo. The second most popular trans-continental route follows the western coast and ends in Morocco. But we had other plans.
This wasn't a matter of practicality as much as it was knowing what makes us happy: driving down a dirt road, semi-lost in a foreign land. This kind of adventure tends to invoke a feeling of being raw, small, and very alive all at the same time. It's a potent emotion, and once you get a hit of it, it's hard to quit. We knew early on that we needed to start from scratch; we weren't keen on a copy/pasted trip report.
The first step was securing a month of PTO, and the second was figuring out how in the world we were going to tick Sean's bucket list. Napkin math showed it wasn't possible to ride from the Med to the southern tip without an abundance of long, boring highway miles. Even with the right bikes, 7,500 miles in 25 days (after excluding a few for flights and a buffer for mechanical mishaps) didn't pencil. So, we unanimously chose the alternative, a shorter route that allowed us to go further off the beaten path.
Building an Africa road trip route from the ground up
We started by mapping a series of checkpoints—national parks, lakes, deserts, waterfalls, and lodges for semi-regular showers—and connected these dots from north to south. Food and gas stops were left unplanned, to preserve a sense of freedom and flexibility. We planned to go off-grid for long stretches, which required tents, stoves, dehydrated meals, first aid, tools, and a repair kit, among other things.
By opting to start in Kampala, we cut a couple thousand miles of sandy riding across the Sahara, allowing ourselves to focus on temperate zones to the south. This left 5,000 miles—the equivalent of driving from NYC to LA and back—to figure out. We began piecing together the route from halfway across the world.
We plotted key stops like Katavi National Park, Lake Tanganyika, Victoria Falls, the Caprivi Strip, the Skeleton Coast, and Namaqua National Park, plus a dozen or so more. Linking them together, our route wound through the lush hills of Uganda and Tanzania, crossed the savannas of Zambia and deserts of Namibia, transected the famed Skeleton Coast, and wrapped up in South Africa. Sure, it wasn't a full crossing of the continent in the purest sense, but it was still a lengthy adventure across several borders.
Using beta from locals, hours on Google Earth, and more than a few blog rabbit holes, the route started to fall into place. The best part was the diversity of riding; over the course of the month we were to pass through a half dozen ecosystems, from red clay jungle to ancient seabeds with moonscape rock formations. Because of the nature of the trip, I can't advise you as to exactly how to repeat the route, but hopefully you can learn from my experience.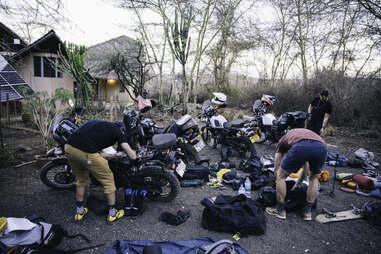 Equipment, cops, and mishaps
We then turned our attention to the packlist. Without first world conveniences (looking at you, Amazon Prime), our gear had to be reliable for the long haul. Everything was filtered through the lens of "Will it hold up to endless potholes and washboards?" If we were skeptical about an item, we left it at home.
We opted to ride Royal Enfield Himalayan motorcycles—411cc, five-speed adventure bikes—which other than one issue (more on that below), held up remarkably well. Despite motorcycles being widely popular in East Africa, most have much smaller engines, making larger bikes like these harder to rent. We found a rental company in Tanzania, East African Motorcycles, that had what we wanted and was willing to ship them to our starting location. We jumped on the opportunity after spending a few months looking for bikes.
After signing a rental agreement and liability waiver, we were given keys, a copy of the registration, and carnets, which allowed us to cross international borders with the bikes. In Africa you don't need anything more than a US driver's license, although it's probably a good idea to have good car insurance, travel insurance, and some sort of international medical and/or rescue insurance, like Redpoint.
All of our equipment was packed into Giant Loop saddlebags, 68-liter soft luggage that carried close to 80 pounds each without dramatically changing how the bikes rode. They were filled with spare clothes, sleeping bags, tents, and Good to Go dehydrated meals, which cook quickly and are quite tasty after long days. We used a Garmin Zumo XT for navigation and Cardo Edge headsets for communication, a last-minute addition that proved indispensable for safety.
A lot of preparation went into the adventure, but even the best laid plans aren't perfect, and those who attempt a similar route should come prepared for mishaps. On our first day, we neglected to pick up spare tubes, popped one just 90 miles in, and wasted hours searching for a moto shop in the middle of nowhere. A week later we found ourselves marooned overnight in the twilight zone between Tanzania and Zambia, without our passports or moto registration. Over the course of the trip we were pulled over twelve times by traffic cops (sorry, mom!), many of whom were just looking for a bribe. In these instances, we relied on Sean, our chief litigator, to get us out of all but one ticket with some of the most clever (and complete bullshit) excuses I've ever heard. If you can bring a Sean on your trip, I'd recommend it.
Take in the wildlife of Uganda
The first night we camped in Murchison Falls National Park, on the banks of the Nile. We saw hippos, giraffes, and lions driving through the park, all in a matter of hours. Not long after dark we spotted an elephant, which looked even bigger lit by headlights. Jet lagged and blurry, this all felt surreal.
We originally planned to head west, past Lake Albert and through Queen Elizabeth National Park, on our way to Rwanda. However, the border between the two countries was closed due to COVID, so we opted to head east, towards Kilimanjaro. While Uganda is most famous for Lake Victoria, the headwaters of the Nile, and the density of mountain gorillas, what stood out the most was the people. Nearly everyone we passed would wave and smile, or offer food and a place to crash for the night. Those memories serve as a reminder to be generous to strangers we meet.
Ride some good dirt through Tanzania
After getting SIM cards and supplies in Arusha, we departed for Lake Manyara National Park, riding into the night before we got to our campsite, which ended up being closed when we got there. So we headed a half hour down the road to another one. This became a recurring pattern. Tanzania had some of the best dirt of the trip and as such we spent almost no time on the tarmac. We would often ride until our faces hurt from grinning and the sun was about to set.
Along the way we found a variety of campsites, from the front yard of a Lutheran Hospital to the shores of Lake Tanganyika. One memorable site was adjacent to a pond of a hundred hippos, which fortunately kept their distance for us. The very next morning we woke to a herd of a dozen elephants walking only a few meters from our tents. At the moment it felt magical; in retrospect it was downright terrifying.
On our last full day in Tanzania we drove through Katavi National Park, moving slowly due to slick mud. We stopped on a bridge over the Katuma River, and right below us were alligators, hippos, and elephants, all coexisting in this tiny oasis. This was the most wild and remote we felt all trip.
Camp your way through Zambia
Our trip changed quickly as we entered Zambia, with my bike losing throttle responsiveness due to a fuel injection problem. This was an issue from the start, but initially only a minor one. After a bad fall on a single track due to the bogging, I was cautious about technical riding. So we stuck to bigger roads, trying to get to Lusaka, the capital, before it totally blew up. On the way we found nice campsites at Lake Chila Lodge, Kapishya Hot Springs, and in the Mutinondo Wilderness.
The bike nearly made it, finally breaking down not far from the city outskirts. Josh and Marlin, in a full-circle moment, hooked up the tow strap and volunteered to ride it into the city. The next challenge was finding a mechanic that knew anything about fuel injection bikes. After knocking on shop doors for hours, we finally found one through a local Facebook group. After a full day of toiling, we were back on the road.
We stopped by Victoria Falls, then headed to the Namibian border. The last stretch of road, just 60 miles, took us nearly four hours due to massive potholes littering the road, as if it was a war zone.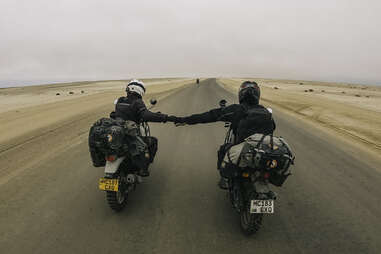 Zoom across the deserts of Namibia
After stopping overnight on the Kwando River, just north of the Okavango Delta, we drove through the Caprivi Strip and Bwabwata National Park, and crossed into a new ecosystem—the vast and desolate Kalahari Desert. For the next few days we pushed due west towards the coast, fighting extreme heat and getting progressively more remote. On the last day of this push, somewhere in the Namib Desert, the only other sign of life we saw was a single ostrich running along the horizon. That's how empty it was.
We eventually made it to the gate of the Skeleton Coast and negotiated with the ranger to let us through. With the Atlantic almost in sight, the wind picked up to a near gale, forcing us to lean left at nearly 30 degrees to just keep them straight. That day we also almost ran out of gas—and got even closer the next day, taking turns riding in a peloton to conserve what we had left and arriving with all four bikes on empty.
We progressed south and finished the coastal ride at Swakopmund, then headed inland. Following the only road that parallels Namib National Park, we passed Fish River Canyon before crossing the border.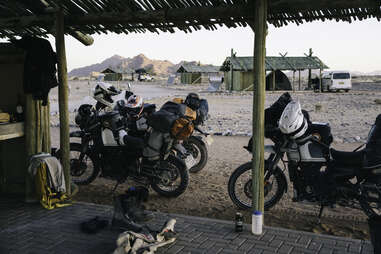 Get existential in South Africa
We returned to the coast via Namaqua National Park and continued south, mostly on tarmac. The riding in South Africa was the least eventful of the trip – the country is much more developed than others we visited. After enjoying some time in West Coast National Park, we made our final push to Cape Town.
It was a surreal feeling riding into the metropolis, covered in mud and dirt, after 5,000 miles in the saddle. No one around us knew or cared what we had just done—and honestly, it was better that way. As we stopped at a beach below Table Mountain for a swim, it started to all sink in. We'd found ourselves in a myriad of less-than-optimal circumstances, but somehow it all felt easy. Almost fun. Twelve flats, cops, border agents, close calls, slick mud and deep sand, rainstorms, and sweltering heat; none of it got to us, in the end.
Sitting there, sunburnt and sore, it was hard to not get existential. We had accomplished this big goal, planning the trip of a lifetime and driving all the way across Africa—but the route, the gear, the places didn't matter. The actual outcome was a brotherhood, the friendships we'd solidified along the way. A trust, a respect, and a love that will never be broken. And really, what more can you ask for than that?
Andy Cochrane is the son of two park rangers, a triplet, and freelance journalist who once lived in his Tacoma for 5 years with his beloved dog, Bea. You can follow his mischief @andrewfitts.