Add 'Road Trip Down Australia's East Coast' to Your List of Life Goals
Journey from one world-famous beach to the next.
The beach at Coolangatta, on Australia's sandy Gold Coast

| Constantin Stanciu/Shutterstock
The beach at Coolangatta, on Australia's sandy Gold Coast

| Constantin Stanciu/Shutterstock
Note: We know COVID-19 is impacting travel plans right now. For a little inspiration, we'll continue to share stories from our favorite places around the world so you can keep daydreaming about your next adventure.
There's a pretty well-worn backpacker route that runs from Southeast Asia all the way down to New Zealand. Its spine runs the east coast of Australia, from as far north as the beachy tourist town of Cairns, to Brisbane, Queensland's capital, and on down to Sydney. There's a reason visitors favor this part of the continent: It's stuffed with back-to-back wonders and some of the most beautiful beaches, not just in Australia, but in the world. "Gold Coast," "Sunshine Coast" -- take it from someone who's been there, these aren't just cheesy monikers made up to sell postcards.
Like Iceland's Ring Road, Patagonia's Lakes Region, and basically all of Chile, this is one of those epic journeys you can't help but daydream about -- especially if you're even mildly proficient on a surfboard. The first stop will probably be the most difficult to leave: Australia's famously beautiful Whitsunday Islands.
Whitsunday Islands
If you've ever dreamed of seeing the Great Barrier Reef, at least before it becomes a pile of Styrofoam, this is the place to go. A collection of 74 remote islands nestled between the coastline and the reef, the Whitsundays draw boaters and experienced divers to its warm neon-blue waters, plus anyone looking to cross a world wonder off their bucket list.
Most of the islands are uninhabited, but you've got your higher-end spots like Hayman and Hamilton Island for honeymooners and the resort set; undeveloped Hook Island for off-the-grid beach camping, wilderness hikes, and incredible diving; with moderately priced spots like South Molle and Long Island falling somewhere in between. Over on the mainland, Airlie Beach serves as a lively nightlife and backpacker hub, and will accommodate any budget or activity you can think of doing here -- which will almost definitely include a day trip to one particular island to see one particular beach...
Whitehaven Beach
Located on the eponymous Whitsunday Island, the largest of the bunch, Whitehaven Beach is enormously famous for a specific and undeniable reason: It has the whitest sand of any beach in the world. It's composed of 98% pure silica, a super soft and fine-grained form of sand that actually reflects heat so it won't scorch your toesies.
I've been there once and, four years later, can still see the afterimage burned into my retinas. Whitehaven is only accessible by boat or seaplane, so you'll have to join a tour group, which start at around $100 for a half day. The water is shallow and warm and bright, and you wade through it alongside little lemon shark pups, squinting against a blinding stretch of white in every direction. There are also several small coves and lagoons to explore.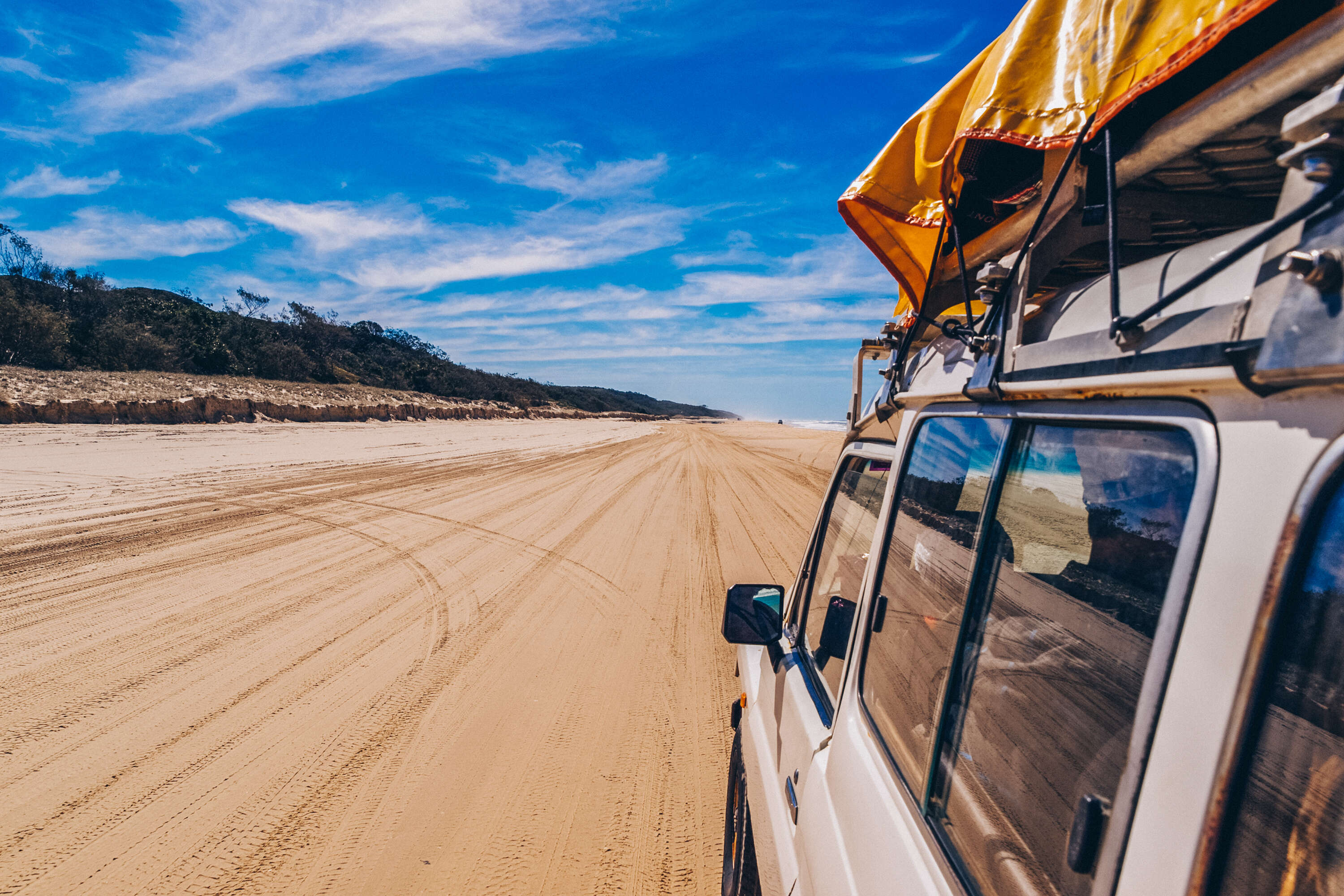 Fraser Island
Time to move on down the coast. A quick Google reveals that Fraser is the largest sand island in the world -- with about 76 miles of long, interrupted ocean beach, backed by majestic old-growth rainforest. Unless you happen to have your own car with serious 4WD, you'll need to visit with a tour group, which will place you in such a car and let you all take turns driving. My particular trip involved two minor accidents (NOT while I was driving) and the greatest possible amount of fun. You'll drive through shallow water along the beach, camp overnight, cook, drink, float down a river, and negotiate outhouses guarded by plate-sized spiders. Also, dingoes! Dingos live on Fraser Island. I should have led with that. You can see dingos here.
Sunshine Coast
The Sunshine Coast is just south of Fraser Island and contains a succession of dreamy beaches, national parks, and distinctive laidback surf towns stretching from Noosa to Caloundra. Walk barefoot along Sunshine Beach and wander to the edge of the mesmerizing Mooloolaba Spit. Further inland, you can splash in swimming holes hidden deep in the rainforest of Kondalilla National Park.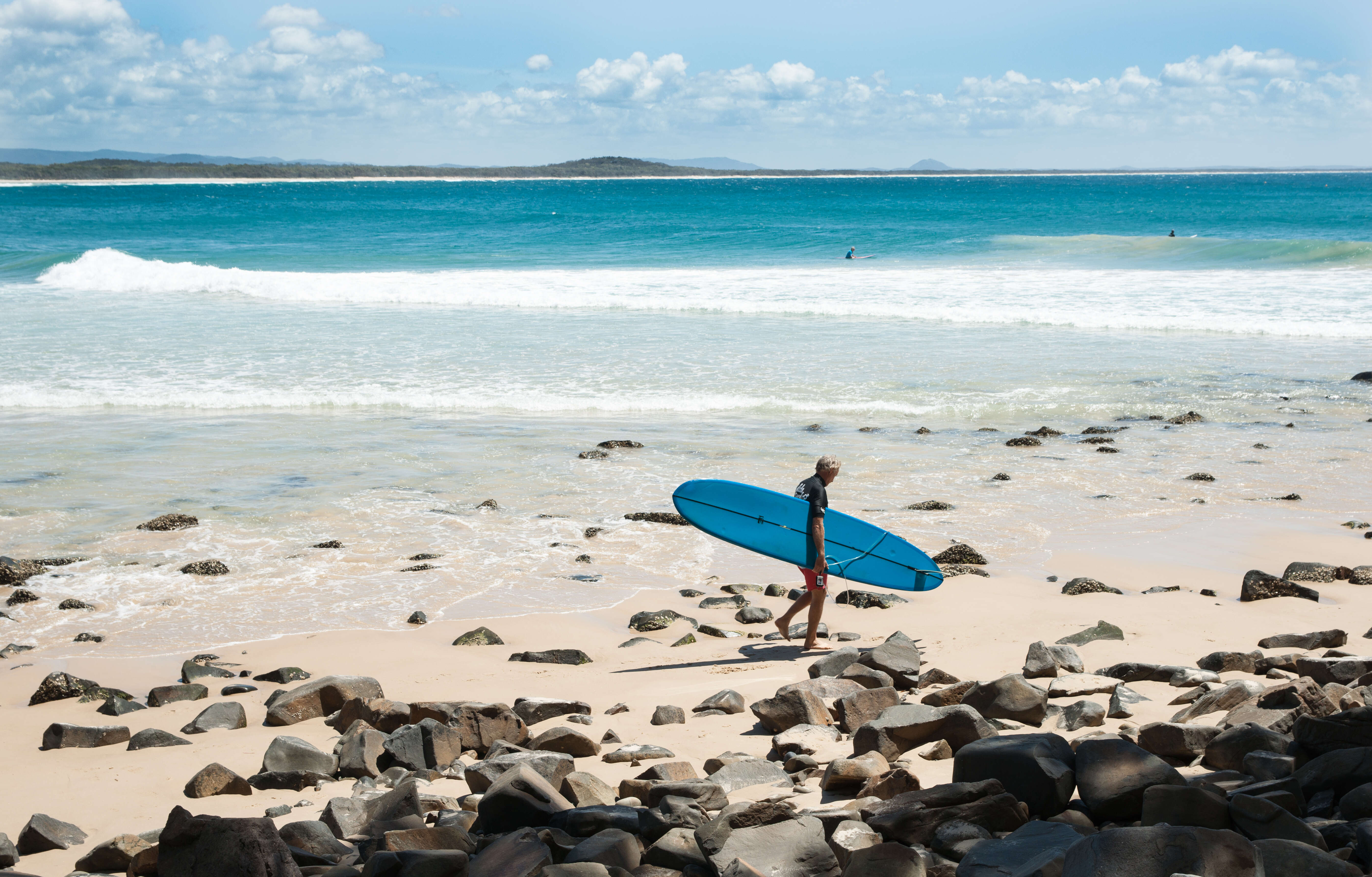 Noosa Heads
Noosa is a requisite stop along the Sunshine Coast. The famously cute main strip, Hastings Street, offers up bars, boutiques, and a spunky dining scene, and Sunday breakfast at the Noosa Farmers Market is what you'd call a thing. Otherwise, you're soaking up rays at gorgeous Main Beach, a long-time favorite among surfers for its gentle waves, and a must-see for anyone passing through. Noosa National Park is enchanting in its own right, and has the added bonus of being a great place to see some koalas.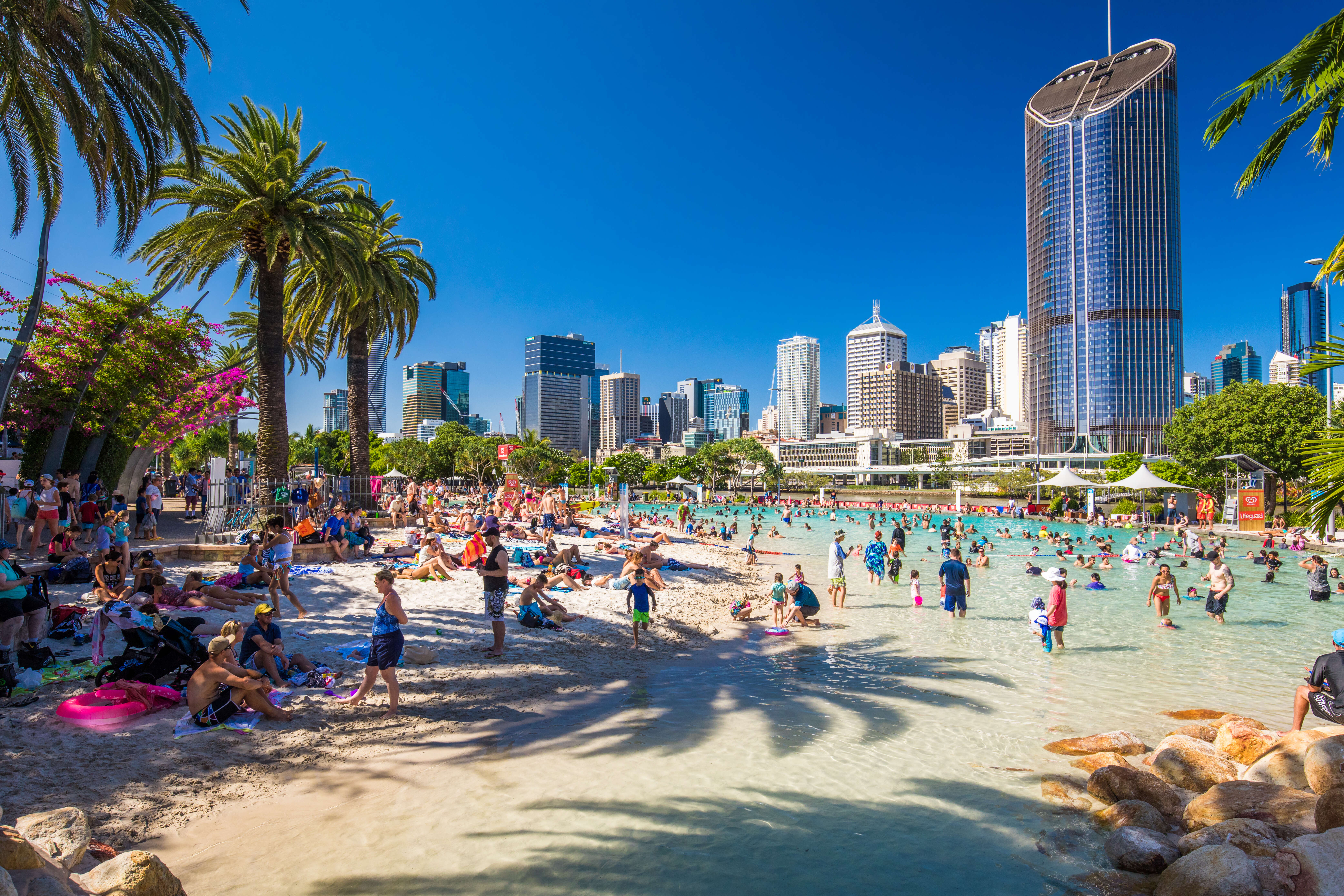 Brisbane
Continuing our journey down the coast, we next come to Queensland's capital, which sits on the Brisbane River. The sunny city of Brisbane is often overlooked by travelers in favor of the more fashionable Sydney and Melbourne, but at the very least you should take a day and stop at Streets Beach -- the only inner-city beach in the country. Take a street art tour, see some live jazz on the river at the funky Brisbane Jazz Club, or just go befriend some more koalas at the Lone Pine Koala Sanctuary.
Gold Coast
The Gold Coast is sort of like Australia's answer to Vegas: a land of theme parks and high-rises and nightclubs, anchored by the wild party town of Surfer's Paradise. But once you emerge from your hangover fog, you'll find charming neighborhoods with a more laidback, local vibe, plus long stretches of pristine sand, epic sunsets, and all the surf spots you could ever ask for. Off the beach, there's an abundance of hike-able rainforest and freakishly beautiful national parks teeming with wildlife.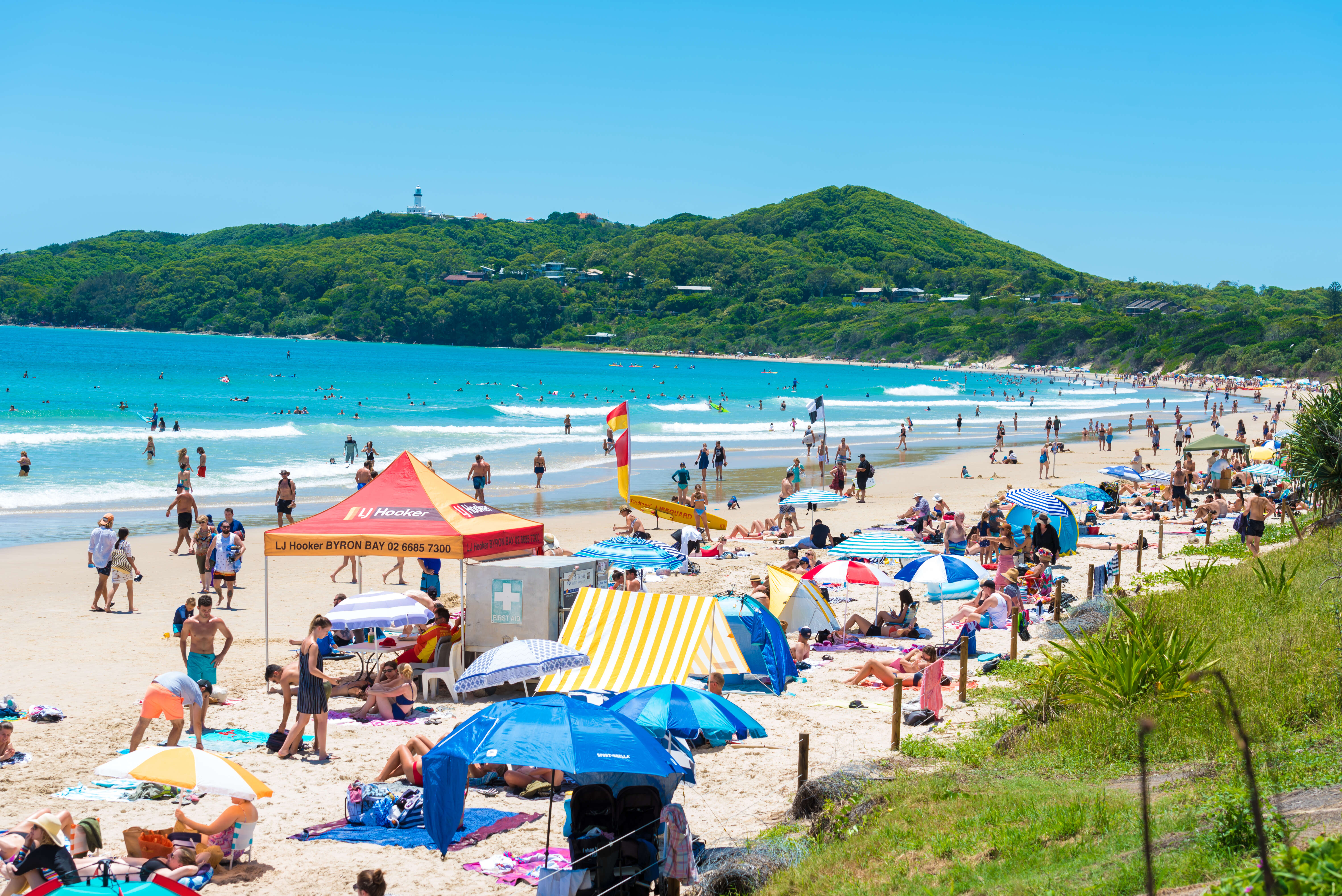 Byron Bay
Lots of stops along this route get deservedly hyped up as great surfing spots, but Byron Bay is truly the full package -- a town that lives and breathes surf culture. It has all the charm of a (comparatively) smaller town, and yet you still get all the backpacking standbys: cafes, beachside bars, snorkeling, and even scuba diving and whale watching if that's what you're after. It's also home of the Byron Bay Bluesfest, which lures over 100,000 music fans every Easter weekend to its five stages and campgrounds.
MORE:The best scuba diving destinations around the world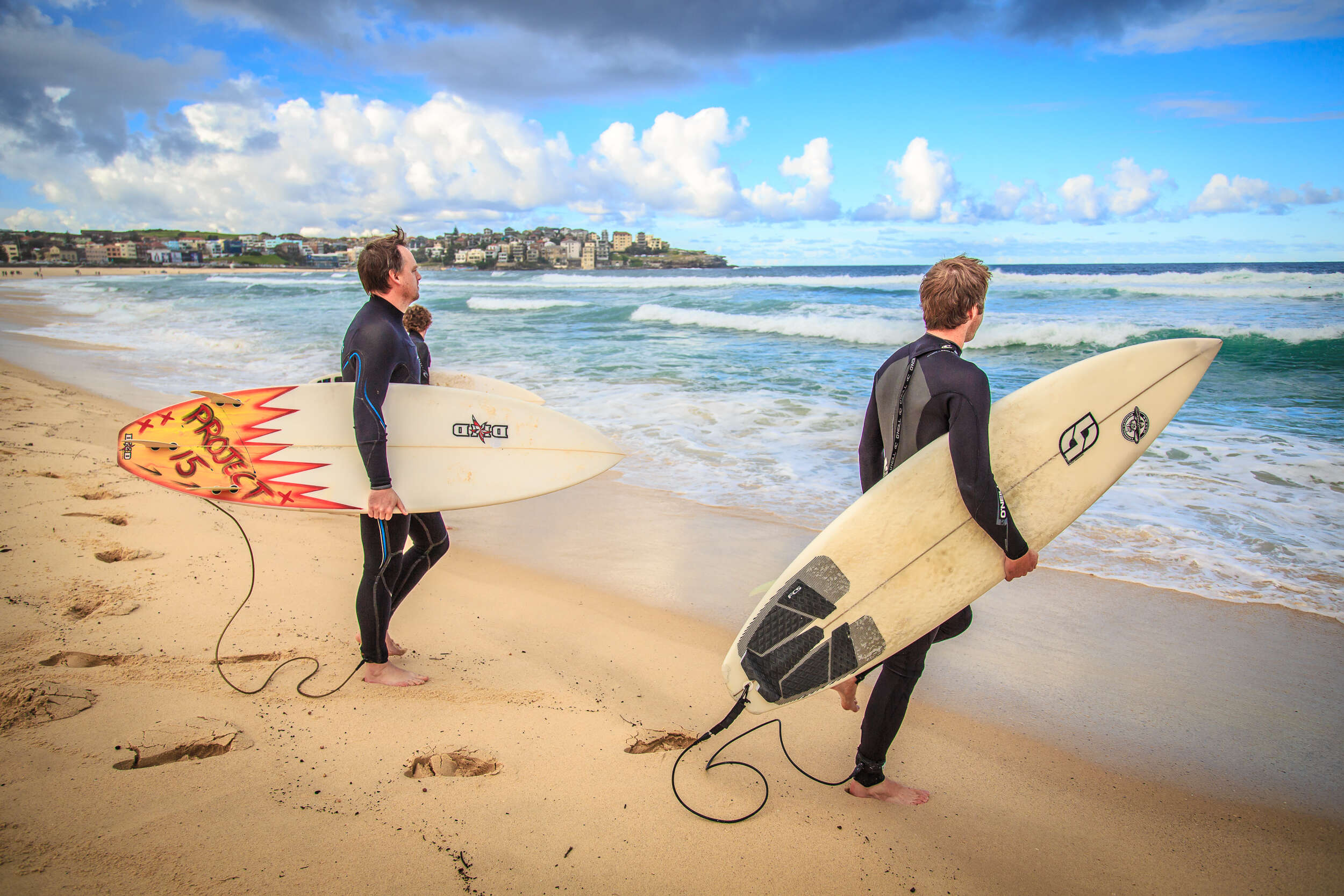 Bondi Beach
A few miles from downtown Sydney, Bondi is… massive, and massively loved. This white-sand crescent is one of the most iconic beaches in all of Australia. You can surf, you can swim, you can stay on land admiring the suspiciously endless parade of good-looking people walking past you. Make sure to visit during the weekend to browse the beach markets, where you can get your lunch (and souvenirs) from scores of local vendors.
Blue Mountains National Park
Just inland from Sydney lies Blue Mountains National Park, and first off, it's important to know that this is a choice destination for spotting kangaroos. But Blue Mountains National Park is also worth visiting largely because it looks like something out of Avatar. It's home to an adventure theme park where you can ride the world's steepest passenger railway, or walk along a skyway suspended in the rainforest canopy.
MORE:Here's an Australian golf course with 300 resident kangaroos