10 Ways to Make Quick Cash as You Travel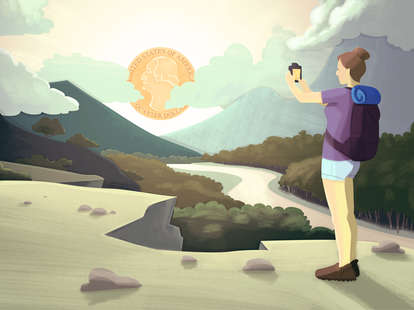 Jason Hoffman/Thrillist
Jason Hoffman/Thrillist
Money's not good for much on its own, but it's great at buying time. Rarely is that more apparent than when you're traveling, or gearing up for a trip. Whether you're hitting the road for a month or just cramming a week of fun into a three-day weekend, you're going to be watching the burn rate. In Phoenix or Florence, Miami Beach or Macau, the last thing you want is for your anemic bank account to cut the trip short.
How, then, to mix work with pleasure? Plenty of careers will pay you to travel, true, but let's not enlist in the French Foreign Legion just yet -- sometimes all you need is a little extra scratch along the way. Fortunately, the enterprising traveler can squeeze a few bucks out of the journey itself, whether via hard labor or the sharing economy. Here are some of the best ways to earn some extra cash as you explore the world, or just road-trip from city to city.
Resell American electronics abroad at a huge markup
Expected pay range: Easily in the hundreds of dollars, possibly into the thousands
Who should do it: Americans lose sight of how little we pay, relatively, for our high-end gadgets. An unlocked iPhone, for instance, can fetch double in Brazil what you'd pay for it in Boston. A two-year-old laptop you never use could elsewhere command its weight in francs. CommSec, an Australian brokerage firm, has for the past few years compared prices of new iPads in various countries around the world; US prices are consistently among the lowest. Where are they likely to fetch the biggest return, if you can peddle them? South America (especially Argentina), pretty much all of Europe, and a few Pacific Rim countries (New Zealand, China, South Korea) showed at least a 20% markup in a recent survey. If resellers aren't nearby, try posting on Craigslist or the country's equivalent community board. Worst case, you save your receipts and return 'em to Best Buy.
There's always a catch: Obviously your results may vary -- and just selling stuff can be a pain. Plus, if you get too ambitious/brazen with your plan, customs might want to have a word.
Buy souvenirs low, sell 'em high
Expected pay range: Depends on how much Nepalese cashmere or how many Peruvian alpaca wool hats you can lug home. A sarong that goes for $6 in Malaysia could go for $30 in California. Margins would depend on your haggling acumen.
Who should do it: Avid shoppers who like to hustle, and who might be going to much of Africa, Latin America, or Southeast Asia. Leslie Kuster, a New Yorker who spent seven months traveling around Indonesia, decided to ditch the office life and instead launch a career out of her frequent trips back. Now she spends at least six weeks a year in Bali, buying up batik fabrics and garments she later sells at New York's Union Square Holiday Market and through her Amazon store, Back From Bali.
There's always a catch: You can get overextended if you're not careful, so start small. "It's really easy to buy buy buy, but not as easy to sell sell sell," Kuster said. "I would suggest buying the smallest quantity that you can and see if and where you can sell it."
Rent out your home
Expected pay range: Your rent, or more
Who should try it: Anyone who can legally sublet. Jen, a 40-year-old San Diego-based interior designer, rented out her home during Comic-Con to escape the madness of the city and earn extra cash during the in-demand tourism season. "I rented [my adorable house] out, I left, I went on a week-long vacation, and I came back and it was great," she said. "It not only paid for my vacation, it paid some of my rent too." Jen said the effort of renting out her apartment is "absolutely" worth the money and she's been able to travel to places like South America while letting someone stay in her house and letting the cash roll in. "[Airbnb] has allowed me to subsidize my traveling and get better inspiration," she said.
But there's always a catch: While you can remotely host guests in your home, expect to still be playing host when they ask why the Wi-Fi is down or whether you can turn up the temperature on your hot water heater.
Rent your car while you're away with Turo
Expected pay range: Active users make an average of $600 per month.
Who should do it: Anyone who owns a car they're comfortable loaning out can offer it for rent through the service. Not only are you saving money on airport parking while renting out your car, you're making cash while you're away.
There's always a catch: The downside, of course, is you have no idea whether the renters are driving through deep puddles, riding the brakes, or blowing out your speakers. Folks may tend to get freaky with cars they'll never see again.
Become an on-demand courier with Roadie
Expected pay range: $8 to $50 for local gigs; $650 for long-distance gigs or delivering pets
Who should do it: Anyone who thinks running errands is a great way to explore. Bill Koller, a self-employed courier in Tempe, Arizona, has picked up close to 80 gigs from Roadie, his most recent a run from Phoenix to the Grand Canyon. "It's all on-demand work, so it gives me the opportunity to work as little or as much as I need to," he said. (He also uses FARE to get paid for rideshares on courier runs -- a clever double-dip.) You can take an impromptu road trip for cash or just find a gig already on your travel route.
There's always a catch: If you're willing to drive an antique farmhouse table from New York City to Texas, you can make some real money. Travelers who take on the occasional local gig, priced by distance and urgency of the delivery, won't exactly be rolling in the dough.
Babysit local on-demand clients
Expected pay range: Depends on your location and negotiating skills
Who should do it: Responsible adults. Sites like Chime, Care.com, and UrbanSitter are all easy ways to find local parents in need of a date-night babysitter. Perfect if you want to spend your trip reading, eating snacks, and leaving with cash in hand.
There's always a catch: You're giving up your night out to stay in, possibly with a tiny monster.
Sell your photos
Expected pay range: $5/photo with Foap, $2 to $32/photo with Twenty20
Who should do it: People whose Instagrams rack up the likes. If you're already shooting endless vacation pics though, why not try and monetize them? Those with a GoPro can also submit their best images with a new cash awards program. Rima Brindamour, a 28-year-old photographer in Brooklyn, sells her photos with 500px. "I upload my work to their site constantly while traveling or after editing personal work -- you never know what someone is going to want to buy for their wall or license for commercial use," she said. "It's always great to get a surprise purchase of an image I've previously uploaded." A good trip for her is selling 10 images for $1,500 -- usually covering travel expenses.
There's always a catch:Foap.com, Twenty20, and Shutterstock are highly selective, and the payout isn't fantastic. Plus, despite what the "shot on an iPhone 6" billboards might have you believe, you will need to invest in a real camera if you're going to shoot even semi-pro photographs.
Find a seasonal farm job
Expected pay range: Minimum wage and up
Who should do it: People who like being outdoors and don't mind some manual labor. PickingJobs.com lists seasonal harvest jobs around the world. And Fruitful Jobs is a fantastic resource (for those eligible to work in the UK) to find temporary seasonal work ranging from hands-on horticulture to administrative office work.
There's always a catch: Expect to be too tired to tour around after a day in the fields. It's more like a work trip during extended vacation.
Expected pay range: $1 (to Amazon.com) for every two job flyers you find
Who should do it: Anyone visiting or passing by local businesses. Even a small amount can add up fast if you're in an area on a hiring spree (think: beach towns in spring). Plus, it takes less effort than sending a text and you're making money.
There's always a catch: Fifty cents per approved photo of a job flyer is, indeed, a small amount.
Teach English
Expected pay range: Ranges from free room and board to a real salary
Who should do it: English speakers with patience. If you love being around people and have a clue about good grammar, this could be your ideal set-up to travel the world and share a skill you've already mastered as a native English speaker. ESL Cafe has countless listings for a variety of English-teaching and -tutoring jobs, from formal classrooms to remote digital positions. Alternatively, you can hang flyers wherever you're traveling to advertise your English-language services -- many people just want to practice speaking. I once found an elderly student to chat in English over coffee via Craigslist. While working in France, my friend Lidia Jean used leboncoin (basically French Craigslist) to find clients to speak English with weekly via Skype and in person.
There's always a catch: Unlike many jobs you can pick up and leave on a whim, teaching English is many times a legit gig with set hours, meetings, lesson plans, and more. It's best considered for a longer-term visit somewhere, rather than flitting around.
Sign up here for our daily Thrillist email, and get your fix of the best in food/drink/fun.