Because there's, like, no way anything could ever go wrong sharing a hotel room with a total stranger, Easynest is a recently launched (and totally not creepy) travel service that lets "like-minded" solo travelers save cash by crashing together in the same room.
Recommended Video
Spend the Night in This Suspended Mountainside Glass Pod With the Best Views in Peru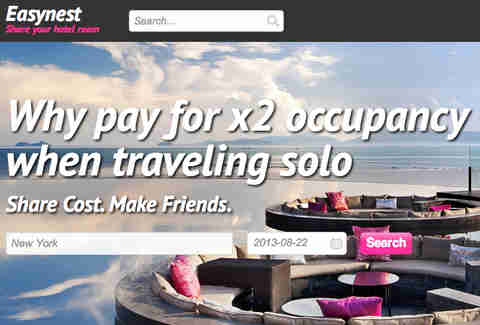 Billed as "Airbnb for hotels" (wait... isn't Airbnb already Airbnb for hotels?) but without the online payment system to ensure nobody gets screwed (out of money, at least), Easynest offers two options: 1) After booking a hotel, you can advertise it on the site in an effort to find a suitable roommate. 2) If you're currently wandering the earth and in need of a comfortable bed and/or new friend, simply type the city where you're headed next.
Potential roomies will either reach out to you through the site (at which point you can select with whom you'd prefer to make awkward small talk for three days) or you can peruse listings of available rooms and -- upon finding someone who looks like he or she won't videotape you in your sleep -- "Ask to Share". From there, Easynest connects you via Facebook and you can chat freely before agreeing on the terms (price, dates, etc.) of the deal. Payment, in case you were wondering, goes down in person. You know... just leave the money on the dresser.