Get in on the Action at This Rabble-Rousing Hong Kong Transplant
Social activism meets kick-ass cocktailing in the nation's capital.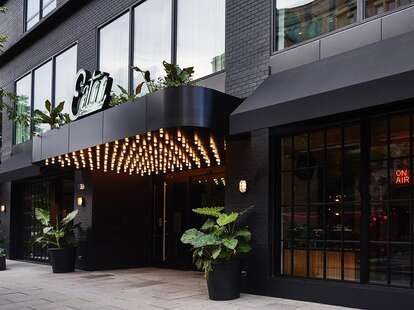 "'Another World is Possible' and 'The Third Place' are both inspirations for Eaton," writes Eaton Workshop founder Katherine Lo on the sleek DC property's website. "A third place outside of home and work where one feels deep belonging," the manifesto continues. "And another world, a better world, one that starts in our imagination but has the possibility of becoming very real."
Talk of "inspiration" and "a better world" might sound like sales jargon lip service coming from the head of a budding international hotel chain—especially when said head is also the daughter of real estate billionaire and Langham Hospitality Group executive chairman Lo Ka Shui—but Lo's ambitious creation truly manages to practice what it preaches. In 2018, the Hong Kong-born, US-educated Lo launched the Eaton Workshop in both Hong Kong and in Washington, DC. From the jump, the mission was clear: to establish a space that not only encourages social activism and progressive organizing, but actively foments it via a slate of finely tuned programming, community-oriented amenities, and in-your-face engagement.
The timing turned out to be powerful. Just about a year after opening, Eaton DC found itself smack-dab in the middle of the racial reckoning brought on by the murder of George Floyd and the Black Lives Matter movement. Stationed just a mile from what was then Trump's White House, it ushered in droves of demonstrators.
If you're looking for an inoffensive, middle-of-the-road hospitality experience designed to appeal to wide swathes of travelers—an easy find within the well-trodden capital of a deeply divided country, of course—this surely ain't it. When news of its debut hit the media, Bloomberg News dubbed Eaton Workshop "the world's first politically motivated hotel," while the Guardian used even stronger language, calling it the "anti-Trump hotel."
"The year-old Trump International Hotel in Washington D.C. has become the de facto gathering place of choice for right-wing, pro-Trump politicians and lobbyists," wrote travel expert Chris McGinnis in a November, 2017 blogpost. "So should the Left have its own hotel in the nation's capital? Pretty soon, it will."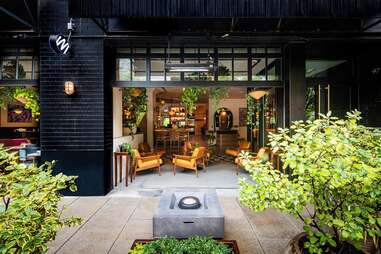 Step inside Eaton DC's matte black K Street entrance and you're immediately inundated with sound and movement. Bohemian touches mingle with inviting mid-century modern decor, a wash of browns, tans, oranges, and more matte black, punctuated by pockets of bright green plant life. Conversations and music fight for attention from either side, wafting in from the restaurants—Michelin-starred chef Matt Baker's French-inflected Michelle's and the laid-back all-day coffee shop Baker's Daughter—flanking the lobby, while a radio station stocked with vinyl records and a state-of-the-art DJ booth buzzes behind a neon On Air indicator.

Still waiting to cross a tropical adventure off of life's to-do list? Now's your chance, thanks to the Boundless Bucket List Contest and the Marriott Bonvoy Boundless® Credit Card. They're giving readers a shot at winning the dream travel experience of a lifetime. To enter, create an original Pinterest Board showcasing your most ambitious travel aspirations, along with a short video or paragraph explaining why the trip is so important to you. See here for full details.
Cozy elevated nooks lined with pillows provide refuge for co-workers taking advantage of the Radical Library's overstuffed shelves, itself a cluster of plush couches and desks beneath a ceiling covered with newspaper-style images shouting empowering slogans. Each space flows into the next, visually and auditorily, culminating in a palpable, humming energy.
And everywhere you look, there's art: a bejeweled replica dinosaur skeleton in front of the second-floor windows, a stack of old-fashioned televisions displaying hours upon hours of presidential campaign footage on loop, a dividing wall plastered with a blown-up archival photo of costumed Black performers, all centered around a monitor screening Kahlil Joseph's BLKNWS. What might be the most striking collection on the grounds, however, requires a bit more digging.
In-house speakeasy Allegory hides not-so-inconspicuously in the near corner of the library, just beyond Joseph's provocative installation. A host stand marks its covert doorway, and if you're lucky enough to make it past the friendly gatekeeper, you'll be treated to a world-class cocktail experience surrounded on all sides by a breathtaking mural from acclaimed local artist Erik Thor Sandberg.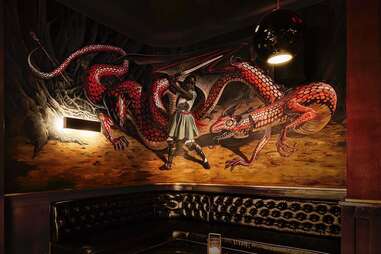 The work depicts young Civil Rights hero and school desegregation pioneer Ruby Bridges, dressed in a schoolgirl dress and taking on a series of harrowing figures in an eerie homage to Lewis Carroll's Alice in Wonderland. Between the hand-painted piece's masterful illustrations, haunting color scheme, and shadowy, whimsy-meets-realism style, it's almost enough to distract you from the drinks—almost.
Thankfully, bar director Deke Dunne's boozy roster lives up to its, er, intoxicating environment. "[The] menu is the culmination of everything we do at Allegory, and raises important questions about systemic bias in our society," Dunne explained in a recent press release. "Commissioning Erik's works of art as inspiration turned out to be a rigorous way to craft something unique and meaningful."
Bound to resemble a storybook, an illustrated tome of a drinks menu takes visitors through the proverbial looking glass and into a world riddled with struggle and triumph. Each concoction picks up a part of the narrative, fashioned to stimulate both the mind and the palate.
But it's not all liquid engagement over here. Elsewhere, a robust wellness program goes far beyond the standard second floor gym. Inclusive classes like Trauma-informed Gentle Yoga, Meditation and Music Medicine Soundbaths, and Breathwork help hotel guests and community members alike connect with each other and their own bodies. An infrared sauna is on hand for sweating out any toxins happily acquired while dancing the night away at the DJ-fueled rooftop bar and lounge, Wild Days, as are on-demand massages and crystal healing treatments for those so inclined.
A network of co-working and event spaces also gets in on the fun, hosting rabble-rousing workshops and conferences throughout three tastefully appointed floors spanning common areas, board rooms, film screening facilities, private offices, and shared desks. Locals can purchase memberships or day passes to Eaton House, as it's called, for access to all the goods plus plenty of discounts on guestrooms, onsite food and drink, and space rentals. For folks staying at the hotel, the Eaton House's many resources are available for free.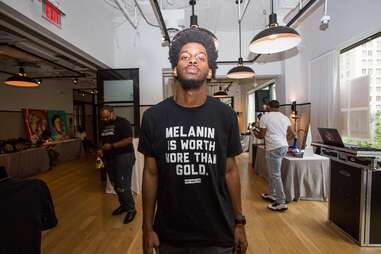 From the ground level outposts peddling locally sourced ingredients, third-wave coffee, and freshly pressed juices to the boldly decorated indoor-outdoor rooftop venue showcasing DC-grown performers from all walks of life and all the light-filled guest rooms in between—complete with their own stashes of vinyl records and progressive paperbacks, of course—it's safe to say that Eaton DC wears its anti-establishment reputation on its sleeve. And a stylish sleeve at that.
Meredith Heil is a former freelancer, former-former Staff Writer, former Senior Cities Editor, and current Editorial Director of Travel at Thrillist.