Travel
Sponsored By
Reno Has So Much More Than Just Casinos (But Those Are Great, Too)
Sponsored By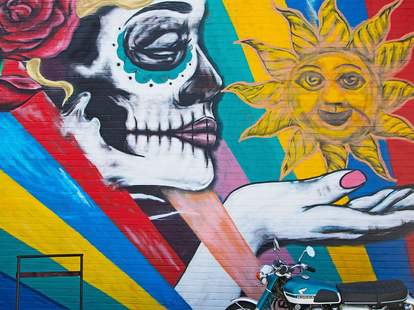 Sydney Martinez/TravelNevada
Heading to The Silver State doesn't necessarily mean spending your vacation in the neon lights of Vegas. Nevada is full of other types of thrills in destinations just waiting to be discovered, like Reno, AKA the Biggest Little City in the World. This must-visit locale, especially the MidTown neighborhood, has transformed into a city full of public art, unusual small businesses, and quirky bars -- all set within an hour of some of the state's most scenic outdoor activities. Keep reading for why you need to get to Reno before the influencers start blowing up your spot.
They're in love with public art
When you have a city this close to Burning Man, the residents are bound to be a bit more right-brained. But, you won't have to pay a gallery admission fee to see some of their work. With more than 120
murals
and a
sculpture trail
encircling the
city
(yet concentrated in MidTown and Downtown), you can see much of the area's art scene while savoring the city itself. When you want a break from walking, there are working studio-galleries like the
Potentialist Workshop
that are home to works that are anything but ordinary. Inspired to make your own masterpiece?
The Generator
is a collaborative art space where you can work, no matter how long you're in town.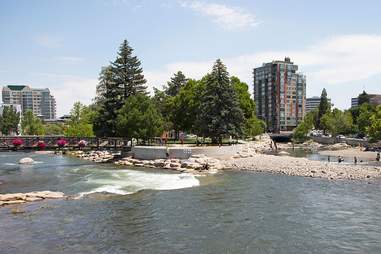 Sydney Martinez/TravelNevada
It's an outdoor-lover's playground
Reno may be a city, but that doesn't mean you can't take in some of the natural landscape from within the town borders. For one, there's a
downtown whitewater kayak park
, where you can tackle class 2 and 3 rapids right in the city center along the Truckee River -- which is also a popular swimming and floating spot for locals. If you're into fishing, the Truckee is loaded with wild brown trout, and stocked with more than 105,000 rainbow trout annually by the state, while nearby Pyramid Lake is home to a rare, coveted, salmon-sized monster called the Lahontan Cutthroat Trout. But if you want to get out of the city for an afternoon, Reno is also the perfect home base to hit up some of the 18 neighboring ski resorts, starting with the beloved
Mount Rose
. And don't overlook the
snowshoeing options
for a more leisurely -- though no less demanding -- workout. The outdoors here are just as great without snow. The trails around Lake Tahoe offer hiking and cycling within an hour's drive; though you should also head to
Peavine Mountain
for an option at every skill level in both pursuits.
Sydney Martinez/TravelNevada
The local shops are as weird as they come
In a time when it's acceptable in every major city to rock a handlebar mustache and get around exclusively via unicycle, finding a truly unique shopping scene is hard to come by. Not in Reno, though. Here, the shops and small businesses embrace the weird. Whether that means perusing the curated collection of apparel from local shuttered casinos at the
Golden Jackal
, to savoring the eerie antique taxidermy at
Natural Selection
, to finding vintage duds at
Junkee Clothing Exchange
or
PolyEsther's Costume Boutique
, the small businesses in Reno are guaranteed to send you home with a truly unique memento.
Sydney Martinez/TravelNevada
The bar scene can rival that of the big guys
Reno may be a small city, but the bar scene makes it seem like anything but. Cocktail joints often have a welcomingly edgy side, like
St. James Infirmary
-- which also makes its own beer and has the best rooftop in town. With that much of a draw, it keeps central Downtown's cafes and taverns competitive. Over in MidTown, you'll find even more hip bar options, like
Death and Taxes
-- a cocktail bar that looks kinda like a Victorian gothic parlor, but one that serves killer cocktails.
The food options are legitimately unique, and uniquely legitimate
A great part of travel is the regional fare, and inevitably in America that means dishes imported by ethnic enclaves. But while you'll find Italian from San Francisco to NYC, and strains of BBQ all across the South, Reno offers a rarer opportunity. The original Basque-Americans arrived in Nevada
from the Pyrenees mountains bordering France and
Spain during the mid-19th century Gold Rush and became key to the region's sheep ranching. Since then the longstanding Basque heritage (and food!) has been central to cities like Reno. To get a taste of the classics, visit
Louis' Basque Corner
, open since 1967, and serving up hearty dishes the traditional way: family-style. Not feeling so continental? It doesn't get much more American than
Beefy's
, an acclaimed burger joint in a train-delivered doublewide diner with more than 30 craft beers on tap or in the fridge (including from local brewers you might not find back home) so dinner can turn into drinks. And for breakfast the next morning, the hardest part will be choosing between "eggceptional" comfort food at
Two Chicks
and the "egg-cellent" giant platters at sublimely named (and rapidly expanding)
Peg's Glorified Ham 'n' Eggs
.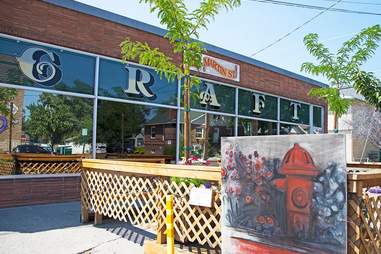 Sydney Martinez/TravelNevada
Of course, there are plenty of local beers to try
When you're looking to get a feel for a city, hitting up the local breweries are a must -- as they normally are just as beloved by the natives as they are visiting craft beer aficionados. For an introductory crash course,
Piňon Bottle Co.
is the place to start. Part bottle shop, part beer garden, Piňon stocks almost every craft beer you can think of and keeps about 36 local options on tap. (If you're hungry, Noble Pie Parlor is right next door, and you can bring outside food into the shop.) For those who like their beers a bit more on the wild side,
Imbīb Custom Brews
is the spot for sours and wild ales, while
Revision Brewing Co
just opened last year with hop-forward brews and is already in distribution globally.
You'll find live bands all over the city
MidTown Reno is considered one of the hippest neighborhoods in the city, full of funky small shops, new restaurants, and a variety of bars, so it's no surprise that this is the place to catch some local tunes. Take
The Saint
, where major bands play alongside local blues musicians, and free shows are frequently on the schedule. Don't be surprised if
The Loving Cup
turns into an all night dance party, too. If you're looking for something more young adult-friendly, the
Holland Project
features all-ages shows in nearly every genre organized by local teenagers, as well as poetry slams, gallery exhibitions, and even a variety of workshops in the arts... of course that all turns to beautiful chaos when
local or nationally touring indie rock and punk bands
take over the space by night. See ya in the pit.
You can still take in that luxurious casino life, too
Little known fact: Reno was actually the first city in Nevada to have a legal casino, as the Bank Club began offering gambling here literally 24 hours after the state permitted it in 1931. In the nearly 90 years since, Reno became something of a casino town -- but now it's exploring a broader identity. Many former casinos have become concert spaces, fine dining restaurants, and bars with cool park games like shuffleboard and bocce, and even the world's tallest rock-climbing wall. The great part is you can have both: the diversified attractions still share the neighborhood with everything you want from a casino: luxury spas, all-you-can-eat buffets, plenty of big name acts, and (duh) gaming. For example, the
Peppermill
has been around since 1971 and has a 33,000-square-foot spa, with geothermally heated pools that use the hot spring beneath the property. For you that means easily accessible fun of both stripes; Reno resorts don't put the rest of the city out of reach. Downtown -- and foremost the Truckee River Arts District -- is a perfect example, where cafes and breweries share the 'hood with casinos, resulting in a truly well-rounded Reno experience that checks all the boxes... and brings a whole new meaning to that "Biggest Little City" nickname.