Drinking on a plane can be cool -- especially if you make your own craft cocktails -- but more often than not, it sucks. It's expensive, all you get are tiny bottles of booze and half cans of soda, and the jet lag hangover hits you like a Skrillex drop at a bar mitzvah.
While all those aspects of drinking on a plane aren't fun, there's one Cold War-era plane that solves most of the problems. It's called El Avión. And it's so much cooler than most planes you've seen.
What makes El Avión so special?
Well, it's a plane that permanently lives in the Costa Rican jungle, and will let you drink man-sized beverages to your heart's content.
Recommended Video
Casa Madalena is a Florida Beachfront Palace
On a cliff by the rainforest outside of Quepos, Costa Rica rests El Avión, a Cold War relic airplane now converted into a bar and restaurant. And if a plane-cum-bar-and-restaurant wasn't cool enough, it's also got a fascinating history.
The bar sits inside a hollowed out 1954 Fairchild C-123, which was allegedly one of two such planes purchased by the C.I.A in 1986 to assist anti-government rebels in Nicaragua. Both were in Costa Rica. One of the planes was shot down in Nicaragua, leading to the uncovering of the Iran-Contra Affair, a sketchy arms sale the Reagan Administration set up with Iran to free US hostages in Lebanon and raise money to fund Nicaraguan guerrillas.
The other is a bar.
As a result, the cleverly named El Avión remained abandoned at the International Airport in San José, having never left Costa Rica. It was purchased for a mere $3,000 in 2000, and shipped to its current, cliffside home near Manual Antonio, one of Costa Rica's most visited national parks, via ferry.
Who'dathunk you'd need a boat to get a plane somewhere?
Knock back a cold one on the bar's massive deck overlooking the Pacific Ocean while listening to live music. You'll find the main bar is inside the fuselage, but you can also sit in the cockpit and try to live out your Maverick or Ted Striker dreams.
Sometimes there are shiny, ripped models, too.
Models or not, the views are always great.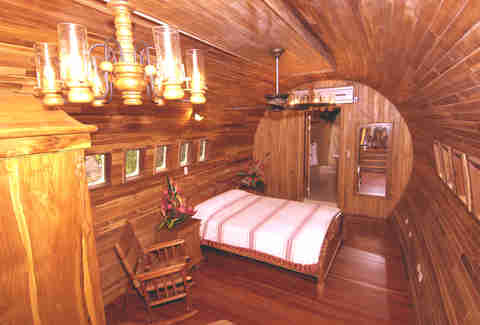 And for real aviation geeks, there's also a plane hotel room – the owners converted a 1965 Boeing 727 into a fancy suite.
Check it out here.
Sophie-Claire Hoeller is Thrillist's über-efficient German associate travel editor, and spends enough time on planes as it is. Follow her @Sohostyle