I tend to describe the Elizabeth Street Garden as a missing tooth. To me, it looks like the street's been sucker-punched and a magic garden has sprung forth in the gap. Boxed in on all sides by apartments, restaurants, and pricey boutiques, it's charmingly out of place in this downtown NYC neighborhood (tourists will call it SoHo; the newcomers, Nolita; and the old-timers, Little Italy).
Some things you'll encounter across this acre of well-kempt grass and daffodil croppings: three lions carved from limestone—one in motion, its left paw outstretched, the other two curled up and sunbathing; a sphinx, propped high on her elbows; two rows of classic Roman-style columns, lined up as if to shoulder the weight of some great architectural wonder; iron-wrought tables and chairs; ornate birdbaths; and a few Greek goddesses.
All this old world antiquity—like the garden itself, tucked between Prince and Spring Streets—feels like some glorious mistake, a glittering urban mirage. It's a secret slice of New York City that many visitors overlook while, say, waiting in line at Prince Street Pizza just around the corner.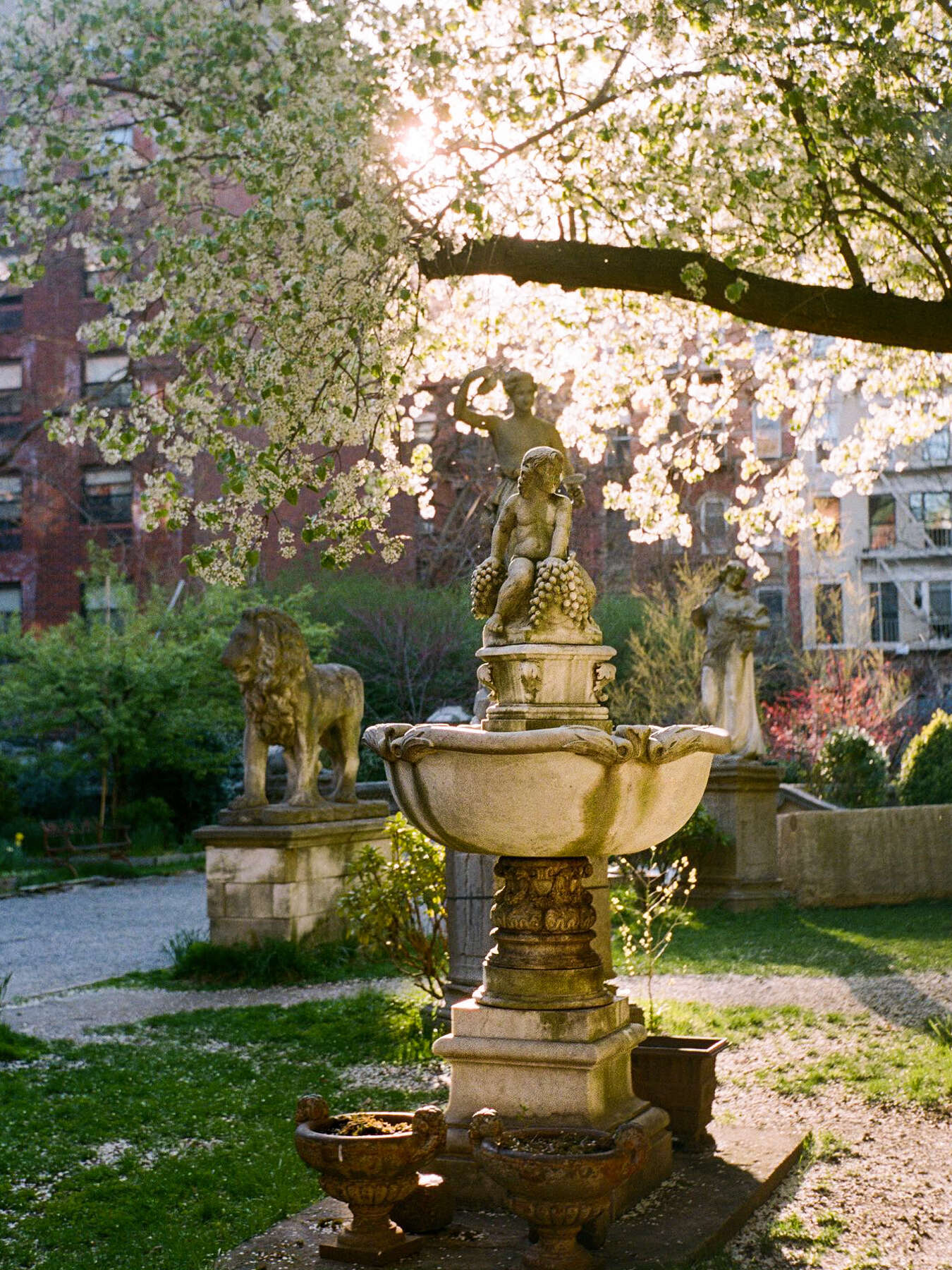 "I can't really explain the garden without saying that it's magical," says Joseph Reiver, the garden's standing Executive Director. "There's something about the way it all comes together—the sculpture, the nature, all the different groups of people. It's an incredible melting pot."
Open year-round until 6, you'll see a mix of professionals taking their lunch breaks on the garden's many folding stools. You'll see old-world Italians from Little Italy conversing on a bench. A quizzical tourist or two might wander in, not quite sure what it is they've stumbled upon.
"You can't really aim to build a place like this. It happens naturally," Reiver says. "It takes generations of locals and visitors offering up their own influence, changing it and shaping it as time goes on."
Restorative green spaces like Elizabeth Street Garden help locals and visitors alike find fresh air, common ground, and community—but, like most undeveloped land in NYC, it's endangered. Threatened by development, this urban oasis might soon face destruction.
Secrets are great, when you're in on them. Luckily, it doesn't take an inside connection to get a great rate on insurance. State Farm® helps you keep more of your hard-earned dollars with surprisingly great rates. Getting the right coverage for your budget — with no secrets required — means more to spend on your preferred adventure. Like a good neighbor, State Farm is there.®
For most of the 20th century, this lot on Elizabeth Street served as the yard for an adjoining elementary school, P.S. 21. Demolished in the '70s, it was eventually replaced with apartments in 1981, but the lot remained vacant and overgrown for nearly a decade.
Fast forward to 1990 when Reiver's father—the late antiques collector, Allan Reiver—began to lease the space on a month-to-month basis. The lot served as overflow storage for the Elizabeth Street Gallery next door; it held 18th-century busts and towering sculptural pieces that couldn't fit in the gallery proper. Over time, Reiver Sr. planted perennial flowers, fresh grass, and sprawling Bradford pear trees. He added seating to the statuary and began to allow public access through his shop next door—so long as you asked first.
"When I first moved to New York, I lived right across the street [from the Garden]. I still do," says Renee Green, chair of the garden's volunteer board and, at 88, one of its original volunteers. "Back then, my husband and I used to go all the time. We'd lounge under this gorgeous pear tree and read and talk. I remember one particular morning just after he'd died, I was walking down Prince Street, and a woman stopped me to say she was sorry for my loss. I asked her if I knew her—I couldn't place her—and she told me, 'yes, from the garden.' That's when I knew, this was my retirement home. My real New York community."
In 2013, Reiver opened a public entrance to the garden off Elizabeth Street. It has become a palette-cleansing blip of greenery and a much-needed community space, hosting events like free yoga classes, movie nights, readings, and even fashion shows.
In fact, across the cramped streets that make up Little Italy and SoHo, ESG is the only public green space. "The garden is one of few spaces where I feel like I can breathe," says Kazusa Jibiki, the manager at Lovely Day, a local Thai restaurant sitting just parallel to the Garden. "It's the place where I feel most human in the neighborhood. Every time I visit, I run into old friends, coworkers, and neighborhood locals. This is our only meeting space."
In the grand tradition of treasured New York artifacts, Elizabeth Street Garden is endangered. Volunteers like Green have been fighting alongside Reiver for nearly a decade to keep bulldozers at bay. In 2012, City Council members introduced plans to develop the garden's modest square footage into affordable housing designated for senior citizens. In 2016, the Department of Housing Preservation & Development (HPD) began to assess the plans, which also call for ground-floor retail space.
The garden's local disciples were quick to coalesce, forming a city-sanctioned 501(c)(3) non-profit to support the space, titled ESG. And in March 2019, they filed a lawsuit against the City of New York and the HPD, challenging the proposal to flatten the garden.
At present, they're still fighting this battle—a controversial one, given that affordable housing in this area is as scarce a resource as outdoor rec space, the urgency of both issues exacerbated by the ongoing pandemic. As of September 2021, Elizabeth Street Garden's fate is yet to be determined: According to the website of Haven Green Community, the housing unit set to replace the gardens, the final verdict has been delayed due to COVID-19. Still, the website notes that construction could begin as early as winter 2021.
Reiver and his team have proposed alternative building sites, currently sitting vacant nearby. "We absolutely need truly affordable housing, but we also need community green space," says Reiver. "One should never come at the expense of the other. Not when alternatives exist."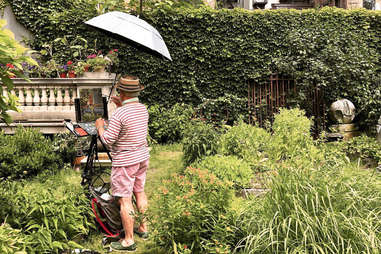 Growing up in South Brooklyn, my classmates and I would embark on field trips in the literal sense: trips to fields. Time and time again, we were shepherded beyond city limits to revel in the wide-open natural space because, our chaperones insisted, it was good for us.
Plenty of studies showcase the positive effects of greenery on mental health, but the numbers are hardly necessary. Most New Yorkers are viscerally familiar with the restorative joy of spending a day in the park. And as we navigate a new normal in the midst of COVID-19, it's more essential than ever to preserve spaces where city-dwellers can spread out, decompress, and get some air.
"New York can be a lot to handle. It's easy to lose sight of the magic of the place when you're in the thick of it," says Reiver. "Coming to the garden always reminds me, though. Of course," he continues, "part of the magic here comes from the risk. Nothing gold can stay, you know the drill. But it's been so amazing to watch the community rally to keep this place alive."
Eliza Dumais is a former staff writer at Thrillist. She now works as a lifestyle editor at Refinery29.