Now You Can Buy Elvis' Private Jets and Live Like The King
According to that old saying, money can't buy style. Yeah, well, if you've got enough money, who cares what old sayings say. Case in point: now you can buy two of Elvis Presley's personal jets. That dude had style. Take that, old-saying-sayers.
For just $10 million to $15 million, the "Lisa Marie" and "Hound Dog II" can bring you one step closer to living like The King without having to dye your hair or put on a weird jumpsuit. Both luxury private jets are on auction at Julien's Auctions in California right now.
Julien's Auctions
You won't actually be able to actually fly the show planes -- which Elvis bought in 1975 (two years before his death), and are currently parked at Graceland -- because they're no longer airworthy. But they're still pretty cool and luxurious. And their interiors have even more in common with grandma's living room than just being a shrine to Elvis: they're 100% covered in polyester, just like grandma's couch. It's so they don't wear out!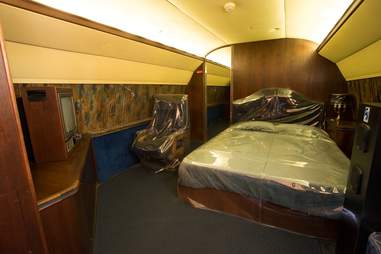 Julien's Auctions
As well as having a swanky bedroom, the "Lisa Marie" comfortably seats 28. But it's the amenities that make the jet named after The King's daughter stand out: leather seats, 24-karat gold seat belts, a bar, meeting room, a gold sink in the bathroom, and a fancy video system hooked up to four TVs make it seem all futuristic -- if it were still 1975. Too bad Elvis couldn't get up off the toilet to see his airplane dream realized.
Julien's Auctions
And the more modest, 10-seater "Hound Dog II" -- which Elvis bought during the refurbishment of the Lisa Marie -- rocks a tasteful green/yellow/blue decor, with more leather seats and tropical-looking curtains that scream Aloha From Hawaii.
Whoever buys the jets can also buy a few acres near Graceland to showcase the new possessions -- because you don't buy two jets that don't fly except to prove that you've got "F-you" money.
Julien's Auctions will be accepting sealed bids from Elvis enthusiasts through Feb. 2. Until then, take a tour of the jets below.
Chloe Pantazi is an editorial assistant on Thrillist's travel team. Yes, that's a British accent. No, she doesn't watch Doctor Who. Follow her on Twitter at @ChloePantazi.