I'm staring down a row of about a dozen hot beverage dispensers at a Christmas market in Bratislava, Slovakia, paralyzed by indecision. Do I want to sip something with an orange flavor and hint of cinnamon, or would I prefer black cherry? What about forest fruit? I finally opt for a red currant wine beverage and point to it eagerly, accepting a steaming mug. When the liquid cools enough to drink, I'll throw it back and then plod a few blocks back to my waiting cruise ship, the Emerald Sun. We're headed for Budapest to take in some additional Christmas markets, and I've got to get some rest before I fortify myself with gingerbread in the morning.
When I first heard about European Christmas market cruises, I knew I had to go. These voyages up and down the Rhine and Danube drop guests in cities with some of the continent's most festive holiday markets. You can spend the day perusing Vienna's 17 or so Christmas markets, or take a leisurely stroll through the streets of Bamberg, Germany before sitting down for a nice mug of mulled wine at their Christkindlmarkt. Markets are often held in historic parts of the city and each brings its own local flair, meaning travelers get to experience long-held traditions while gazing up at centuries-old architecture. And at the end of each day in the markets, you get to clamber back on board a vessel twinkling with holiday lights, letting the river carry you to your next destination.
I booked a ticket on a low-slung Emerald Cruise ship sailing the Danube River this holiday season, aiming to spend five days sampling the best sausages, spaetzle, and strudel Vienna, Bratislava, and Budapest have to offer. Here's what's worth doing on a Christmas cruise.
Get into the spirit on board
My journey starts in Vienna, where I board my cheerful vessel after a taxi ride from the airport. Docked just a few blocks from the nearest Christmas market, the boat's halls are decked as charmingly as any high-end hotel. There are twinkling white lights around the reception desk, tinsel and oversized ornaments on the entrance hall pillars. A whole array of adorably decorated gingerbread houses sits nearby, flanked by massive Lindt chocolate Santas and spiced nuts for snacking. Upstairs, a 6-foot Christmas tree stands next to the ship's cocktail bar, not far from an always-full jar of Christmas cookies and two cocoa-dispensing coffee machines. You might think this would be enough holiday spirit for one boat, but the Emerald Sun has more to offer: When I head to my room, I find the TV is equipped with about 10 Christmas movies to stream at any time.
All this is to say: The holiday spirit is predictably pretty heady on board a Christmas market cruise, and it's worth leaning into the Christmas vibes, tinsel and all, unless you relish being perpetually annoyed by all your surroundings. There's no escaping the decorations and treats, no matter how much you identify with the Grinch; better to be a Cindy Lou Who.
Join the ship's holiday festivities
On the Emerald Sun, the ship's crew always seems to have a little something seasonal up their sleeves. During the mandatory safety briefing on the first night, the cruise director brings out a massive Tony's Chocolonely advent calendar and draws names of passengers out of a silver ice bucket. The lucky winners (none of whom are me) get to open a little door on the calendar, pull out a piece of chocolate, and snag something from a mini stocking hanging on the tree. The contents of the stocking remain a mystery to me, but I'm told it contains "a gift from the ship." The calendar resurfaces throughout the cruise at port talks, Christmas trivia challenges, and even the late-night Christmas Disco, during which the boat's activities director attempts to get a bunch of sweater-clad middle-aged people up and grooving to tracks like "All I Want for Christmas Is You." Even though I'm tragically never chosen to receive one of the coveted Tony's Chocoloney gifts, the events still help me feel cheery and bright.
Explore each city's Christmas markets
As promised, we sample at least one Christmas market every time the boat stops, and Emerald even sends a local guide to accompany us each morning. In Vienna, we actually hit five or six markets, since we have a full day in towns and our legs aren't too tired yet. As we walk among booths shaped like charming wooden houses, I admire countless handicrafts at the Am Hof market, from hand-carved nativity scenes to blown glass ornaments. A few blocks away, the Altwiener Christkindlmarkt on the Freyung dishes out an array of good eats. I snag a big plate of hot ​​Käsespätzle (cheesy egg noodles) with crispy onions on top, a piping hot Leberkäsesemmel (a type of meat loaf sandwich), and a steaming mug of glühwein (mulled wine) and don't stop until I'm full.
That night, we follow our local tour guide's recommendation to skip the big market in Rathausplatz, which she says has been more flea market than festive as of late, in favor of the Art Advent market at Karlsplatz. There, local makers sling stained glass, hand-thrown pottery, and mugs of organic, biodynamic mulled wine under the glow of string lights. Stilt walkers dressed as 10-foot-tall Christmas trees and Santas tower above us, and a kiddie carousel made of repurposed old car parts and children's toys spins below. There's so much to see—and to buy.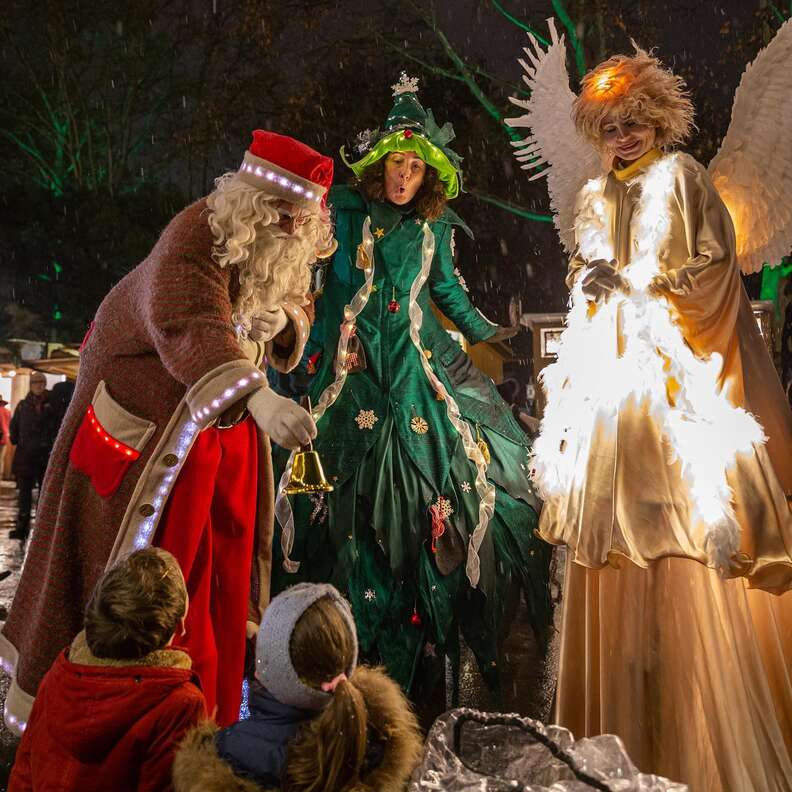 During the rest of the cruise, we visit two markets in Bratislava and two more in Budapest. I warm myself with mulled wine and knock out some serious Christmas shopping. By the end of the trip, I've snagged cookie stamps for my mother-in-law and a handcrafted floppy doll for my daughter, a carved wooden car for my son and a little ceramic magnet for a friend. I buy two self-contained play boxes for my kids from a vendor at the Vörösmarty Square market in Budapest, feeling relieved I planned ahead, bringing suitcases with plenty of room for gifts.
Make time to relax and enjoy the season
The holiday season isn't without its stressors, so I make sure to leave some time for relaxation while on board the Emerald Sun. I go to bed early each night, with the shade up so I can watch the waters of the Danube all aglow with city lights as I drift off. I also schedule a facial and foot rub at the on-board spa, the white noise of the ship's propeller lulling me into a deep relaxation. It find it nice to sit by the ship's pool as well—an activity one doesn't usually associate with winter in Europe, but thankfully the covered pool area is warm enough for lounging. I even make the most of breakfast buffets, taking my time to sample the range of offerings while planning out my day.
Our ship cruises the Danube during the last night in Budapest. I bundle up and head out to the sun deck, freezing, as I enjoy the quiet view. We pass the massive Hungarian Parliament Building and gaze at the spires of St. Stephen's Basilica, the city lights bright and beautiful in the surrounding darkness. Later, too cold to remain outdoors, I grab a seat in the ship's bar, below a TV playing footage of a crackling fireplace, and sip from a mug of hot chocolate. I'll be leaving in the morning, heading back to busy airports and even busier work days, but my journey has bolstered me with both hot wine and Christmas spirit, my cup full enough to keep me going during this dark and busy time of year.