The Overlooked Italian Destination You Should Visit Before It's Too Popular
"Italy" carries a certain connotation. Maybe it's garlic or wine or narrow cobblestone paths. Perhaps it's portico-lined streets with outdoor cafes where diners take three hours to finish a plate of prosciutto. Or it's fit men and women in slim-fitting clothes, driving fast cars, and saying everything with a passion so strong the words they use don't even matter.
Which isn't inaccurate, necessarily. But also doesn't account for Snapchat-story-obsessed tourists packing those cobblestone streets. Or waiters in those cafes so exasperated with people asking for gluten-free pasta they rush them out before they have time to order a second Bordeaux. Or those natty Italians jumping in those fast cars and driving out of the country to avoid the visitors.
Tourists might just ruin your summer vacation if you stick to A-list Italian destinations. Cheap airfares have made Tuscany feel a little like Target on Black Friday, with the whole world pounding at the door because everything is so cheap.
But all is not lost. The authentic Italy of your dreams still exists. Head to a place called Emilia-Romagna.
BOLOGNA, ITALY

| Yulia Grigoryeva/Shutterstock
The best food in Italy in overwhelming abundance
It's not that people haven't heard of this region of north-central Italy smack between Milan and Florence. Its city names are stamped all over the Italian food section of your local supermarket: Bologna. Modena. Parma. Reggio Emilia. You get hungry just reading a map here. It's just that when planning a vacation few people base it on food names, though doing it here definitely won't disappoint.
Emilia-Romagna sits in a vast agricultural valley around the Po River. Its namesake road -- the Via Emilia -- was constructed in the third century BCE and still remains in much of its original path. It was intended to link the urban centers of northern Italy, and that DNA as a crossroads makes it a delicious road to take for the best flavors of Italy.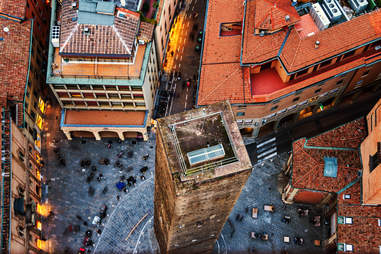 Bologna, Italy

| Madrugada Verde/Shutterstock
On my recent visit, I realized immediately how special the food is. No kidding, the apple I got at the Bologna Airport convenience store was better than ones I've had at U-Picks in central Washington state. My first salad -- at a nondescript hotel bar -- gave me the revelation that lettuce doesn't actually taste like dirt and water. Here, it tastes like an herb garden. Exploring Bologna, I found produce lining the city's narrow streets, and after sampling cherries, oranges, melons, and tomatoes I wondered why cities like Fresno and Turlock weren't pulling off the same magic.
The restaurants in the region take full advantage of their proximity to this angelic produce, as well as some of the world's finest cheesemakers, wineries, and pork farms. Osteria Francescana in Modena is Emilia-Romagna's most famous restaurant, a spot that in 2016 earned San Pellegrino's coveted Best Restaurant in the World title, the first in Italy to do so. But the food here extends far past 12-course tasting menus in Michelin-starred restaurants. The real treasures live in back alleys and neighborhood streets.
A stroll through Bologna can be overwhelming. Those cafes people imagine -- where people sip wine and sample prosciutto for hours at a time -- extend for blocks in every direction from the Piazza Maggiore, the city's central square. Walking the cobblestones had me wobbling as I ogled plates of tortellini in brodo and gnocchi Bolognese. I stopped at the first place that advertised 10-euro bottles of wine and ordered my body weight in pasta.
West down the Via Emilia in Modena, I discovered the restaurants that every classic Italian-American joint back home was trying to duplicate. Wine bottles in baskets lined shelves beside big black-and-white photos of famous Italians. Diners feasted on family-style plates of pumpkin ravioli in butter and nutmeg that they washed down with generous glasses of Lambrusco. At Ristorante da Danilo, tucked just behind the city's only synagogue, plate after plate of tagliatelle in ragù, ossobuco alla milanese, and filetto di manzo passed by, tempting me to order. But here, ordering is a little different.
BOLOGNA , ITALY

| Akhenaton Images/Shutterstock
Sure, there is a menu. Instead of offering it to us, a waiter came to the table, talked to us about what we wanted, suggested some stuff, then brought out whatever the chef felt like serving. All of this in Italian, of course.
The best part about eating here, though, is that it's cheap. An entrée at the local family joints is about 15 euros. A pizza can be had for 6. A full meal with wine -- also hilariously cheap -- won't run you much more than 50 for two people. For sheer dining value you'd be hard-pressed to find a better destination in the Western world.
Strolling out of a restaurant on a weekend finds you smack in the middle of what whoever designed every "Italian-inspired" multi-use project in the United States was trying to recreate. The streets are closed to traffic and young, attractive, impeccably dressed people pour out of the bars, sipping wine and Italian beer atop street-lit cobblestone. The noise of the crowd echoes through the porticos and off the buildings. The streets, uncrowded, still pulse with energy.
Basilica di San Domenico, Bologna, Italy

| Leonid Andronov/shutterstock
Classic architecture and classic cars abound
The restaurants aren't exactly set in strip malls, either. History here dates back nearly 2,300 years; the buildings that house espresso bars and pizza shops are often hundreds of years old. The porticos and columns are as much a part of the landscape as stop signs, and walking through the streets of any city in the region is a surreal placement of what you know and what you've only seen in books. And best of all, those streets aren't jammed with people snapping selfies.
The churches here are Italianly spectacular. The Santuario di Santo Stefano in Bologna is an amalgamation of seven different churches that date back to about 400 AD. It's not the most stately cathedral in the city, though. That honor belongs to the Basilica of San Domenico, where sculptures crafted by a 19-year-old Michelangelo adorn the fixtures, including one that was the fully clothed forbearer for David. And then there are the leaning twin towers -- the torre degli Asinelli e Garisenda -- that stand as the city's icons, once owned by private families that used them for protection.
But the new stuff they're building here is just as impressive as the old. Just instead of structures, they're making cars. Emilia-Romagna is also known as Motor Valley, because Maserati, Ferrari, Ducati, Lamborghini, and Bugatti all have headquarters here. For die-hard car people, nowhere on earth compares.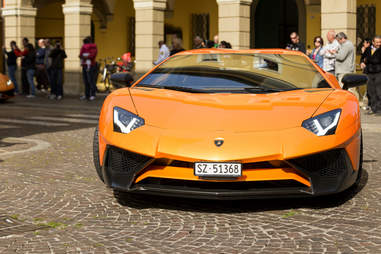 Lamborghini in Sant'Agata, ITALY

| CuorerouC/Shutterstock
In Sant'Agata, the Lamborghini world headquarters allows you to see where Lambos get hand-made. The guys building them look the part: young, thick-haired Italians who appear likely to clamber behind the wheel just as soon as they install the seats. Every few minutes the factory is filled with an unmistakable belchy-roar, a cry announcing the arrival of the world's newest Lamborghini.
In Modena, there's the Ferrari museum, built around Enzo Ferrari's birthplace near the city center. This was the only place in Emilia-Romagna I saw anything vaguely resembling a tour bus, and even then the sloping, chic-white display space of the museum made it feel completely open.
If you want to experience the power and precision of Italian sports car on a Formula 1 track, there's the Autodromo di Modena. Here you strap into a race-modified Ferrari, Porsche, or Lamborghini and speed around the 11-turn track at 130mph. This might not sound alarmingly fast, but when done over 11 tight turns and two fairly short straightaways it feels like live racing. Three laps in, I could already feel the g-forces taxing my neck. When the flood of adrenaline from flooring a Ferrari down a straightaway and apexing through turns at over 80mph wore off, I had a whole new appreciation for racecar drivers.
If you want to see these cars race, come for the annual Modena Cento Ore classic in June. It's a four-day road race where collectors drive the likes of classic Porsches and vintage Aston Martins through Italy, ending in Modena's Piazza Grande. By nightfall the piazza is a big, exhaust-filed car museum, and the juxtaposition of automotive beauty with the centuries-old architecture will be the new connotation I have when people say "Italy."
Cathedral, Piazza Grande, Modena, Italy

| Ana del Castillo/Shutterstock
See it before the world comes in
As I walked back through Modena's Piazza Grande after the race, past the stately 17th-century Ducal Palace and bustling Mercato Albinelli, I realized I might never see Emilia-Romagna this way again.
It's like those people who talk about going to Bali 15 years ago, who say they realized it was about to become a big tourist destination, and are glad they went before it changed. The character in Emilia-Romagna is strong, but you could easily imagine the outlines of tour buses and throngs of visitors. The Italy of your fantasies exists here, for now. At least, until the world catches on.
Sign up here for our daily Thrillist email and subscribe here for our YouTube channel to get your fix of the best in food/drink/fun.
Matt Meltzer is a contributing writer to Thrillist. Follow him on Instagram @meltrez1