This Trippy Oregon Theme Park Is Like A Psychedelic Disneyland
It's a winning combination of childhood nostalgia and hallucinogens.
Get weird in Enchanted Forest

| Jeremy Thompson/Flickr
Get weird in Enchanted Forest

| Jeremy Thompson/Flickr
My most vivid childhood memories of Enchanted Forest are of Storybrook Lane, the park's original attraction. It takes you down a leafy path full of storybook oddities: fairytale figurines that appear poised to come alive; a jumbo Humpty Dumpty grinning atop a wall; a dark, dank Alice In Wonderland tunnel carved out of a faux tree stump; and an anthropomorphic caterpillar perched on a larger-than-life neon pink mushroom.
While my perspective hasn't changed much in the 22 years since, I now have the precise words to describe the place: trippy as shit.
In theme and physical size, this peculiar amusement park in Turner, Oregon -- which turns 50 this year -- caters to small children. But over the years, it's also become a low-key psychedelic playground for grownups thanks to a combination of social media, nostalgia, legal cannabis, and hallucinogens. In a state that fully embraces weirdness, Enchanted Forest is a jewel perfectly at home among the trees just off the highway.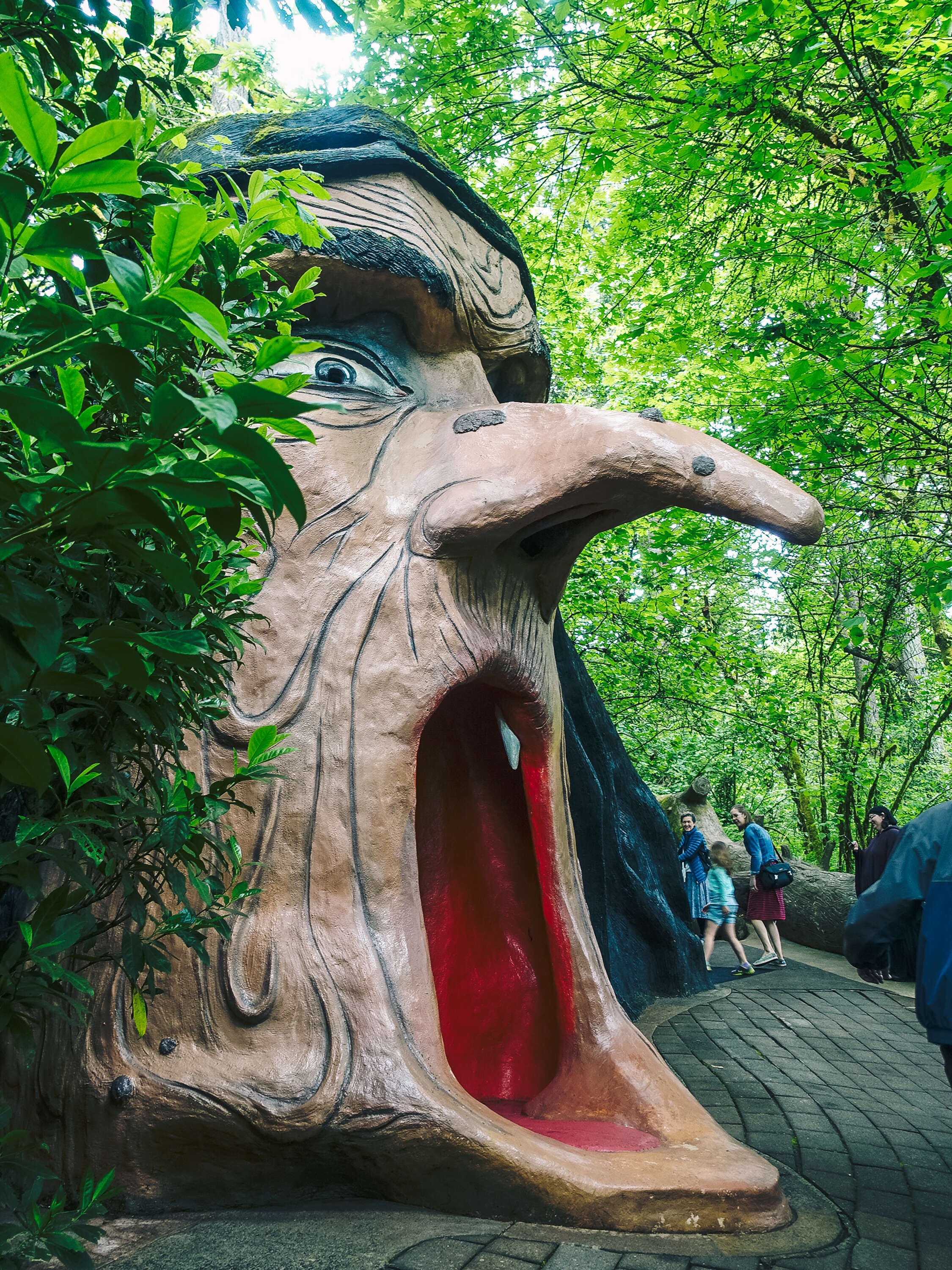 For Sara Rudolph, Enchanted Forest is a reversion to childhood, one that's typically facilitated by psychedelic mushrooms.

Rudolph has been going to the park since she was three. She remembers being thrilled and a little alarmed by the folksy handmade attractions -- among them a giant slide you enter through a witch's gnarled maw and a rickety haunted house.
Her last visit to the park was last year, at the age of 43. She says she hasn't gone to Enchanted Forest "entirely sober" since she was about 16, and as an adult, 'shrooms help her recreate moments of adolescent wonder.
"There are all these little alcoves with puppets that definitely look like they come alive at night."
"It's an immersive experience, something that we are very there for as children, but less so as adults," she says. "If you're high, you have more levels of that [childhood] experience. It's not just visual: You're actually more involved and more affected by the tactile nature of it."
Enchanted Forest can be trippy in a fun way -- or terrifying, depending on how high you are.
"It's sort of homemade, which makes it extra creepy," Rudolph says. "It's definitely not Disneyland. You're not sitting safe in a little cart. You're walking through it and it's kind of unpredictable and there are '70s-style, weird, lurid colors."

Enchanted Forest dates back to 1964, when Roger Tofte began building it on a 20-acre forested hill outside of Salem, according to the website. The park officially opened in 1971, with a piece of butcher paper that read "OPEN" alerting people to its existence.
Tofte, an artist and tinkerer who is now 90 years old, wanted to give kids in the sleepy city of Salem (the state capital, about an hour south of Portland) something to do. He built the park by hand with his wife, Mavis, and four kids.
Susan Vaslev, Tofte's oldest daughter who now helps run Enchanted Forest, says there have been a couple of dips in attendance throughout the years that threatened the park's survival. The first was in the 1970s, when oil crises led to nationwide gas shortages, and the second was after 9/11. Currently, attendance is at a standstill as nonessential businesses are shuttered. Its 50th anniversary celebration is a big question mark.
"Our biggest business is repeat visitors," Vaslev says. "We're very thankful to them because that's what keeps us going."
The park's official Instagram -- which features photos of a smiling, wizened Tofte still repairing and shoring up the park by hand -- has over 10,000 followers. On it, you'll find collections of fan art, vintage photos, and promos from the time the park was the subject of Travel Channel's Ghost Adventures (the crew believed it was haunted). Threads on Twitter and Reddit, though, highlight the more underground aspects of the park.
Venture deep enough down the internet rabbit hole and you'll find fan reviews of the Music From Enchanted Forest album, a collection of storybook-synth tunes composed by Vaslev that play on loop throughout the park. Search Reddit and you'll find an "Ask Me Anything" thread with somebody claiming to be an employee in 2018.
"What's the strangest thing you've caught visitors doing who didn't know you were watching?" a user called IronicallyZen asked.
"Definitely pot smoking!" the employee responded. "Young people think they could come in and sneak a smoke in the dwarf caves or bathrooms, but employees roam around constantly and they are for sure not getting away with it."
"I couldn't imagine not going high."
Douglas Elkins, co-owner of Salem's OG Collective Dispensary, says cannabis isn't necessarily the drug of choice for Enchanted Forest Visitors, but he's certainly "heard of people doing acid and 'shrooms and going to Enchanted Forest."
Vaslev, however, vehemently denies the park's reputation as a destination for psychedelic enthusiasts. "Rumors are rumors and not what we see in the park. We're very family-oriented," Vaslev says. "If people come intoxicated, on alcohol or drugs or cannabis, we will ask them to leave or call the police."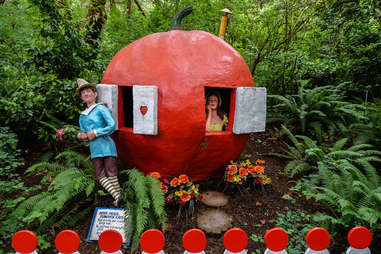 "I couldn't imagine not going high," says Crystal Contreras. "It would seem kind of sad."
Contreras, 37, learned about Enchanted Forest after moving to Oregon as an adult. "I heard that [taking psychedelics before going to the park] was a thing people do from a friend who grew up here," Contreras says.
Her inaugural visit was with a group of friends, who all took mushrooms. Because it was a sweltering summer day, Contreras opted to be the relatively sober friend and go "very, very high" on cannabis instead. She learned it was beneficial to have a high tolerance for spookiness.
"There's definitely a contrast between it being cute and fun and really creepy," Contreras says. "It has a weird acid-trip aesthetic. There are all these little alcoves with puppets depicting scenes from fairy tales that definitely look like they come alive at night."
At one point, "going through one of the little houses," Contreras says she, "got a feeling that if I let my friends out of my sight they would disappear forever and I'd never find them."
Contreras and Rudolph have advice for adults who decide to microdose before their trip to Enchanted Forest. The best ride, they both agree, is the new Challenge of Mondor, a target-shooting game that winds slowly through a dark tavern.
"You get to chill out and shoot targets with a laser gun, who wouldn't like that?" Contreras says.
Rudolph also recommends the Fantasy Fountains Water-Light Show -- a "beautiful, dazzling water and light show" that has 359 water jets, according to the park's website.
But she warns against the Ice Mountain Bobsled Roller Coaster, a Matterhorn knock-off that was the park's first ride.
"They put you in a little plastic capsule and it is incredibly claustrophobic," Rudolph says. "If you're over five foot four, especially on drugs, maybe skip out."
Elise Herron is a freelance journalist covering social and environmental justice -- and anything else she finds interesting. Her work appears in Vice, Willamette Week, and Portland Monthly Magazine. Follow her on Twitter @cc_herron.