13 Surprisingly Easy Countries for English Speakers to Travel In
Lake Bled, Slovenia

| Andrew Mayovskyy/Shutterstock
Lake Bled, Slovenia

| Andrew Mayovskyy/Shutterstock
If you went to American public schools, you probably speak a second language about as well as you do algebra. Twangy Spanglish makes telenovelas more of a hoot, and menu-grade French makes Montreal even slinkier (voulez vous coucher avec moi?) -- but let's be real, if the rest of the world hadn't adopted English as a lingua franca, the vast majority of Americans would be reduced to mimes when stumbling around overseas.
Ah, but there's the rub: English is the world's unofficial second language, with some estimates claiming that 1.5 billion people speak it. Tons of those folks are clustered in the usual roster of foreign lands -- the UK, Australia, Canada, Ireland, Jamaica, New Zealand, Oregon. Elsewhere, you may have to work harder to be understood, but you can always find people ready to meet you on your linguistic turf when you're on their soil. A language barrier won't keep you from taking an adventure in these 13 countries; included with each is the percent of people who speak English, per some probably-in-the-ballpark estimates. Take a trip anywhere on this list and you'll swear they've been practicing for your arrival. Because unlike you since taking German in 10th grade, they have been.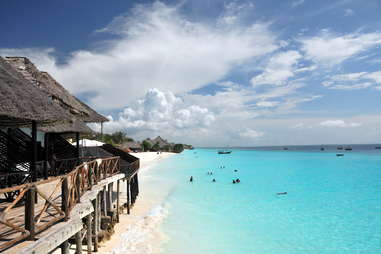 Tanzania
How many people speak English: 10%
What it's like as an English speaker: English is widely spoken in this former British colony, especially in the cities and in the tourism industry. Most everyone you interact with will speak your language, which is mildly embarrassing until you remember that you saw The Lion King a few times back in the day. Then you'll start looking for conversational openings to casually drop Swahili words like simba (lion), mufasa (king), pumbaa (dimwit), rafiki (friend), and hakuna matata (no worries… for the rest of your daaaays). Pro tip: Call it Kiswahili, which is (stay with us now) the Swahili word for "Swahili," like Español is the Spanish word for "Spanish."
What Tanzania has to offer: Want to see The Lion King IRL? Tanzania has dozens of safari parks, including the world's largest (Selous Game Reserve) and its most famous one (Serengeti National Park). Time your visit right and you can catch the annual migration of 1.5 million wildebeest, a squad so imposing it's known simply as The Herd, as in "look sire, The Herd is on the move." (Don't go, Mufasa!) Another major draw is Kilimanjaro, where you can walk/cry all the way to the summit of Africa's tallest mountain. But if hiking to an airplane's cruising altitude doesn't sound like your idea of a vacation, head to the tropical island of Zanzibar to do nothing but lie on your back all day, drink from coconuts, and watch really tall Maasai Mara dudes herd cows on the beach. -- Sarah Theeboom, Thrillist contributor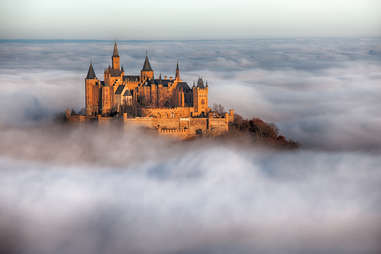 Germany
How many people speak English: 70%
What it's like as an English speaker: After living in Berlin for over a decade, my German went from being basic to a more advanced basic. Buying a house, getting a job, starting a company, and making friends, although challenging, proved doable for an Anglophone. This is because most Germans are proud of their English and love using it when possible. Try out your German to someone in Berlin, and quite often they'll reply in English. It's taught from an early age, and like English, it's a Germanic language, with many similar principles. It is also the language of academia and international business, which thrives in the leading European country.
What Germany has to offer: In Berlin, like many of the other big cities -- Frankfurt, Hamburg, Munich -- English will get you far. Go on a guided tour, eat some schnitzel, go hiking, or hit up your favorite nightclubs, and you'll meet so many young, friendly Germans wanting to perfect their already impeccable English, you'll forget that you're in a country that invented such words as quietscheentchen (rubber duck) and streichholzschächtelchen (match lighters). Once you're done in Berlin, simply book a train ticket to your next destination with Bahn.de, the national rail service whose site is also available in, of course, English. -- Daniel Cole, Thrillist contributor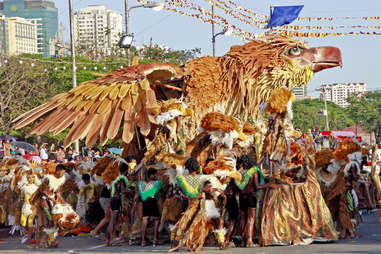 The Philippines
How many people speak English: 92%
What it's like as an English speaker: American English isn't merely Filipinos' second language; it's how many of them communicate regardless of who's in the mix. Beyond America's 50-year occupation (1898-1946, when Uncle Sam built hundreds of English-teaching schools, basketball courts, and Hollywood movie theaters), Filipinos also celebrate English words by singing, everywhere, all the time. They invented karaoke and perfected live music, a legacy of the lounge and rock bands that sprang up around Vietnam-era military bases that needed entertaining. Base towns became live Western-music hubs, and that scene remains a huge reason to visit this ultra-friendly tropical country.
What the Philippines has to offer: The Philippines is all about variety in landscapes and personality. In its 7,000 islands, you'll find hundreds of idyllic tropical beaches, mountainous cloud forests, and Manila, the dazzling, kinda-haywire city of 17 million. It's traditional yet faddish, Asian in character but Western in disposition. Every neighborhood has multiple sing-along bars with non-canned music ranging from sitar/bongo duos to American Idol winner-types. Outdoor bargain cafes/traveler hangouts serving 75-cent bottles of cold beer abound, all spinning tunes from their massive classic rock and blues inventories. If you make only one stop: Hit the Hobbit House, a Downtown Manila institution. Gritty and gonzo, it's their version of CBGB -- an everyone-aboard live-rock club -- with the distinct twist of being staffed by little people. -- Bruce Northam, Thrillist contributor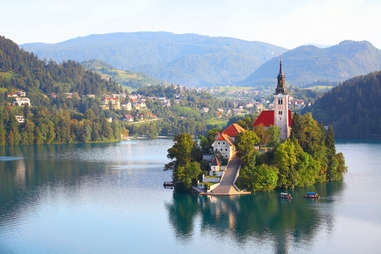 Slovenia
How many people speak English: 59%
What it's like as an English speaker: A tiny European country of 2 million strong, nearly squeezed off the continent and into the Adriatic by Croatia, Hungary, Austria, and Italy. Slovenian culture blends all these neighboring influences, so it's no surprise Slovenians love language. Over-the-top friendly locals who speak impeccable English make Slovenia the stuff of road trip and hitchhiking dreams. Asking for directions might turn into 30 minutes of shooting the bull about attractions and Slovenian history, which might carry into drinks at the bar or even an invitation for a home-cooked meal.
What Slovenia has to offer: The capital Ljubljana (which looks impossible to pronounce, but actually comes out rather naturally in a native English accent) is just a two-hour drive from Venice and about a four- to five-hour drive from Vienna, Budapest, and Split. It's easy to sneak Slovenia into a Eurotrip itinerary and you should definitely do it -- if for no other reason than the greenery and sidewalk cafes of Ljubljana or the breathtakingly blue waters and open skies of Lakes Bled and Bohinj. -- Barbara Woolsey, Thrillist contributor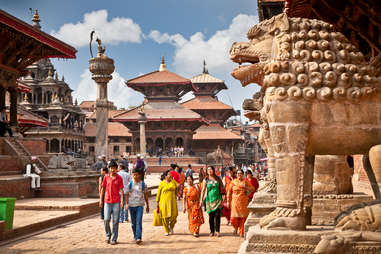 Nepal
How many people speak English: 46%
What it's like as an English speaker: You'd be surprised how easily English allows you to navigate a country as delightfully batshit as Nepal. Everything about the place feels like the end of the Earth, an otherworldly, largely hermetic kingdom as far removed from America as one could imagine. Yet a casual stroll down the street punctuates this hazy dreamscape with the realization that while you recognize almost nothing from home, pretty much everyone around you is speaking English. They're asking you for pens, demanding to know what's up with the presidential election (as if we have a clue), proudly showing you around their remote cliffside dwellings (where they politely force you to drink yak butter tea), and just generally wanting to hang out.
What Nepal has to offer: We ended up going to Nepal on a whim (after we missed our flight to India), and it was the best decision we ever made. With towering mountains (including Mount Everest -- maybe you've heard of it?), amazingly well-preserved ancient towns like Bhaktapur, and intricate Buddhist pilgrimage sites (even though the country is predominantly Hindu), Nepal offers the adventurous traveler an eye-opening, mind-expanding experience. I was also pleasantly surprised how friendly most attitudes are towards Americans (at least when we were there), as one night our pale gringo looks were all we needed to instantly ingratiate ourselves with beaming Kathmandu locals and earn a round of free drinks in the process. We felt like kings looking out at an entire bar smiling at us, and pretty much all they wanted to do was talk to us and find out more about America (and yes, what Tom Cruise is like). But scratch beneath the surface and you'll find friendly, curious people who just want to know a little more about you. And, especially when it's all being done in English, what more can a traveler ask for? -- Jay Gentile, Thrillist contributor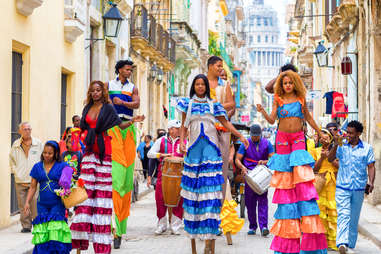 Cuba
How many people speak English: Hard to tell exactly, but a growing number
What it's like as an English speaker: Overall one of the easiest Spanish-speaking countries to get around, since English is taught in the public schools, which almost everyone attends. Restaurant staffs, shopkeepers, random folks on the street -- everyone's eager to chat with Americans, a novelty to most, since we haven't been able to visit in over 50 years. Use your street smarts and beware of hustlers, though. Everyone is friendly, but some are working an angle to get you to a music performance or into one of those sweet old cars driving along the Malecon. Don't be scared -- you're safe. Just don't believe every guy who tells you the Buena Vista Social Club is playing on a Monday night. BVSC retired a few years ago. Some of the members have passed away. They are not playing tonight, or any other night this week.
What Cuba has to offer: Food, dancing, rum, cigars, and yes, those pre-1960-embargo American classic cars. They're a cliché by now but, truly, they are freakin' amazing, and as taxis not a bad deal when you want to get around Havana. Don't believe what anyone may tell you about the food being bland. It is perfectly seasoned and a dream come true if you love rice, beans, and piles of meat. Avoid the hotels and government-run restaurants in favor of paladores (privately run restaurants, usually in someone's home or what used to be their home) for the best food in all of Havana. The three-flight walk up to the rooftop bar will give you an inside look at local and expat life in this city. -- Keryn Means, Thrillist contributor
Japan
How many people speak English: 10%
What it's like as an English speaker: The Japanese learn to read English in school but their conversational skills often lack. When in doubt, write it out. All you need to get around is to show people your destination in Romanized writing or in kanji. Most taxis have GPS and if you give them the address or show them the Japanese address on your phone, they'll get you there. Most places these days have English menus on hand, with pictures galore. At every turn, you'll find Japanese people who feel apologetic for not being able to speak better English, and who go the extra kilometric mile to help you out.
English signage now abounds on the streets of Tokyo, Osaka, Kyoto, and in train stations everywhere. If you need help, ask the station master or policemen stationed at huts in front of every station and they'll happily guide you, sometimes even accompany you. I recently had an Osaka train station employee walk me from the station exit to the gym I was looking for after he decided my Kanto Japanese was the equivalent of not really understanding Japanese. (Osaka and Tokyo have different dialects.) Tokyo also rocks a government-made app, "Tokyo Handy Guide," that offers maps and sightseeing functions.
What Japan has to offer:Visiting Japan is like stepping into a neatly made time machine. You can jump to the future in the robot restaurant, or explore the past in the beautiful temples of Kyoto or the Art Deco mansions of the imperial family at Tokyo's Teien Art Museum. Gaze upon Tokyo's landscape of neon from 52 floors up in the observatory of the Mori Art Museum or lose yourself in the mystical inner gardens of Meiji Jingu shrine. Now that the absurd dancing-after-midnight ban is over, you can enjoy the club scene until 4am, or if you luck out, head to a fancy "love hotel" and experience the wonders of body sonic and in-room vending machines that will melt your mind. The really classy ones have rental costumes -- from both the ancient past and the future. -- Jake Adelstein, Thrillist contributor
Armenia
How many people speak English: 40%
What it's like as an English speaker: Although bordered by Turkey and Iran, this cradle of Christianity on the western edge of Asia remains Europe's final frontier and a blessing to English-only speakers. Armenians get languages: The country enjoys a 98% literacy rate, and most Armenians under 30 speak English with flair -- often with a British accent (many attend schools there and it percolates). Although Americans rarely visit Armenia, Europeans do, so instead of translating a dozen languages for them, road signage, menus, and venues are also in English. Chances are high you'll meet someone who knows where you're from (they all have relatives living in the States), and you probably already know someone with Armenian roots. Eighty percent of Armenian surnames end in either -ian or -yan -- think Washingtonian, Smithsonian, or OK, sure, Kardashian.
What Armenia has to offer: Picture ancient Europe but cooler and way cheaper. This Connecticut-sized country has thousands of mind-boggling monasteries and churches, several of which are uncrowded UNESCO World Heritage Sites. High living is low-cost; you can go to a world-class opera for the price of a movie ticket, while cabs, cafés, wine, beer, and groceries are enjoyed at 1960s US prices. It's also on the legendary Silk Road, with one still-standing Armenian motel, Orbelian's Caravanserai, built in 1331, where road-warrior merchants and their caravan-pulling animals rocked medieval happy hours, and so should you. -- Bruce Northam, Thrillist contributor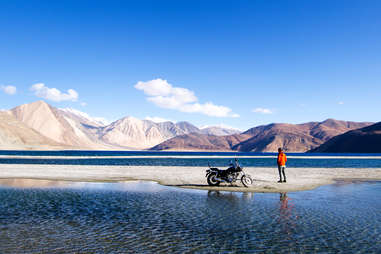 India
How many people speak English: 12% (which, in India, is a lot of people)
What it's like as an English speaker: India's conversational landscape is unbelievably diverse, with 22 major languages and a staggering 720-some dialects. Hindi and English are both official languages, and you're likely to hear the latter spoken fluently everywhere -- and truth be told, it does sound amazing in a charmed lilting accent. You'll have very little trouble communicating with locals, especially in big cities. Even in backwoods villages, you may be surprised -- for example, gassing up your motorbike at some highway stop and asking the station attendant for directions. He'll give you in-depth instructions, from all the turns right down to the number of kilometers.
What India has to offer: India's diversity doesn't stop at its rambling list of dialects and languages. Every region has its own unique landscape, cuisine, and pastiche of social, cultural, and religious norms. Goa's famous for its gorgeous beaches and spicy dishes from Portuguese influence. Ladakh has its mesmerizing rocky outcrops, fresh mountain air, and spiritual vibes. Kerala's covered in dreamy backwaters and churches -- Syrian Christians settled here thousands of years ago. Seriously, no wonder Indians spend so much time being tourists within their own country. There's a lot to explore. -- Barbara Woolsey, Thrillist contributor
Belize
How many people speak English: 82%
What it's like for an English speaker: Central America can seem like one solidly Spanish-speaking isthmus, but don't look past this Gulf gem a mere three-hour flight from Dallas. That's right, amigos, they didn't used to call it British Honduras for nothing. The national language of the dreamy Caribbean snorkeling mecca in the northeastern corner of the subcontinent is actually English, and most everybody there speaks it. That includes a sundry amalgam of Spaniards, Mayans, Garifunas, and even Mennonites. And while many of them also speak an English-based Creole, that's pretty comprehensible, too. It's like English, with a few dropped consonants and a sugary hum that's easy on the ear: "Gud Maanin!"
What Belize has to offer: Belize is only about the size of Massachusetts, but its attractions are incredibly abundant and wildly diverse. With Australia's Great Barrier Reef hanging on to life by a thread, Belize's reef system off Ambergris Caye is now part of the world's largest, with all the toothy sharks, kitchen table-sized manta rays, and coiling octopuses that come with it. Inland, you can't toss a tamale without hitting a Mayan temple, and the southeast coast down in Hopkins is ideal for kicking back with a rum punch and taking drum lessons from a Garifuna man (whose ancestors' slave ship sank near St. Vincent in 1635). Oh, and fresh conch and lobster! And cave tubing! And swimming with whale sharks! Just go. -- Ashley Harrell, Thrillist contributor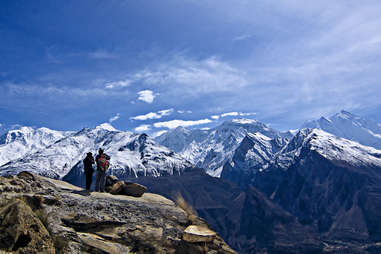 Pakistan
How many people speak English: 49%
What it's like as an English speaker: Overall, it's easier than you might expect. The national language is still Urdu and its many dialects -- but the official language in Pakistan is English, meaning that government correspondence is increasingly done through English. Pakistan has a small but growing expat community -- mostly Brits, a handful of Americans. They live mainly in Islamabad, the federal capital, but you can find native English speakers in Lahore and even a few in Karachi. Most Urdu-speaking Pakistanis know their way around English, but learning some basic Urdu may help you save money and earn respect in a culture that deeply values its heritage.
What Pakistan has to offer: For Westerners looking for a relatively open, liberal environment, start in Karachi, the coastal cosmopolitan megalopolis. But if you're inclined toward natural beauty, exceptional World Heritage Sites, and adventure, there is no better trip than to go from Islamabad to Gilgit or Skardu via the Karakoram Highway -- one of the world's highest paved international roads, 15,000ft high and aimed straight at China. Trekkers and climbers who catch a wild hair and want the road trip of a lifetime, find a driver or a guide who speaks English but is a native Urdu speaker, as navigating can be tricky, especially through the many security checkpoints. -- Hassan Arshad, Thrillist contributor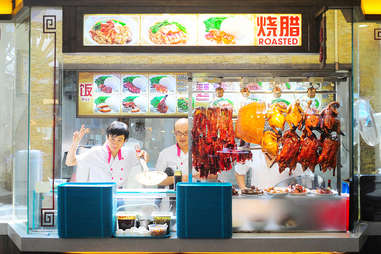 Singapore
How many people speak English: 80%
What it's like as an English speaker: Singapore used to be a British colony, so most residents speak English first, Malaysian second (it's the closest country to Singapore), and Chinese third (a lot of their cheap labor comes from China). The accents can be thick, but everyone is pretty easy to understand and happy to chat with you, especially if you want to talk soccer: Singaporeans are huge English Premiere League fans. Pick your bar wisely as you may get a whole crowd of Manchester United red fans who do not appreciate your Chelsea blue walking into their pub. Nowhere else in the world, outside of England, can you get this kind of footie experience.
What Singapore has to offer:Food. Lots and lots of food. Hotels and booze and parties aren't cheap, but Singaporeans know how to eat, eat well, and eat for less than you ever thought possible. Head to East Coast Park or any of the hawker centers to taste your way around Asia. Little India is one of the best places to grab Indian (and, oddly enough, Turkish) food. Beyond your stomach, Singapore -- considered "Asia Light" by locals and travelers -- offers visitors a venue to dip your feet into the ancient cultures of the Far East. Visit a Buddhist temple, pick up flowers outside of a Hindi temple, or simply watch the cargo ships float by while you soak up life in one of the financial capitals of Asia, likely while snacking. -- Keryn Means, Thrillist contributor
Malta
How many people speak English: 89%
What it's like as an English speaker: After it was imposed by the British during colonial rule over 200 years ago, English became the second official language of the Mediterranean island nation. Today, all official documentation, signs, and even newspapers are available in English, and nine out of 10 Maltese speak the language. This approach to internationalization led to the establishment of English language centers in Malta, attracting many foreigners to the island to study. It's the most English you're going to get between mainland Europe and Africa.
What Malta's got to offer: Before the British got there, Malta had a succession of imposing rulers dating back thousands of years. For you, now, that means Malta's a trove of world history, littered with Greek, Persian, and Roman architecture. Visitors compare the capital, Valletta, home to Baroque cathedrals and art, to an open-air museum. Also look for religious festivals throughout the year with brass bands and fireworks and an abundance of rich Mediterranean food. And between Sicily and Libya: sun, sun, and more sun. -- Daniel Cole, Thrillist contributor
Sign up here for our daily Thrillist email, and get your fix of the best in food/drink/fun.