In no way related to a desire to escape The Room, especially the scene when Johnny claims that Lisa is tearing him apart, escape rooms are basically the real-life version of video games. And they're growing in popularity.
Allegedly started in Japan in 2007, escape rooms quickly spread across Asia, and have since invaded the United States. In a world where even reading a book has become an interactive experience, so-called escape rooms are a welcome fusion of competition and puzzle, group activity and theater.
Recommended Video
Big Boi From OutKast Introduces Cliff to Atlanta's Food Scene
Ok, now what exactly is an escape room?
Simple. You and your friends will pay money to get locked in a room, with the mission of escaping by solving a variety of puzzles, riddles, clues, and tests.
Like lock locked?
Yes, lock locked. 
 
What if I can't solve puzzles?!?!
Calm down, this isn't a Bourne movie. You'll be let out after a certain amount of time, usually an hour or so, even if you're stuck on a clue. You'll probably be disappointed in yourself, and will no doubt feel like a failure, but hey -- that's the price of freedom.
Are there physical challenges? Should I start working out? 
You should probably start working out, but only because your health is important. And we care about you. But no, there are no athletic feats or American Ninja Warrior stunts involved. Puzzles are purely intellectual – brainteasers, if you will. Basically, we're talking about a scavenger hunt, but within the confines of a room. One solved mystery will lead to another, and another, and another, until either the clock runs out or you murder the guy who won't stop quoting National Treasure.
 
So, what kind of puzzles?
It really depends on the room/gamemaster, although examples include crosswords, math problems, logic games, jigsaw puzzles, color quizzes, and riddles.
Are the rooms themed?
Yep, some rooms are indeed themed. Mindquest in Budapest, for example, has a Da Vinci Code premise, while The Room in Berlin is all about the Cold War; the room is designed so that players escape from onetime East Berlin to West Berlin.
Meanwhile, Escape the Room in NYC offers three different rooms; The Agency is a James Bond-like spy HQ; The Home, which has a more Sherlock Holmes vibe; and The Office, in which players have to escape before the boss returns. So yeah, it really depends on which one you choose.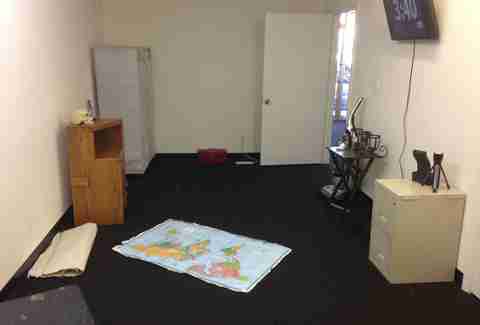 So what does this have to do with video games?
Technically, nothing -- it was a metaphor. Basically, escape rooms were inspired by video games -- point-and-click adventure games, specifically, where players escape from captivity by using whatever they can find around them. They're live-action games, in real life. And like video games, you're the main character of a story -- what happens and how the story unfolds is up to you.
Like Chose Your Own Adventure?
Exactly. The concept of being locked in one place really started in 1988, with John Wilson's Behind Closed Doors, but gained popularity with the now famous Japanese Crimson Room game in 2004.
Are there any tricks?
Be rational. Stay calm. Think fast. Most importantly, be smarter than a combination of Stephen Hawking, Russell Crowe in A Beautiful Mind, and 600 dolphins.
Are there any rules?
Not really. Obviously, don't get angry, violent, or hurl yourself out of a window in frustration, but other than that, anything goes.
So I can bring my phone?
No, that would be cheating. So yes, there is one rule -- don't bring your cell phone!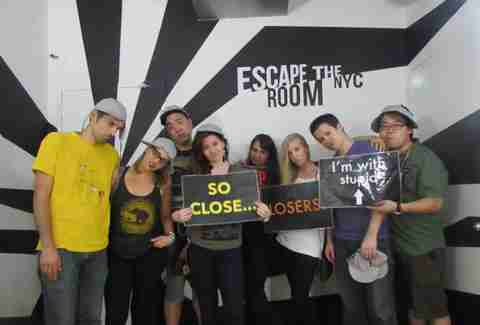 What can I win?
Honor. Glory. Bragging rights. Yeah, nothing.
That's lame.
Think of it more as entertainment. You don't win anything at the movies, do you? Also, apparently the success rate for these real-life escape rooms are between 20-30 percent, so best not put the cart before the horse.
Who can play?
Anyone over the age of 13, usually. But be warned, nothing will make you feel stupider than watching your 14-year-old nephew solve a puzzle you can't figure out.
Ok, I'm convinced. Where can I do this?
Not only are escape rooms popping up all over the globe, they're becoming huge tourist attractions. On TripAdvisor, Escape the Room is ranked #3 out of 854 attractions in New York City. In Budapest, the first two attractions out of 266 are escape rooms -- and they have bath parties!
Here are few to check out:
Budapest – Claustrophilia
Berlin – The Room (coming in September)
Hong Kong -- Freeing HK
Hungary, Spain, Austria, Germany, Romania, Italy – Parapark
Las Vegas – Live Room Escape
San Francisco – Real Escape Game
NYC – Escape the Room
All over US – Room Escape Adventures