Essential Gifts You Need To Ship From Your European Vacation
shutterstock/Daniel Restrepo/Thrillist
Don't treat the act of buying gifts from a major European city the same way you would treat buying gifts from a boardwalk beach shack. While it might seem overwhelming to mine a foreign city for its retail riches, eschewing its innovation in art, architecture, food, and technology for an airport refrigerator magnet is a total waste. To make things easier, we've rounded up a few cities that will make the cut as destinations for many Eurotrips, and outlined what to buy from each one and why. Because even your fridge doesn't want a magnet.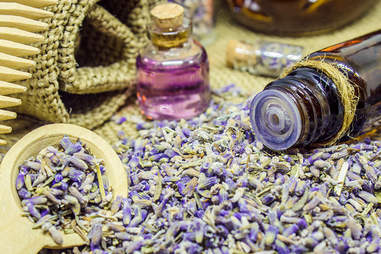 Tatevosian Yana/shutterstock
City: Split, Croatia
Gifts: Tie or lavender
Whatever your feelings on your office dress code, you should make the most of the Croatians' pride for inventing the necktie. Apparently Parisians, ever the fashionable (and marketing savvy), were inspired by Croatian mercenaries who wore knotted neckerchiefs and named the fashion after them -- cravats (which sounds similar to "Croat" if you take into account a mashup of both the Croatian and French way to say it). To get your own, visit Croatia's leading tie shop Croata, which has many stores around the country. And if you'd still like to avoid gifting your dad another silk tie, no matter its place of origin, consider Croatia's love affair with lavender. The country is one of the world's largest lavender producers, and even hosts an annual festival for the flower -- so take a break from scoping out season 6 Game of Thrones filming locations and stock up on lavender oil and dried sprigs.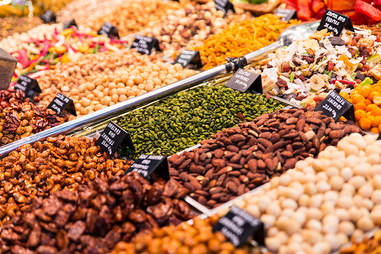 Jason Gessner/Flickr
City: Barcelona, Spain
Gifts: Dried fruits, nuts, and chocolate from La Boqueria
Don't get too caught up in the streetside trinkets and the elaborate "floating" buskers along Barcelona's most famous avenue -- La Rambla. The real showstopper is La Boqueria, one of the most premiere food markets in all of Europe. Inside, treat yourself to lunch and try some some of the cured jamón Spain is famous for, or even some Mediterranean seafood favorites like grilled octopus (which they'll make right in front of you). For something to bring back home, you'll find stalls with wines, nuts, chocolates, dried fruits, and plenty of other goodies. Like your almonds salted? Covered in chocolate? Covered in spice, or sugar? Or both? Grab a shovel and start filling your bag.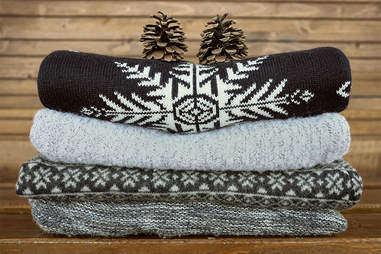 Oksana Yurlova/shutterstock
City: Oslo, Norway
Gifts: Replica viking bowls or traditional Norwegian sweater
Oslo is the underdog, the Rocky Balboa of European travel -- but that's because it's relatively unknown in comparison to bigger cities. Norwegians are very proud of their capital's architecture and its place as a bustling arts center, but you can't ignore the city's scenic location, fringed by lakes and forests that make hiking and general countryside wandering accessible and very much within the city limits. And yes, who can ignore Oslo's viking history -- but don't cop one of those horned helmets. For something more authentic, visit the Viking Ship Museum, and scope out the gift shop or outdoor markets for replica pewter viking drinking bowls. For something a bit more cozy, how about a traditional Norwegian wool sweater -- called Lusekofte or Setesdal sweaters -- which you can buy at the aptly named Oslo Sweater Shop.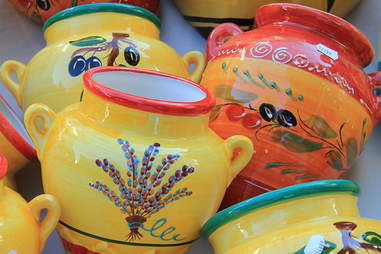 StudioPortoSabbia/shutterstock
City: Nice, France
Gifts: Pottery from Terre Provence
Well, well, well -- The French Riviera. Look who's fancy. After you finish sun-bathing on the beaches, admiring the work of Matisse, and polishing off your lunch of fleur de courgette (zucchini blossoms stuffed with meat and spices), you can't leave the unofficial capital of the Cote D'azure without the famous artisanal handcrafted tableware from the region. From plates to pitchers, Terre Provence clay pottery is glazed and painted in the vibrant, warm colors of the southeastern region of France -- and will win you the appreciation of everyone who was bracing themselves for a "I went to Nice and all I got was this lousy t-shirt" souvenir.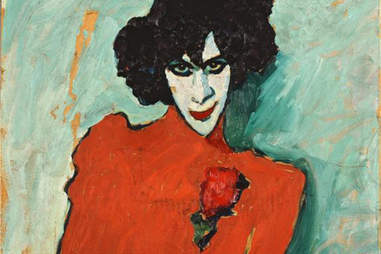 Alexej von Jawlensky
City: Munich, Germany
Gifts: Vintage BMW memorabilia; 20th Century German Expressionist painting reproductions; and cheese, sausages, and jam
There's more to Munich than Oktoberfest and lederhosen -- but that will be pretty obvious to you once you take a gander at the architecture of the city, rebuilt to look exactly as it did in the late 1800s after its destruction in WWII. While a beer stein might be a nice but ho-hum memento, celebrate Munich's notoriety in the world of fine art (it's considered a bigger arts city than Berlin) as well as business, tech, and engineering with gifts that reflect its history. Visit the BMW museum and scope out all the vintage BMW signage like this collectible tin Mini Cooper sign. If art is more your speed, visit the Lenbachhaus museum for some early 20th century German Expressionism, or at least, the work of expressionists working in Germany like artist Jawlensky who painted the Portrait Of Alexander Sakharoff your giftee will want to frame. For something along the edible side, visit Viktualienmarkt, an outdoor food market in the center of the city for Bavarian eats like various cheese and sausages, though spiced jam might travel better.
Arijit Mondal/shutterstock
City: Palma de Majorca, Spain
Gifts: Leather goods and natural imitation pearls
Once you get to Majorca, spend some time getting your bearings. Finding you've walked into a scene from an idyllic postcard featuring an azure Mediterranean horizon and limestone mountains might be a little overwhelming at first. But hey, after hiking and sunbathing, you'll have a clear head for shopping. About 30 minutes away from the city of Palma is the town of Inca, otherwise known as "the city of leather." Visit leather factories and outlets like Civediamo Leather Factory or the Munper outlet for jackets, shoes, gloves, and boots. If leather isn't your speed and you want something a little less on the dead animal spectrum, Majorica pearls are what the island is known for. They're the most convincing and natural imitation pearl in the world because they're made of glass and dipped in several layers of lacquers, rather than made of plastic. Way less rude than robbing a mollusk.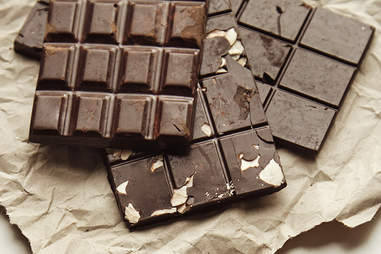 De Repente/shutterstock
City: Geneva, Switzerland
Gifts: Luxury watch or local chocolates
If you don't know French -- fear not. Geneva is where the United Nations, so anyone who lives there will probably speak a minimum of three languages (and also probably be filthy rich and may or may not have gone to an international boarding school). If you are equally filthy rich, drop a few grand at Bucherer of Switzerland, the premiere (and one of the oldest) luxury watchmakers in Europe. If the only ice you can snag on your trip happens to be down the hall at your hotel, do yourself a favor and go for the other thing Switzerland is known for -- chocolates. Take your pick of renowned chocolatiers in Geneva, though revered mainstays like Favarger or Du Rhone never disappoint.
Olenyok/shutterstock
City: Prague, Czech Republic
Gifts: The Czech national gem, garnet; the herbal liqueur Becherovka
If the phrase "the entirety of the city's historic center is a UNESCO World Heritage Site" means nothing to you, you'll get the gist of things when you set foot in Prague. They don't call it the city of a hundred spires for nothing. It makes sense that this gem of a city deals heavily in precious stones, namely garnets, the Czech national gem. They're thought to ward away sadness, but that's probably because you can't remain too sad when looking at something that sparkly. They're considered some of the world's finest garnets and one of the Czech Republic's top exports, though make sure your purchase comes with a certificate of authenticity. Shop at places like Cesky Granat or Granat Turnov. For a smaller buy, pick up some Becherovka, a 38% ABV traditional herbal liqueur with hints of cinnamon and anise and at least 30 other spices. If you think it's strong, keep in mind that the Czech also use this stuff as a digestive aid -- so yes, medicinally.
Claudio Divizia/shutterstock
City: Berlin, Germany
Gifts: Authentic mementos from the Cold War
For a long time, Berlin wasn't just Berlin. Berlin was East Berlin and West Berlin, they were in two different countries, and it took the musical prowess of David Hasselhoff to tear down the wall and unite them in 1989. (Or something like that.) You can purchase cute trinkets of some of the more lighthearted things Berlin is known for -- like the Amplemann, the famous symbol that beckons pedestrians to cross, or any bear merchandise that represents the fuzzy friend on Berlin's coat of arms. But why do that when you can purchase real mementos from the Cold War -- stamps and coins and other items from the former German Democratic Republic, of which East Berlin was the capital. Yes, you can literally buy stuff from a country that no longer exists. You'll find peddlers selling things like this on the street in large squares, but you can also find cool stuff at the DDR Museum or the CheckPoint Charlie Museum.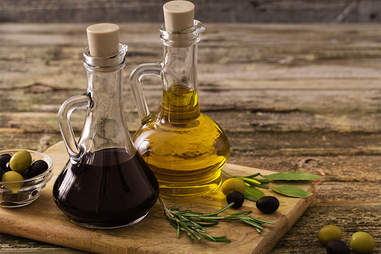 Maya Kruchankova/shutterstock
City: Rome, Italy
Gifts: Olive oil, balsamic vinegar, and cheeses
Olive oil might as well be sold in IV drips in the countries that surround the Mediterranean -- and that sentiment is no different in Rome. Whether or not you self-identify as a foodie really doesn't matter -- part of your Roman experience is going to be rooted in simmering sauces, scoops of gelato, and handmade pasta. You can't bring an Italian nonna or a brick oven back home with you, but you can bring back some of the building blocks of a true Italian meal -- olive oil and balsamic vinegar. Head to gourmet shop La Tradizione to stock up on these essentials as well as other goodies like cheese -- and maybe even consider shipping back some cases of Italian craft beer.
Anastasios71/shutterstock
City: Athens, Greece
Gifts: Local pottery and hand-made crafts, olive oil soaps and lotions, or worry beads
Any trip to Athens (that isn't spent housing baklava in a hotel room on Easter weekend because everything is closed for the holiday) for a first time tourist will lead to the ancient neighborhood of Plaka. This labyrinth of neoclassical architecture clustered around the Acropolis is filled with peddlers and storefronts featuring handmade leather sandals and rude tshirts and many other similar gifts that pander to tourists visiting the city. However, one store stands out as an outlier -- The Center of Hellenic Tradition. The center showcases the handiwork of artists from around the country, and also has a gift shop where you can find Greek pottery, hand-made crafts, and well-made reproductions of ancient landmarks. If you're looking for something smaller, and most likely cheaper, any department store in Athens -- like Notis Gallery or Attica -- caries olive oil soaps and lotions, or spring for Komboloi, the worry beads you'll see being thumbed around the city. (Skip the plastic ones though.)