The world's first in-flight hotel suite is here, and it's glorious
When you're stuck in economy, first class seems like a distant, impossible dream; and now, regular first class flyers will feel like plebeians when they look at the exclusive three-room suite onboard Etihad Airways' A380 jetliners. C'mon, let's take a tour of your new personal palace in the sky: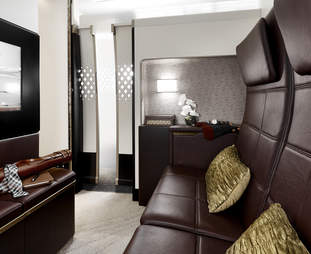 Located at the very front of the cabin, the 125sqft suite can be partitioned to separate you from the rest of the riff raff flying first class.
The living room comes decked out with a Poltrona Frau leather sofa and a cabinet full of chilled drinks at your disposal (in case you feel like embracing your inner mixologist). Just imagine that: No arm-rest battles, and no waiting for the beverage cart.
After you've perfected your in-flight Bloody Mary, you'll definitely wanna power up the 32-inch flatscreen and catch up on your stocks, or whatever it is that rich people watch on TV.
You'll also score an en-suite bathroom all to yourself, making "Occupied" signs a thing of the past. Plus, you get bath robes to go along with your very own shower -- perfect for washing off the grime from the peasants in business class.
Feeling hungry? The in-flight chef can prepare one of the gourmet menu items on offer (like this beef tenderloin), or you can have him cook up something special by request -- Doritos-encrusted bacon, anyone?
As if a chef wasn't enough, your suite even comes with the Etihad Butler; trained in London, this dude will ensure all your needs are met, both on the plane and once you've reached your destination. It's like Ask Jeeves, but IRL and actually a thing in 2014.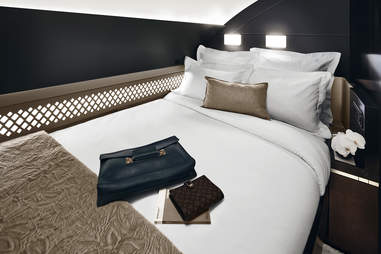 While generally comfortable enough to catch some shut-eye, regular first class seats look like dorm beds compared to the Residence's dedicated sleeping quarters. They come furnished with a double bed, Egyptian cotton sheets, and more pillows than a Bed Bath & Beyond catalogue.
The Residence Experience also includes a luxury chauffeur to take you to and from the airport, plus private check-in and lounge access once you're there. At $20,000 for a one-way ticket, this is really only an option for oil sheikhs and wall street wolves -- some dude even resorted to a Kickstarter to pay for his ticket.
Grab your flight to absurd luxury here.
Gianni Jaccoma is an editorial assistant for Thrillist Travel. He makes it a point to travel in steerage wherever he goes. Follow him on Twitter @gjaccoma.