Epic Train Trips Across Europe Are on Sale Right Now
At this very moment and through December 31, all Eurail Passes are on some kind of discount. The Eurail pass -- which allow you to travel on pretty much any major European railway, and some ferries too -- has long been a trusty friend to students, backpackers, first-timers, and dreamers. Though it may not be as economically sound as, say, taking the bus, there's just no beating the way a train immerses you in the unfolding landscape as it whisks you between Europe's most majestic cities. It is, in our expert opinion, the most romantic mode of transport.
As long as you purchase the ticket this month, you can use it any time through the end of 2019, which gives you plenty of time to plot your course across Europe. The more epic the trip, the more you save. One Country Passes are currently 15% off, which is cool. Even cooler, Select Passes are 20% off, allowing you to customize a trip between 2-4 countries. And the big mama Global Passes, which give you full access between 28 countries, are up to 36% off.
The Glacier Express, Switzerland.

| Federica Violin/Shutterstock
Play around on the website to figure out which pass is right for your trip -- basically, if you've got at least a month and want to visit five countries or more, the Global Pass is the move. For example, a 2nd class Global Pass with seven travel days in one month normally costs $541 for adults aged 28 and up. Right now you can scoop one for $379 (savings: $162; we do not make you do maths here).
There are other configurations too, like a one-month pass with five travel days for $319 (down from $444, a savings of $125), or a two-month pass with 15 travel days for $559 (down from $870, a savings of $311). You'll also see Global Passes advertised in some places as "up to 45% off," which refers to the combined savings if you're traveling with a buddy.
"Travel days" are days you are physically traveling on Eurail trains -- they don't have to be consecutive. On each "travel day," you have from midnight to midnight to take as many trains as you like, as far as you like. And it turns out that in Europe, you can cover a lot of ground in 24 hours. So where do you want to go? And should you prioritize scenery or efficiency?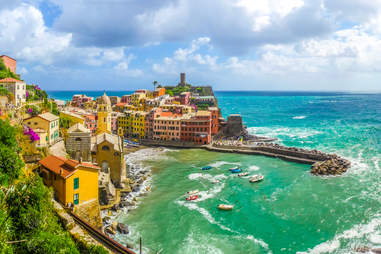 Cinque Terre, Italy.

| canadastock/Shutterstock
How far can you get with a Eurail Global Pass?
Let's say you want get the most possible bang for your buck.The southernmost Eurail station is not actually a train station -- it's a ferry port in Heraklion, on the Greek island of Crete. The northernmost station (of the regular train variety) is in Kiruna, Sweden, more than 3,000 miles away.
To get from A to B, you might cross from Heraklion to Athens, Greece (7 hours); then Athens to Thessaloniki, Greece (4 hours); Thessaloniki to Skopje in the Republic of Macedonia (4 hours); Skopje to Belgrade, Serbia (9 hours); Belgrade to Budapest, Hungary (8 hours); Budapest to Vienna, Austria (3 hours); Vienna to Munich, Germany (4 hours); Munich to Hamburg, Germany (6 hours); Hamburg to Copenhagen, Denmark (5 hours); Copenhagen to Stockholm, Sweden (5 hours); and, last but definitely not least, Stockholm to Kiruna (16 hours).
That's over 70 hours of travel, for 36% less cash than usual; 45% if you've an equally motivated friend. It's actually more feasible than it looks, particularly if you select the two-month pass with 15 travel days; remember, you can stop and start your travel days any way you like.
The Bernina Express, Switzerland.

| gevision/Shutterstock
Which Eurail train routes are the most scenic?
To get the most enjoyment out of your Eurail experience, steer your trip along Europe's most beautiful rail lines. One of Eurail's best-known scenic train routes is the Bernina Express, which runs year-round on a 76-mile stretch between Switzerland and Italy. You want postcard-perfect bridges and viaducts? You'll get almost 200 of them. Pro tip: make sure you get a seat aboard the very specific Bernina Express train, which runs direct (other regional trains make you transfer at some point) -- and more importantly, it has observation cars with panoramic views. Your regular Eurail pass is good for a ticket, but you'll need to reserve a seat in advance (around $10 extra), as the route is so popular.
If at any point in your European exploits you're zig-zagging through Switzerland, you want to do so via the Glacier Express. The iconic route from St. Moritz to Zermatt takes about seven-and-a-half hours, crossing nearly 300 bridges on the way. And, you know, the Alps. No extra charge.
To help plan your itinerary, you might also consult our list of the most beautiful places to visit in every European country. There's also a Rail Planner app to go along with the rest of your trusty travel apps.
So if you've recently graduated from somewhere (congratulations!) or finally have enough savings to quit that mind-suck of a job (congratulations!) or just want 2019 to be the year you cross a boat-load of places off your travel bucket list, make your move before the year's end.
Sign up here for our daily Thrillist email and subscribe here for our YouTube channel to get your fix of the best in food/drink/fun.