European Cities With Crazy Underground Tunnel Systems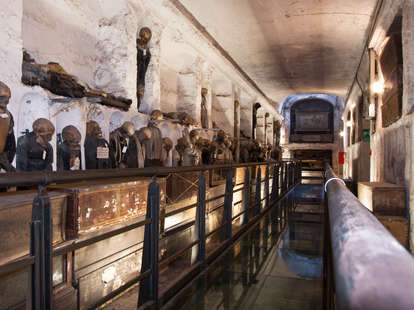 <a href="http://www.shutterstock.com/gallery-772123p1.html?cr=00&amp;pl=edit-00">Gandolfo Cannatella</a> / <a href="http://www.shutterstock.com/editorial?cr=00&amp;pl=edit-00">Shutterstock.com</a>
Because who doesn't like to experience ancient civilizations, learn about World War II, and get freaked out by the bones of 4,000 monks, here are 10 subterranean systems in Europe that you can explore.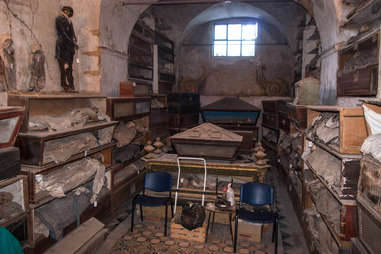 Palermo, Italy
Catacombs with mummies
Palmero's underground tunnels have been known to make visitors squeamish (insider tip: bring a sick bag). That's because of Capuchin Catacombs, a crypt with over 8,000 corpses and 1,000 mummies that look a little too lifelike. Some still have mustaches, clothes, and even toothy expressions -- be prepared to feel your skin crawl.
Pilsen, Czech Republic
Historical underground network
In the Czech city where pilsner beer was invented, there's a tunnel system that was once crucial to churning out really good brews. Underground passages joined water wells and cellars, used for everything from fermenting to storing and cooling the lager. Today's guided tour snakes underneath Pilsen's Old Town, ending above ground at the local Brewery Museum.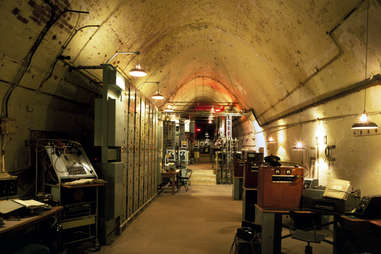 Dover, United Kingdom
Abandoned World War II tunnels
Beneath the White Cliffs of Dover on the English coast, there's a massive labyrinth of tunnels that connected shelters, storage, and even a hospital during WWII. The tunnels were blocked up during the 1970s but re-opened last year for guided tours. Wearing hardhats and carrying torches, visitors can explore the dingy sleeping quarters of soldiers and see their graffiti messages carved into chalky walls.
Barcelona, Spain
Abandoned underground mall
For 50 years, Barcelona's Avenue of Light was an architectural wonder -- Europe's first underground shopping mall, spread out over 22,000sqft. Shuttered in 1990, the long walkway leading to shops, offices, and even a cinema are still mostly closed to the public. However, there is one part that still can be seen, a corridor leading to Sephora.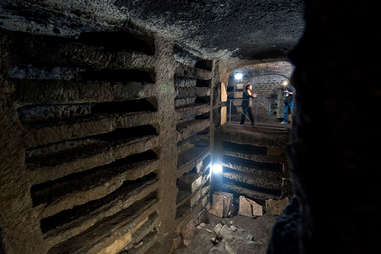 Rome, Italy
Networks of catacombs
Rome's definitely winning in the catacombs department, with at least 40 underground burial sites. Most of the tunnels can be viewed on guided tours including the popular Catacombs of St. Callixtus, which is made up of papal crypts and ancient Christian artifacts. If you're up for a grotto that's a little more bizarre, there's the Capuchin Crypt -- here, the bones of over 4,000 monks are arranged into vertebrae clocks and chandeliers.
Naours, France
Underground city
For centuries, this network of 300 chambers and multiple passages helped villagers escape from war and plundering. Peasants settled here, building homes with fireplaces and even space for livestock, and the underground city later became a strategic location in both World Wars. Today, Naours is a well-known tourist attraction two hours north of Paris.
London, United Kingdom
Tunnels, bunkers, and shelters
London's underground is not just the tube, but also a lesser-known maze of intricate underpasses and rooms left over from WWII. Most famous is the Cabinet War Rooms, a former command center that can now be seen as part of the Imperial War Museum. It's the only military bunker in central London that's open to the public.
Istanbul, Turkey
Ancient cisterns
Underneath Istanbul lies the Basilica Cistern, a collection of underground water storage used to sustain Constantinople and the Byzantine Empire. Built 2,000 years ago, today the cisterns -- and their ancient columns with Medusa carvings -- are one of the city's major attractions. It's even been featured in the James Bond flick From Russia with Love and the video game, Assassin's Creed: Revelations.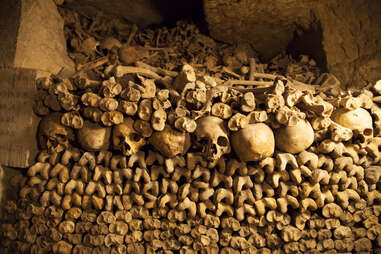 Paris, France
The mines and catacombs
Paris' underground network spans hundreds of miles; with tunnels connecting caves and quarries. Much of its illegal to explore (police officers are known to hand out tickets down there), but the Catacombs of Paris can be visited on public tours. At this subterranean cemetery, you can see the bones of six million (!!) people adorning the walls, in freaky skull and shinbone designs.
Berlin, Germany
Tunnels, bunkers, and shelters
Berlin's subterranean is a serious labyrinth, made up old Nazi tunnels connecting bunkers, air raid shelters, and even the Third Reich's former aircraft factory. There's even an unfinished underground highway, designed for Hitler's world capital Germania. An organization called Berlin Underworld provides guided tours of the tunnels, and even still carries out excavations to find new shafts and dwellings.
Sign up here for our daily Thrillist email, and get your fix of the best in food/drink/fun.
Barbara Woolsey is a Berlin-based writer who's been to a techno party or two in a bunker. Follow her on Facebook and Twitter.