Europe ain't quite the fantasy it used to be, not with $99 transatlantic flights a reality. When you factor in the fantastic volume of Airbnbs to rent throughout the continent, a trip across the pond won't cost you a whole lot more than a trip across the US of A.
Still, there doesn't have to be anything rote about a trip to England or Italy. The continent offers some chic, imaginative, or just flat-out only-in-Europe rental experiences that will inspire American travelers who're seeking an authentic look into European life, away from hotels. Airbnb compiled data on its most wish-listed rentals, crunched the numbers, and told us nine of the most wanted spots in the Old World -- on houseboats, on cliffsides, near vineyards, and wrapped around trees.
Recommended Video
Spoil Your Pup at The Dodo's Best Dog Day Ever Event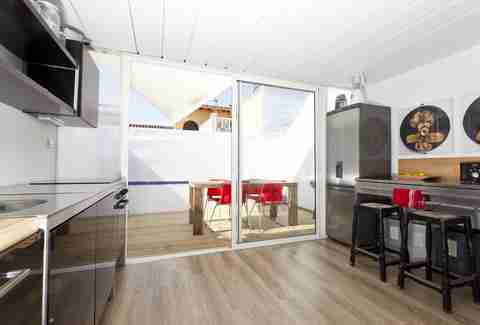 9. Mallorca, Spain
Container home
1BR/1BA, sleeps three
$160/night -- four-night minimum
That's right, an entire apartment made from container modules. This ultra-modern rooftop rental in Mallorca constitutes a work of art in and of itself, with a sleek black kitchen attached to a living room with platform sofas and a sprawling flat-screen TV. The sunlit bedroom, up a floating spiral staircase, is adorned with modern furnishings and flanked by a bathroom with steel fixtures. The patio has a view out over city rooftops, complete with a grill and blue-tiled plunge pool. The host even provides two free bicycles for you to get around the city.
Key review: "Absolutely first class. The container home is fun and quite spacious, really. More than enough space for the two of us. The plunge pool is a brilliant and, with the heat we had, a necessary part of the home…Location was a bit out of the centre -- 20 mins walk to Placa Espanya and 5 mins on the bus -- but it's not far away." -- Iain
8. Akureyri, Iceland
Bayfront villa
2BR/1BA, sleeps four
$111/night
Akureyri is the capital of North Iceland, a 45-minute flight from Reykjavik, and a gateway to the most spectacular nature in the upper part of the country. From the deck of this aged-wood house you can sit with an evening beverage and watch the aurora borealis reflect off the bay, and the next morning have your coffee in the shadow of snow-capped mountains. If that's a little too chilly-sounding, the living room has floor-to-ceiling glass windows, to enjoy the view in heated comfort. The interior has character: The small kitchen is done up with a 1950s refrigerator and red and pink tile. The upstairs bathroom is completely red; one of the bedrooms has butterflies painted on the wall. And the place is far enough out of town (about 10 minutes) that you still feel part of nature, but close enough that you can drive in for dinner.
Key review: "Incredible house! A unique setup that anyone would find enjoyable -- very modern and fun. Kitchen was well stocked, and although we didn't partake, the items in the fridge to purchase is a great option! The view was gorgeous out every window, and a short drive to restaurants and shops." -- Katie
7. Paris, France
Houseboat studio under the Eiffel Tower
0BR/1BA, sleeps two
$171/night -- three-night minimum
Even in the crowded field that is cozy couples accommodations in Paris, this one is hard to beat. It's a two-level studio on a houseboat that you'll likely be sharing with the owners. But the studio has a private entrance and balcony, so you can enjoy your croissants and café overlooking the Seine in privacy. The wood-paneled main room includes a small bed and television, while the bathroom has a shower and bathtub with unobstructed water views. There's no place to cook, but, hey, this is France, with plenty of upscale McDonald's to check out. And you're a five-minute walk from the Eiffel Tower, the Trocadéro, or the Museum of Modern Art.
Key review: "The boat itself was cosy and warm, especially important since we visited in December. Be warned though that there are no cooking facilities and showering can be tricky given the size of the bath tub. However we stayed for a long weekend and were not bothered by this. The double bed is enough but it is cosy, so if you're visiting with another make sure you're happy to be in close proximity." -- Shanika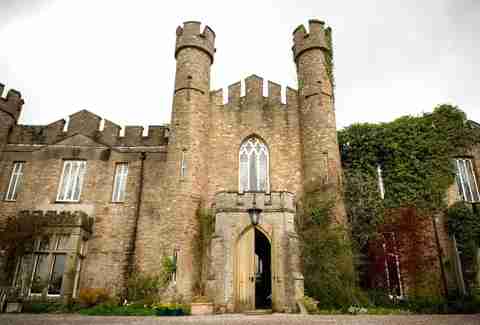 6. Cumbria, England
Room in a historic English castle
1BR/1BA, sleeps two
$186/night
This Victorian-era castle, rehabbed in the late '90s, has been operating like a bed & breakfast on steroids ever since. Guest may rent one of its 15 rooms or the entire palace, for the right price. Each room is exquisitely decorated with antiques and classical English furniture, many with four-post beds. The common areas keep with the theme of classical luxury, and combined with the setting in the Northwestern English countryside, make this about as close as you'll get to being in a Merchant Ivory film. (If Merchant Ivory films had high-speed internet.) The castle is fully staffed, like a hotel, and breakfast every day is included.
Key review: "Staying in a castle was something on my bucket list -- so I had pretty high expectations! And, staying here exceeded those expectations! We loved our experience in the castle, and the staff was very friendly. We rented a car and drove here from Manchester then drove to London. I highly recommend this -- the drive is beautiful. I wish we could have stayed more than one night, but even the one night was completely worth it. This place is great for kids, teens, no kids, weddings, honeymoons, family reunions, etc. Loved it!!!" --  Sara and Jeff
5. Cornwall, England
Tree Sparrow House
1BR/1BA, sleeps two
$134/night
Not so much a house in a tree, this bungalow set in an old ash feels more like part of the tree itself. The trunk and branches actually weave in and out of the rooms, which are still warm with insulation despite the tree's invasion. Spacious it is not, with a small wood-paneled sitting area with a small couch and kitchen with a two-burner stove constituting the entire lower level. The upstairs bedroom is literally just that: room for one bed and not much else. The toilet and shower facilities are shared and off-site, but the idea here isn't a full-on luxury property. It's to sleep 6ft up in a tree with views of Falmouth Bay and the fields and orchards of Tregaminion.
Key review: "My girlfriend & I thoroughly enjoyed our stay at Tree Sparrow House. The treehouse is cosy, well finished and surprisingly comfortable. The treehouse was heated upon our arrival, and heated up quickly when we needed it to (it was never cold; a pleasant surprise for February). The bed is comfortable and spacious and we were able to have a lovely night's sleep with occassional rocking from the wind. My concern before arrival was that the treehouse would be cramped for someone tall ... I am happy to report that there is plenty of headroom downstairs and in the bed for the taller person. The toilet did require some tricky manoeuvring however.... :-) The location is remote but easy to find by car with quiet villages nearby and a 25 minute drive to Lizard Point/Kynance Cove. There is a beach within walking distance which is a nice way to start the day." -- Daniel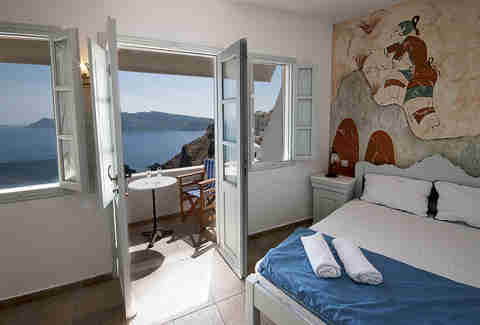 4. Oia, Greece
Studio with a view
0BR/1BA, sleeps two
$85/night -- minimum varies by season
Wake up here and you'll feel like you're about to fall off a cliff into the Mediterranean. The private balcony off this small studio has a front-row seat to the sea, and is the perfect place to begin and end your days in Santorini. The sunsets in this small village are the main attraction, and you'll have one of the best views in town. Even the bathroom here is a work of art, an arching turquoise ceiling resting atop sandstone tiles. And while the kitchen isn't enough to cook full meals by sunset, you'll still have a microwave and fridge to keep your leftovers. And if you impossibly tire of the view, the cliffside town is full of little shops, restaurants, and art galleries to explore.
Key review: "It was actually perfection. I'm not exaggerating when I say it is one of the best places to stay in Oia and Santorini. Those iconic blue domes and the position that is the most photographed; thats where the flat is. And nothing can prepare you for the view which must be one of the best in the world. As for Jackie & Nikos. You'll be well looked after and welcomed." -- Tareq
3. Cornwall, England
Jack Sparrow House
1BR/1BA, sleeps two
$134/night
You know those little decorative houses they have before Disneyland rides, that are supposed to be where things like enchanted chipmunks and doomed grandmothers live? That's this place, in the English countryside not far from the Tree Sparrow House on this list. It's about as close as you'll get to living in the first half of a fairytale (the part where the princess lives in a tiny house): all-wood interiors, a cozy kitchen, and a toilet under the "stairs," which are more like a few steps and a ladder. Upstairs, the bedroom has just enough room for the bed, but is still manageable for a person of size. And the window there has some pretty sick views of Falmouth Bay.
Key review: "This was the coolest place ever! We had so much fun! Our hosts were kind and friendly. They gave us a lift into town and made sure we felt happy and comfortable in our little house. I felt like a child again, full of wonder and sleeping in a magical fairy den. The craftsmanship is amazing and there is everything you could ever need inside." -- Joanne and David
2. San Salvatore, Italy
Treehouse in wine country
1BR/1BA, sleeps two
$160/night
The treehouse is really a small cabin, set in front of a mansion in the heart of Italian wine country. So your nightly accommodation -- done up in all white wood with a large bed facing the valley -- is only part of the draw. The mansion behind has a heated pool deck, a 54,000sqft garden, and a wine cellar complete with tappable kegs and an ancient wine press. If you prefer your wine-tasting outdoors, the Monferrato area is home to plenty of wineries pouring barbera, freisa, grignolino, and cortese. And there's no better way to end the day than drinking one of those bottles out on your own private balcony.
Key review: "We had a wonderful stay at the tree house, everything was just as described. Pleasure to sit on the veranda in the evenings and watch the thunderstorms over the Italian Alps in the distance. Access to the swimming pool was also an additional plus which just adds another level to staying here. The ample and tasty breakdaft delivered evey morning was a great start to the day." -- Saide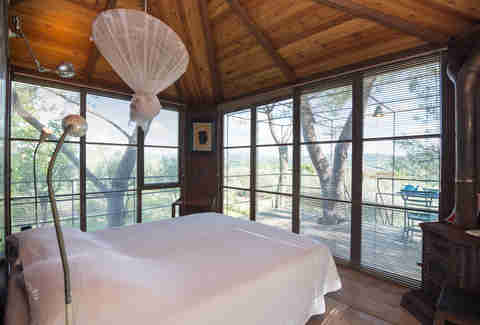 1. Florence, Italy
casaBARTHEL rustic TREEhouse
1BR/1BA, sleeps two
$285/night
The treehouse is more of a raised cabin on the grounds of Poggio Secco, a rustic Tuscan farmhouse that's home to the family who owns this place. Inside the cabin, you'll find a luxurious queen bed with a floor-to-ceiling view of the Tuscan countryside and a chalkboard where you can learn all about past guests. The place is an education in retro interior design, with leather chairs, a raised-tank toilet, old pipe fixtures as railings along the wooden deck, and a stainless-steel nautical bathroom sink. Your kitchen is small, but the rental also includes use of the farmhouse's grill and wood-burning oven, where the ambitious can try their hand at making Italian-style pizza.
Key review: "This tree house is an amazing property where every couple should spend at least one night. Set among a beautiful olive grove on a property with view of il Duomo, the grounds are as impressive as the tree house itself. The hosting family and staff found the perfect blend of respecting privacy while being warm and welcoming. You'll probably want to leave your luggage in your car -- keep the next day's outfit on top for easy access." -- James
Sign up here for our daily Thrillist email, and get your fix of the best in food/drink/fun.