Every Outdoor Spot You Need to Visit in the U.S. This Spring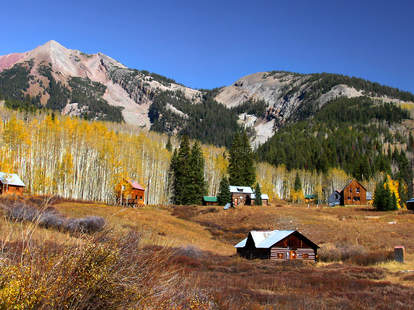 Everybody you know is going to the Jersey Shore or the Grand Canyon or Mt. Rushmore, now that the weather's warm. What do they know? Instead of falling in (very long) line at the same old destinations, check out this underrated coast-to-coast guide to make your time outdoors truly breathtaking. Mother Nature took time to create so many beautiful places -- you owe her to check them out.
The Outer Banks, North Carolina
Quite possibly the most underrated beach on the east coast, this sleepy stretch is perfect for a family-friendly getaway or a romantic week without electronics and social media. The local seafood, beaches, history, and watering holes are all equally attractive ways to relax. You'll want to check out Jockey's Ridge State Park, a 426-acre natural sandbox, which boasts the tallest dunes on the East Coast, reaching nearly 80 feet above sea level. Located in Nags Head, one of the area's most well-known resort towns, the dunes allow visitors to catch some amazing panoramic views of Hatteras Island, Roanoke (and many more) as well as glorious sunsets. If you feel like taking your love for sand dunes to new heights, the park even offers beginner hang-gliding classes. It's the perfect backdrop for outdoor adventures.
CrackerClips Stock Media/Shutterstock
Big Bend National Park, Texas
While in the Great Republic, don't forget you've also got Big Bend National Park situated on more than 801,000 acres. Remotely located along the Texas/Mexico border, Big Bend is far away from anything else, making it one of the nation's top "dark sky" locations. Choose between floating the Rio Grande where you're surrounded by 1,500-foot-high canyon walls, hitting up one of the many trails offering up some of the state's best panoramic views, or setting off on an overnight backpacking adventure along the South Rim Trail. Be sure to check out the
McDonald Observatory
, which offers family-friendly "star parties" three nights a week (tickets required and reservations recommended). Surprisingly, Big Bend is one of the least visited parks in the US, so if you're lucky, you may get some quality alone time in a serene setting.
Catalina Island, California
No matter what kind of outdoor adventure you're on the hunt for, Catalina Island is ready and willing. There are many ways to get around -- like touring the island via topless Jeep or hiking the 37.2-mile long Trans-Catalina Trail. You can also camp under the stars if you're up for a potential encounter with some of Catalina's diverse wildlife like bison, antelope, wild horses, and the occasional fox. Seals and sea lions abound as well, but adhere to the shore. Too many birds to list should tempt you into some casual bird watching. Parasail above the Pacific or channel your inner mermaid in an underwater city park, where you can scuba and become one with a vast array of fish, particularly varieties of bass and surfperch. If you're looking to burn some calories and prefer to be on the water, you can try standup paddle boarding, kayaking, or sailing in Avalon Bay or Two Harbors. There's even a ziplining adventure to take you above the hills, if you're seeking a bigger adrenaline rush.
David Poole/Shutterstock
Telluride, Colorado
This is a no-brainer any time of year, as the tiny but popular mining town of
Telluride
has world-class skiing in the winter and hosts 30+ festivals from May -- October. Telluride boasts one of the only Via Ferrata systems (think extreme rock climbing) in the US, allowing capable thrillseekers a unique aerial view of the San Juan Mountains as you climb. Visitors can take advantage of off-roading tours to get an even more spectacular view of the mountain vistas, alpine lakes, waterfalls, and mining ruins. If you want to hop on a mountain bike or lace up your hiking boots, there are plenty of options, along with horseback riding, river sports, kayaking, and whatever else you dare. Whether you're looking for a mountain adventure or to frolic in beautiful open spaces, be sure to add Telluride to your adventure bucket list.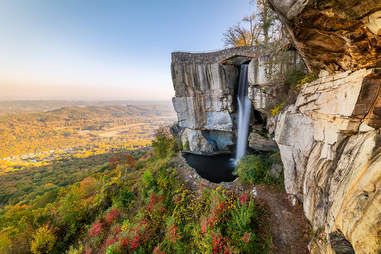 Nagel Photography/Shutterstock
Lookout Mountain; Chattanooga, Tennessee
Located just minutes from downtown Chattanooga,
Lookout Mountain
is the perfect spot for a quintessential Tennessee experience. Situated 2,000 feet above sea level, it's more than just a spectacular view. Find your way up to Rock City, where you can take a self-guided tour of its caves decorated with sculptures that dazzle under blacklight, or brave the 180-foot-long suspension bridge. Nearby Ruby Falls is a natural 145-foot drop, and just so happens to be America's deepest cave and largest underground waterfall accessible to the public. If you want to get some climbing in, mark your map for the breathtaking "Lover's Leap" (we said it was more than just a spectacular view, not that you should miss that view). This is definitely a family-friendly destination, especially for those who value some good ol' Mother Nature and Mother Goose -- there's a village depicting the classic nursery rhymes situated in Fairyland Caverns.
JTang/Shutterstock
Chiricahua National Monument, Arizona
Overshadowed by the neighboring and popular Grand Canyon sits the
Chiricahua National Monument
. Nicknamed the
Wonderland of Rocks
because of the balancing rock formations caused by an ancient volcano, it provides Instagram gold all around you. Located in Southeastern Arizona near the New Mexico border, the monument is free to visit and has 17 miles of hiking trails. Camping is the closest and easiest accommodation, but if you want to get in and get out, there's a shuttle that operates up and down service for sightseers. Depending on your fitness level, you may want to hike one-way and shuttle back or vice versa so you're not stranded or forced to make the entire trek on foot. This Arizona park is home to 71 species of mammals, 46 species of reptiles, 8 amphibians, and 171 species of birds. Nerdy geography fact: The Chiricahuas are considered a "sky island," which are mountains that rise independently from the desert floor as opposed to being part of a range, and are predominantly found in southern Arizona.
South Walton, Florida
When people think of Florida, South Walton isn't usually the first town that pops into mind, and perhaps that's why it's one of the top underrated gems on the East Coast. While you can't ignore the white sandy beaches (thanks to their pure quartz crystal composition) that put other Florida shores to shame, this is an ecosploring adventure that can't be missed. South Walton's coastal dune lakes (like those in New Zealand and Madagascar for instance) are home to endangered species -- most notably the beloved sea turtles, but also gopher tortoises, who do their part by digging shelters that protect 360 other species -- and lush vegetation on the preserved land. Check out the wetlands of Topsail Preserve State Park, bike along the 19-mile Timpochee Trail, or just relax and take in the fresh ocean air in this quaint beach neighborhood.
turtix/Shutterstock
Black Hills, South Dakota
Located in the heart of the American frontier, the Black Hills (which include the famed Mount Rushmore and Badlands National Park) boast numerous immersive outdoor activities where you can become one with nature, even if just for a day. Whether you opt for a Jeep safari to take you through the 71,000-acre Custer State Park or you choose to explore the 109 miles of converted railroad tracks at the George S. Mickelson Trail, there's lots to see and do. Take your pick from grandiose mountain carvings, rolling prairies, or beaming lakes; this place is home to many monumental places and is a must-see for meaningful adventure. The old-fashioned ranching communities that can be found throughout the region are just icing on the cake. Fun tidbit: the park contains one of the nation's largest free roaming buffalo herds, making a "Buffalo Jam" a real thing while driving through the park.
Crested Butte, Colorado
Crested Butte is the Colorado town commonly credited with having invented
mountain biking
, so it stands to reason the town is most known as a two-wheeled playground with 750+ miles of glorious trails. Whether you prefer Alpine singletrack, desert rocks, or pine forest plunges, you can find it
all
in Crested Butte -- and then some. Locals often get in heated debates about the best trails and terrain, but one thing they can agree on is that it's the mountain biking mecca. Winter adventures use the same rugged mountains for skiing and snowboarding adventures, along with alpine skiing, backcountry skiing, Nordic skiing, snowmobiling, snowshoeing, and so much more. The quaint mountain mining town dates back to the 1800's and is a Registered National Historic District.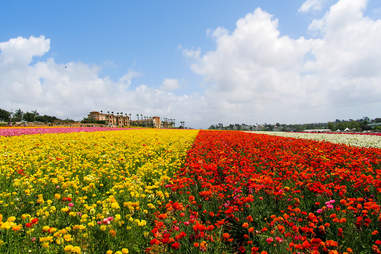 Tri Le/Shutterstock
Carlsbad, California
The rolling hills and sandy beaches of Carlsbad make it one of the most underrated and spectacularly beautiful places in all of sunny California. Carlsbad is home to many unique lagoons, headlined by Batiquitos Lagoon, Buena Vista Lagoon, and Aqua Hedionda Lagoon. You can also find almost 50 acres of Giant Tecolote Ranunculus flowers at
The Flower Fields at Carlsbad Ranch
(in bloom March through May) -- the perfect way to welcome spring and take in some of the beautiful color that Mother Nature annually gifts to the the area. The laidback vibe and gorgeous landscape make Carlsbad one of the most unique towns in the entire country. And let us not forget the surfing, beaches, and taco trucks, none of which are lacking in Carlsbad. You'll be tempted to spend every waking second outdoors here, and we wouldn't blame you.
Haleiwa, Hawaii
It's here that some of the biggest waves on the planet roll in for tourists to marvel at and locals to live for. Located on the North Shore of O'ahu, a true Hawaiian and cultured paradise, Haleiwa (pronounced hah-lay-EE-wah) is a well-spent hour's drive from the over consumed and overcrowded Waikiki. Everything in this quaint surf town is understated and rich in surf and Polynesian history. There are a number of easy hikes in and near Haleiwa (like the Ehukai Pillboxes), and definitely some much more adventurous ones that will instantly prove that glorious and sunshine-filled days are good for one's soul. Bikinis and board shorts optional, but recommended.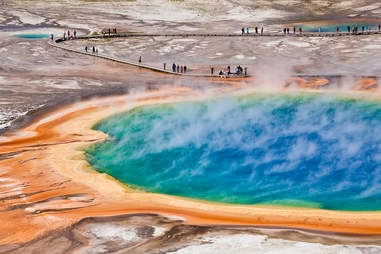 Berzina/Shutterstock
Cheyenne, Wyoming
Forget that it's 2017 because Wyoming will forever give off a wild west vibe, then remember it's 2017 after all as you rack up enough Instagram likes to make your followers jealous. If you don't bring your bike, rent one, because this is the place two-wheel dreams are made of -- particularly Curt Gowdy State Park, an IMBA (International Mountain Bike Association) "Epic" designated area. Paradoxically, it's a popular destination because the trail traffic is sparse, so prepare to spend at least one night here under a clear sky. If you weren't a stargazer before, don't be surprised if you become one after a visit to Cheyenne. Wyoming is home to some of the darkest skies in the continental US -- with 563,000 residents among its 62+ million acres, there's one resident per every 111 acres. Even municipal Cheyenne falls in the 7% most sparsely populated regions in the country.
Sandias; Albuquerque, New Mexico
Skiing in Albuquerque? Totally doable. The Sandias contrast Albuquerque's plateau and desert with the dramatic beauty of trails and mountains. Looming over the east end of town, these mountain ridges can be accessed via your own muscle and adrenaline (i.e. bike, hiking, running), or you can take the Sandia Peak Tramway (the world's longest tram, in fact). The tram has been in operation since 1966 and at the summit of 10,378 feet, there's a trail spanning much of the range to give you an even better vista. The unparalleled view afforded tram riders includes an eroded volcano, granite rock faces, cliffs, hardy pines, and tons of animals -- perhaps even a golden eagle or black bear.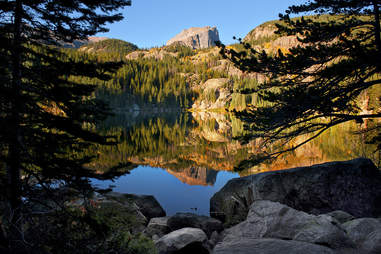 shaferaphoto/Shutterstock
Estes Park, Colorado
Home of Rocky Mountain National Park and so much more, Estes Park is yet another Colorado town that boasts some of the best mountaineering, rock and ice climbing, skiing, hiking, cycling, and any other outdoor adventure sport you can capture with a GoPro. Speaking of cameras, be sure yours is ready at all times to capture a commonly sighted huge elk herd along with other roaming wildlife. The rivers are packed with fish, making it a popular destination for those bearing rod and reel, but mountain exploration of all kinds remains the highlight here. While it's not as crowded as other popular Colorado towns, once people catch a glimpse of this mountain activity, it quickly becomes a favorite for families, couples, and single adventurers alike.
Palo Duro Canyon, Texas
Palo Duro is the second-largest canyon in the US (yep, the Grand Canyon is number one), but way less crowded. The 29,182-acre state park, located just outside of Amarillo, is just as majestic as the one-spot, and its 120-mile length is filled with breathtaking pops of various red and orange stone. The views are even more striking at dusk or daybreak, so plan your Instagram shoots accordingly. Bird watching and mountain biking are the must-do activities here (but not at the same time: eyes on the trail!). All forms of camping are also viable, as well as all levels of hiking: from a grassy stroll with grandma to a serious test of your skills, all are found within the canyon.