The 8 States of the American Southwest, Ranked by an Impartial Midwesterner
Before I determine which of these hot/dusty/Libertarian states is, in fact, the best, let me throw in a quick word about which states are, in fact, the Southwest. Some are obvious; if a state includes the suffix "-zona" or the word "Mexico" in its actual name, it's clearly in. The others are states that you can't immediately dismiss as not the Southwest. For instance: is Louisiana the Southwest? Obviously not, so it's not ranked. How about Colorado? Maaaaaybe. Rank it we shall.
So far, as an "impartial" Midwesterner I have now ranked the New England states, which I knew nothing about going in, and the South, which I still don't feel like I know anything about, but hey, lots of good drinking in New Orleans and Louisville. But as a bi-regional person primarily based in Vegas, I spend a lot of time exploring the Southwest and know this terrain. Let's argue.
RomanSlavik.com/Shutterstock
8. California (the Southwest part)
What most of the California people talk about when they talk about California isn't considered part of the American Southwest. The part that is is the part you drive through to get to the rest of it. California has many beautiful natural features; but besides Death Valley (not part of "Southwest" status), its desert landscape isn't one of them. Look, it's not that Palm Springs -- barely "Southwest" -- isn't cool, it's just that there are so many cooler Southwestern cities with so much more to see around them. And unless you're a card-carrying member of the AARP, there's a good chance you don't go there for anything but Coachella anyway. Joshua Tree National Park is great -- but have you been to Zion? It's OK, California; you'll have your turn. Play to your strengths. You can't have EVERYTHING.
angie oxley/Shutterstock
7. Oklahoma?
Is it the West? Is it the South? Is it the Southwest? Is it the Southeast? Who knows, but at some point the South becomes the West, and the Oklahoma-Arkansas border may as well be it. Oklahoma at large is some serious Wild West-ness. Oklahoma City at least brings great coffee roasters, breweries, and restaurants, and the Oklahoma City Museum of Art is well worth an afternoon. If you're the type who is on the perennial hunt for the next big thing, OKC is definitely positioned for it. It's the new Nashville! But OKC's next "it" city status aside, the rest of Oklahoma is Great Plains boring, though Tulsa is totally underrated, too.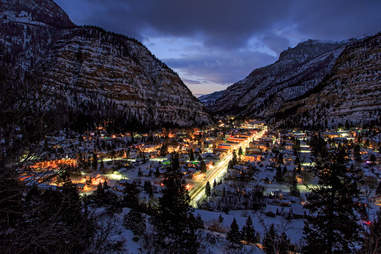 loneroc/Shutterstock
6. Colorado
People are going to be mad Colorado didn't rank higher. And hey, there are lots of great things about Colorado – bountiful snow, legal weed. But aside from its beer scene, Colorado doesn't appeal. It might be Coloradans. They exhibit some Midwestern Nice while also being as off-putting as New Yorkers. Friendly! But… not really? And just a little awkward? Or, out of it? Could be all the pot? Oxygen deprivation from the high altitudes? A guy in Fort Collins once tried to show me his yurt. True story. Also true: it wasn't really his yurt he was trying to show me.
Get outside, you say? Well, Mesa Verde National Park is pretty cool but that's probably because it's basically in New Mexico. While Aspen may be a little place where the beer flows like wine and where beautiful women instinctively flock like the salmon of Capistrano, the treacherous three-hour drive from the Denver airport in the middle of winter to get there is no bueno. Speaking of Denver: America has many major cities, and Denver isn't one of them. Colorado doesn't do it for me. This is my list, not yours. Good day.
Witold Skrypczak/Getty Images
5. Texas
The further west you get in Texas, the more "Southwest" it gets -- like, to the point of basically being Mexico. I happen to like Mexico, so I'm all about it, but I've also seen Sicario, and while I know that cartel-related crime is on the decline (thanks, Colorado!), I wouldn't recommend just anyone go weekending in El Paso just yet.
Over in Brownsville, another Mexico-lite Texas border town, you can get cachete tacos at perhaps the last remaining traditional barbacoa joint in the country, Vera's Backyard Bar-B-Que. And yes, this is Texas, so everyone is all blah blah blah Austin, but have you tried San Antonio? It's close to Austin and all that barbecue you love, but also less displaced-East-Coast-hipster and more, well, actually Texas. Don't hold that against it.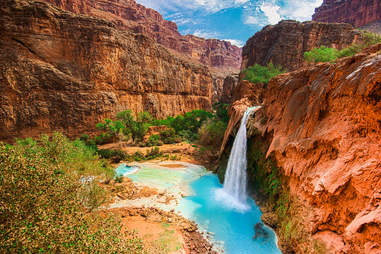 ronnybas/Shutterstock
4. Arizona
The Southwest's Epcot Center: all the look, but with a lackluster vibe. Probably because of all the Baby Boomer retirees who lost a coin toss and landed here instead of Florida. Phoenix/Scottsdale is basically an upscale outdoor mall. Camelback Mountain is where all the fancy people go, but like so many other places where the fancy people go, all the spas and resorts are generically "luxe." Sedona's beautiful but not much of an upgrade on New Mexico or Utah.
Arizona does have the Grand Canyon, and it is pretty damn grand – especially if you go to the North Rim, the good rim, and especially if you don't make one of these Grand Canyon mistakes. And if you want to know what paradise looks like but can't afford Hawaii, plan a long-weekend camping trip at Havasupai Falls -- massive turquoise-colored waterfalls surrounded by lush greenery hidden in a canyon that requires a 10-mile hike in. Boating on the Colorado River and Lake Mohave in Laughlin is also a hoot.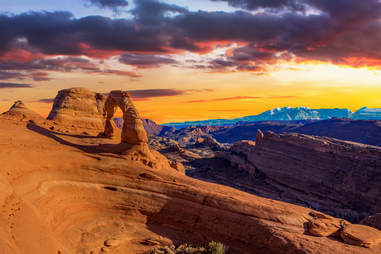 Josemaria Toscano/Shutterstock
3. Utah
Utah is hands down the most beautiful state in the continental United States. There's Bryce Canyon National Park, Zion National Park, Canyonlands National Park, Arches National Park, Dead Horse Point State Park, and wild rock formations galore. One of the best scenic drives on the planet is I-70 through Central Utah, one of the loneliest desert stretches you'll ever cross. You'll pass near Arches and Canyonlands National Parks, as well as the amazingly named Goblin Valley State Park. Other evocatively named scenic spots on this route: Devils Canyon, Ghost Rock, and Spotted Wolf Canyon are right off the freeway.
Salt Lake City stealthily has a bangin' restaurant scene, plus great gastropubs, beer and whiskey and cocktail bars, and breweries. Over in the Sundance Film Fest and ski resort territory of Park City, you'll find more of the same.
Dem liquor laws doe. The Mormons definitely got their say on the state's liquor regs, though to their credit, the LDS' imposingly gothic Salt Lake Temple is nothing short of breathtaking.
FiledIMAGE/Shutterstock
2. New Mexico
New Mexico is the Southwest. It's not at all cool, and that's what makes it so great -- there is no level of "trying" here. I almost hate writing this because then people will start going to Albuquerque and Albuquerque will suddenly be "cool" and then Albuquerque will become just like Austin and be ruined. But I probably don't have to worry about this too much because most people will probably never bother learning how to properly spell Albuquerque at any point in their lives and therefore won't move there.
Sante Fe is beautiful, no doubt, and has some of the coolest architecture in the country, but the arts scene there is just a bit more corporate, just a bit more manufactured, just a bit more tourist-driven. Property owners charge absurd amounts for rent and galleries take huge commissions from artists, meaning few artists own their own studios or galleries. For more indie grit, hit up Albuquerque.
And for those of you who just tuned out for that whole last paragraph, beer. New Mexico has one of the most under-the-radar beer scenes with some truly fantastic breweries, and most don't distribute outside of the state.
Oh, and since I've talked about the great outdoors a lot, New Mexico has Santa Fe National Forest, Carson National Forest, Gila National Forest and Wilderness, the La Luz Trail, Dripping Springs Natural Area, Yapashi Pueblo, Sierra Ladrones, the Continental Divide Trail, White Sands National Monument, and so much more.
Plus: green chile cheeseburgers.
1. Nevada
This might be my home state nowadays, but I like to think I am able to retain some sense of objectivity. Probably because Nevada = Las Vegas and there are a lot of thingsabout Las Vegasthat are terrible. But but BUT Nevada isn't just Las Vegas! And also, there are a lot of thingsabout Las Vegasthat are not terrible! So it's a matter of perspective, really.
So first, if you love to party and love to blow money and… um, other stuff, there is VEGAS, and it is the best place in the country to do all of that. And even for those of us who just can't with the 24/7 party lifestyle anymore, the whole 24/7 thing (even more so off the Strip where the actual Vegas humans live) is super convenient. When I fly into Detroit now and I just want to pick up some decent beer and some food for the next few days and it's 9:07pm and everything is closed and I have to drive to a Meijer 20 minutes away, that's kind of stupid, you know? It's not that I need Roberto's tacos or a Green Island smoothie from Tropical Smoothie Café at 4am. It's just nice to know I can get them.
Vegas is catching up in non-dirtbag ways, too, with astounding growth in the beer scene and the Downtown hipster food scene. Our Chinatown is great, we've got tons of 24-hour taquerias, and every celebrity chef worth his weight in cable-network food shows has a restaurant here. Even the lowest-common-denominator/highest-profit-margin pandering adds to the absurd variety here. And entertainment? Fuggedaboudit. Comedy clubs, Cirque shows, concerts of all sizes and stripes, independent theaters, touring Broadway productions, penis puppetry -- we have it ALL.
And that's to say nothing else about the rest of Nevada! Reno, "the biggest little city in the world," probably has more hipster cred than even Downtown Vegas, plus it's just an hour to Lake Tahoe. Also, TAHOE. (It's half in Nevada!) Plus: ghost towns and weird alien-landing/nuclear-testing history and the ruins of old Mormon settlements and wooden saloons dating to the pioneer days.
Also ALSO: there may be no better state for outdoors enthusiasts, and that's not a joke. There are mountains and state parks and national parks and forests and rivers and lakes in every single state, but few major cities can claim all of these things within an hour's drive from the city, and most within a half-hour's drive. Las Vegas and Reno can. Hiking, climbing, canyoneering, rappelling, kayaking, Jet Skiing, whitewater rafting, cycling, mountain biking, skiing: you can do it all here in Nevada, often in the same day.
Sign up here for our daily Thrillist email, and get your fix of the best in food/drink/fun.
Nicole Rupersburg realized just the extent to which she has gone native Nevadan by writing this. Check out her hiking photos intermixed with drinking-on-the-Strip photos on IG: @eatsdrinksandleaves.