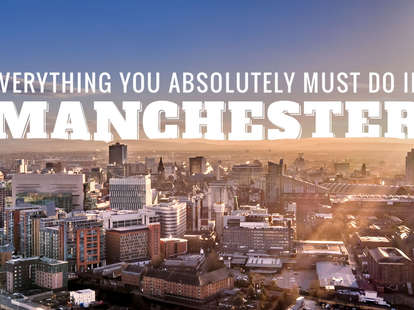 Everything To Do, See, Eat, And Drink In Manchester
The Theatre of Dreams, red brick buildings and craft ales -- Madchester might be over but Manchester is only just getting started. The city where "tea" is an evening meal has been listed the best place to live in for the last three years by the Global Liveability Survey and is quickly stealing the limelight from London -- giving a whole new face to the "grim North of England." It may be built on the industrial revolution but it's been revived by its alternative culture, so come and find out what makes the Northern Powerhouse such a great place to visit -- just make sure you pack an umbrella.
Cobbled streets, converted cotton mills, and an intricate system of canals -- Manchester has a lot to see, and luckily, the city centre gets an A for walkability.
Salford Quays
Salford Quays is the result of one of the largest urban regeneration projects in the UK and a must-see area when visiting Manchester. Technically in Salford, Manchester's very close neighbour, Salford Quays is where you'll find The Lowry theatre, the Imperial War Museum North and, of course, MediaCityUK. If you're into open water, you'll love it here, and may even bump into the occasional BBC celebrity.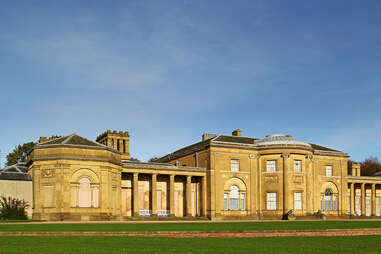 Heaton Park
If you're looking for a peaceful and historic break from the busy city centre, venture just slightly north on one of Manchester's iconic yellow trams and you'll hit the 600 acres that is Heaton Park. Home to a Grade I Listed, neoclassical manor house which will light up your Instagram, this vast open space is a popular location to get a breath of fresh air. In June, it's also home to one of Manchester's biggest music festivals -- Parklife.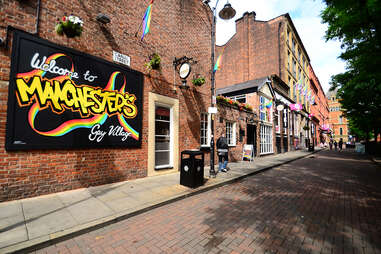 The Gay Village
Manchester is a proud city, and you won't feel that more than in its famous Gay Village. Home to the second largest LGBT population in the UK and a beautiful street along a canal (aptly named Canal Street), where you'll find a stretch of bars and outdoor seating. Every year, the Village is alive with festivals and events, including The Big Weekend during Manchester Pride in August. Buy a wristband if you want access to the stages and performers -- which range from big-name pop stars to local DJ sets -- or just soak up the vibes at the massive street party. Whatever you do, just be yourself.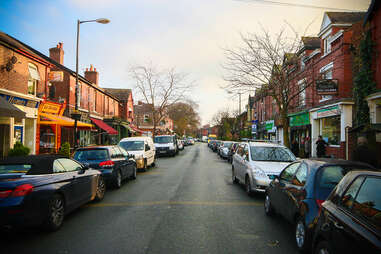 The suburbs
If the hectic city life is a bit much for you, Manchester has a huge urban area surrounding its centre. Take the tram to Chorlton for suburban hipsters and the vegan World Peace Cafe, or visit Altrincham on the weekend for its famous markets and even more famous meat pies. Each area has its own unique personality and hosts an impressive number of independent bars, cafes and restaurants -- so don't let the city Ring Road hold you in.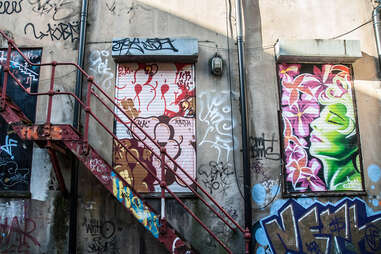 Street art
"Creativity is forged in Manchester on the anvil of industry." Those are the words of Mancsy -- Manchester's answer to Banksy -- and after a short walk around town you'll understand that creatives run this city. The Northern Quarter hosts the highest density of graffiti, with impressive pieces of art at every turn. Look out for David Bowie tributes and the stunning piece, 'Inhuman Barriers' by Nevercrew on Tariff Street.
The view from Cloud 23
Designed by (and home to) renowned British architect, Ian Simpson, Beetham Tower's monolithic presence can not go unnoticed in Manchester. On the 23rd floor of this landmark skyscraper is Cloud 23, a cocktail bar with the best view in town. Ideal for sunsets, dates, and wearing something a little nicer than that old sweater you bought in one of the city's many vintage stores.
Get ready to open your eyes and ears to all the culture that Manchester throws at you. It really does come thick and fast. Start with a stroll, take a break with a book, and end in one of the city's dive bars watching a local band play within arm's reach. That's MCR.
Live music
You can't visit Manchester without diving into its world-famous music scene. The city brought the likes of The Smiths, Oasis, and The Stone Roses into the world, and continues to be an essential stop for any band, big or small. Intimate venues like Soup Kitchen, Night & Day, and Band On The Wall host local and up-and-coming bands every week and will open you up to new sounds for a cheap price -- sometimes free.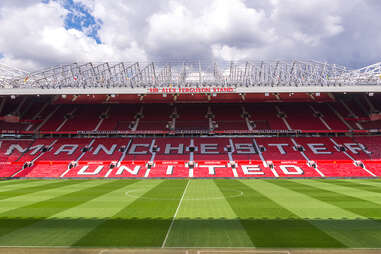 Football (soccer)
There really is no place like Manchester for football fans. Home to two of the biggest teams in the world -- Manchester City and Manchester United -- as well as the National Football Museum, MCR will quench your never-ending thirst for the Beautiful Game. If you're headed to City's Etihad Stadium, you'll want to stop off at Second City Bar in nearby Ancoats (where you can also watch the game if you didn't get a ticket). If red is your colour and United's Old Trafford your destination, grab the train or tram and prepare to sing until your throat is sore.
Read a book
Chatham's Library in Manchester is the oldest public library in the UK (and some say the English speaking world). Founded way way back in 1653, it's been open ever since and will give you that Hogwarts feel as you read one of 60,000 books printed before 1851.
As well as this historical relic, there's also the Victorian, neogothic John Rylands Library, and the unbelievably grand Central Library in the heart of the city. Escape the city noise; pick up a book and feel inspired.
Go HOME
The home of culture in Manchester, this is where you get your fill of independent cinema and theatre in the city. Q&As with directors, art exhibits, and re-runs of cult classics are frequently held at HOME. It also has a restaurant, a bar, and a suntrap roof terrace where you can drink your Aperol Spritz and discuss the grittiness of British cinema. Who said Northerners were uncultured?
The Whitworth Art Gallery
Even if you're not into the art, the architecture of the new wings which were recently built are well worth a visit. Found in Whitworth Park in Rusholme, the gallery's impressive space and glass walkways connect the indoor art with the outside world. There is currently an Andy Warhol exhibit here until April 16 which is not to be missed.
Visit Castlefield
Castlefield is an inner-city conservation zone in Manchester. It's where the Romans settled and built the fort Mamucium, and it was also the endpoint of Britain's oldest canal. Today, it's a beautiful part of the city centre crammed with beer gardens, canal walkways, and an outdoor theatre for music festivals. If the rain subsides, you won't want to miss Castlefield.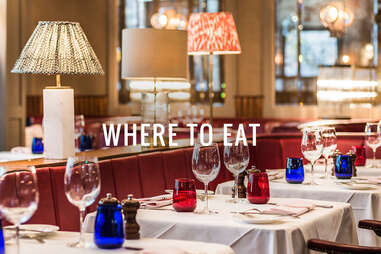 Manchester is home to an eclectic mix of restaurants inspired by cuisines from all over the world. Just what you need to refuel after a long day of football and craft beers.
Almost Famous
If you're looking for a dirty burger (which you are, because you're in Manchester), then Almost Famous is where you need to be; the in-your-face restaurant that literally leaves you with burger all over your face. Manchester's love affair with messy pile-ups of patties, buns, and anything else you can find started here (they once had Oreo burgers on the menu). Originally a small room in a secret location up a hidden staircase, their deliciously oversized burgers have now become a Manchester institution. Find them in the Northern Quarter or in the Great Northern Warehouse.
Yard & Coop
A hipster's answer to a Cheeky Nando's -- Yard & Coop is the go-to place in Manchester for fried chicken and boozy milkshakes. Based in the city's Northern Quarter, you shouldn't leave without trying the Not Chicken Nuggets, which are basically balls of crumb-coated halloumi cheese and the best things you'll ever eat for under £5.
Rudy's Pizza
Based in the Ancoats area of Manchester, which was recently named the 3rd coolest neighbourhood in Europe, Rudy's is an authentic neapolitan pizza restaurant that makes its own dough fresh. Like most new places in town, it's walk-in only. Get in early, as the wood fire oven closes around 9:30pm and you definitely don't want to miss out on a slice.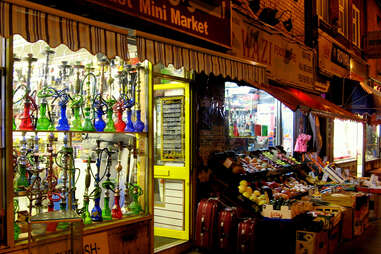 Curry Mile
Having over 100,000 students across four universities in Manchester has helped sustain one of the city's greatest quirks -- Curry Mile. It's a stretch of curry restaurants, shisha bars, and takeaways. Favourites include Mughli, often tipped as Manchester's best Indian restaurant, and Spicy Hut, where the food is cooked in front of you and the flames come worryingly close to your eyebrows. There's also a hole in the wall where, if you find it, you can buy lamb shawarmas for £2.50
Federal Cafe
Avocado and poached eggs are found everywhere in Manchester, but no place does brunch better than Federal Cafe. On the edge of the Northern Quarter near the city's Arndale shopping centre, this small corner spot fills up quickly because of its generous portions and decent Flat Whites. After your inevitable wait for a table, order the crushed avocado with a mimosa and watch the trams roll by.
Yuzu
Nestled in Manchester's vibrant Chinatown lies this authentic and simple Japanese restaurant that serves up traditional dishes and sashimi -- just don't ask for sushi, they do not serve it. Drenched in natural light, Yuzu has a calm atmosphere that is a stark contrast to the bustle of its neighbourhood. Wash down your tempura with some sake in a nifty little metallic cup, and always look out for the specials -- just make sure you call beforehand.
Manchester's diverse nightlife is well known in the UK and the city attracts big names in the club scene thanks to events like the Warehouse Project. Whether you're after big DJ sets or a chilled out bar, these places will warm you up…
The Alchemist
Alcohol meets chemistry class at The Alchemist, where your beverage will likely foam, emit fog, and get served in a glass beaker made for science. Whether or not you get bored of the "molecular mixology" gimmick, you'll keep going back because the cocktails are just that good. Try the Old Fashioned -- it's the best in town.
Twenty Twenty Two
Tucked away down a small street in the Northern Quarter, which is known for its edgy bars and alternative scene, this underground Ping Pong bar is an essential stop any night of the week. Table tennis tournaments are held once a month (be prepared to lose, Mancunians are surprisingly skilled), there's also beer pong and arcade games. Buy a Red Stripe and dive in.
The Refuge by Volta
The bar of the recently renovated Principal Hotel opposite Oxford Road train station has quickly become one of the city's favourite places to drink. The whole building will leave you in awe and the indoor "winter garden" is the ideal location for Sunday afternoon cocktails. The staff are incredibly friendly and will make you anything you're after.
Port Street Beer House
If you're into your craft beers then the self-proclaimed "beer enthusiasts' drinking hole" is a must. Port Street Beer House in the Northern Quarter has an immense selection of beers of all kinds from all over the world. And if you're a bit of a rookie or just get overwhelmed by the selection, the bar staff know what's good and are there to help you choose. There's also a beer garden -- which is rare for the Northern Quarter -- if you get lucky with the weather.
At a brewery
Manchester's newest district, The Green Quarter, is home to a small handful of microbreweries that regularly open their doors to the public. After setting up inside railway arches just Northwest of the city centre, BlackJack Brewery and Runaway Brewery both regularly host "brew taps," where you can try some great Manchester beers at their absolute freshest. The prices are cheap and the food and beer are local.
Oast House
Manchester's alternative dress code can easily leave you yearning for something a little classier every now and then. If it's a Prosecco kind of evening you're after, then The Oast House is where you'll be starting your night. As a major focal point of the affluent Spinningfields area of Manchester, Oast is a favourite spot for outdoor drinking with plenty of seating and a lively atmosphere. In the winter they also construct a giant Teepee equipped with its own bar and fireplace for keeping warm.