Not many humans in today's digitally-enhanced world can say they've hunted a fish underwater, killed it, brought it to the surface with their own two hands, cleaned it, and ate it, all in the same day. Ready to get in the water and take a... stab (sorry) at spearfishing? Below, you'll find everything you need to know, like, literally, everything you could ever, ever, ever, need or want to know about this thrilling sport, including equipment lists, words of wisdom from experts and explorers, the best places to dive, and why you should explore this rarely-travelled underwater road.
What you'll need
Snorkel gear
Everyone's worn a mask and snorkel at some point in their lives. So this is one crucial piece of spearfishing gear we're all familiar with. The basic stuff will work to get you in the water -- relaxed breathing as you surface and dive back down not necessarily included.
Estimated cost: $20-$100
Wetsuit
Unless you're diving in the Florida Keys or the Caribbean, you'll need a full wetsuit to keep you warm. If you're fishing in cold water, booties (and possibly a hood) will help, too. Really looking to fit in? Check out the camouflage smooth skin freediving suits that are popular among professionals.
Estimated cost: $100-$300
 
Gloves
No matter how cold the water is, you'll want to wear some kind of neoprene diving gloves to improve your grip on your spear (and any fish you might catch) as protect your hands from teeth, spikes, rock, coral, and Cthulhu monsters.
Estimated cost: $20-$50
 
Swim fins
Don't cut your dive time short by kicking too vigorously -- get a pair of spearfishing fins, which are longer and more flexible than scuba or free-diving fins. Light kicks with long fins allow you to stay relaxed, conserve oxygen, and catch more fish. That's a win-win-win.
Estimated cost: $50-$100
Weight belt
No, a fanny pack full of rocks will not work (and is quite dangerous, too). But since neoprene wetsuits are quite buoyant, you need some kind of weight to help you dive deep. Rubber weight belts are best for spearfishing since they won't slide around as your body glides and twists through the water. Meanwhile, stainless steel buckles and weights that go into the belt are worth the extra few bucks since they'll last much longer than cheaper materials.
Estimated cost: $20-$50
 
Spear gun
First-timers should start with a manual pole spear or hand spear -- a carbon-fiber pole with a single, double, or three-prong tip and a long rubber band that you "cock" by hooking the loop between the thumb and forefinger of your dominant hand. Once you have a fish lined up, release your grip and allow the built-up tension do the work. Because of its limited range, a pole spear will help you learn how to swim silently, stalk fish, and line up an accurate shot. That's some straight up Bond action right there.
Estimated cost: $50-$500
 
Dive knife, float lines, float buoy, and fishing license
These may seem like accessories, but they'll also help you streamline the spearfishing process -- and keep you safe. A dive knife can help you spike your fish, clean it, and cut through lines. A float line connected from your gun to a buoy on the surface allows you to drop your gun when chasing a speared fish -- and the buoy alerts other boaters to your location. As for the fishing license? Well, that's a must -- the man doesn't take kindly to poachers. Also, the money you spend generally goes right back into preserving the seascape you're enjoying.
Estimated cost: $50-$200
The best places to do it
1. The Florida Keys 
If you don't have a passport, the continental US' southernmost point offers surefire spearfishing success. In most locations along the 120-mile island chain, visibility goes all the way to the bottom, with yellowtail and mutton snapper, amberjack, black grouper, mahi-mahi, and cobia the top catches. And do we need to tell you how great the Keys are for the non-fishermen in your family?
 
2. Ascension Island
Halfway between Brazil and South Africa, this stretch has been closed to commercial fishing for years, and nearly everyone in the diving community considers it the Mecca. (World-famous French-Canadian diver Valentine Thomas, who's done more than any woman before her to publicize female participation, she went from a hedge fund employee in London to world record holder after just a handful of trips to Ascension.) But at $10,000 for a 10-day trip, Ascension is truly a once-in-a-lifetime experience for most fishermen.
 
3. Central America & the Caribbean
For those on a budget but still after tropical adventure, these are surefire hot spots. Warm water, remarkable visibility, and an endless variety of fish -- snook, king mackerel, roosterfish, parrotfish, sea bass, and lobster, among others — make Panama a particular hotspot, with the Gulf of Chiriqui and the Hannibal Banks regularly topping many spearfishing itineraries.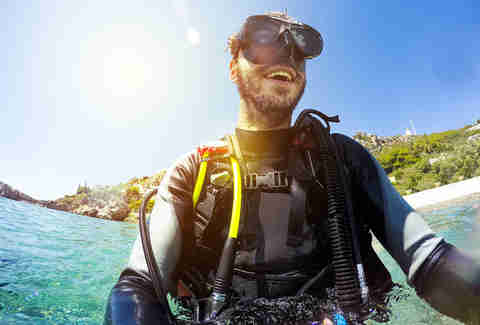 4. Australia or South Africa 
Looking for something a little more adventurous? Try the Land Down Under, where the best spearfishing spots are located around the continent's famous barrier reefs. Or head for South Africa, where sharks definitely outnumber fishermen. Unusual species like slatey bream, trevalley, mangrove jacks, wahoo, jobfish, and rankin cod are common. But only consider these locales if you're seeking a serious shot of adrenalin.
 
5. The Gulf of Mexico 
Once you've accumulated significant dive time, consider the many oil rigs off the coast of Texas, Louisiana, Mississippi, and Alabama, which offer up some of the best marine breeding grounds on the planet, with massive redfish, grouper, bonito, and kingfish there for the taking.
 
6. California 
The modern spearfishing industry took hold in Southern California in the early 20th century. Although that area is now densely populated, you'll still find countless offshore kelp beds and rocky nearshore coves that are great for diving. And once you head north of Santa Barbara? The Pacific Ocean is a vast marine paradise for hundreds of miles to the north.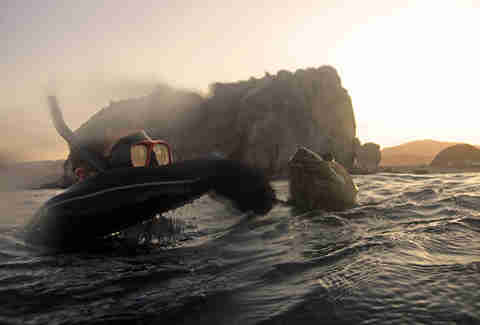 Why you should do it
1. You'll catch the best-tasting fish on the planet
From snapper and grouper to mahi-mahi, cobia, wahoo, and maybe even tuna, we're willing to bet that any fish you catch with your spear gun is guaranteed to taste far better than anything you'll eat in a restaurant -- never mind the farm-raised feeder fish most big-box grocery stores sell. "You get to choose your next meal," says acclaimed Hawaiian big-wave surfer and spearfisherman Mark Healey. "A typical way of thinking is, 'Alright, what do we want for ourselves for dinner tonight?' It's a base-level human experience."
 
2. It's ecologically responsible
There's no cleaner way to harvest your own food. In spearfishing, there's no by-catch -- you only kill the fish you want to eat. And since you can't catch and release like rod and reel fishermen, you choose your prey and your shots much more carefully. "You can't throw a fish back," says Brian Coen, a teacher at New Jersey's Marine Academy of Technical and Environmental Science and an avid spearfisherman for the last 10 years. "Once you spear it, it's dead. Everything that you shoot should absolutely be eaten. And once you hit your limit, you take your camera down and see who can get the best shot of the biggest fish. You have to respect the rules -- and the environment."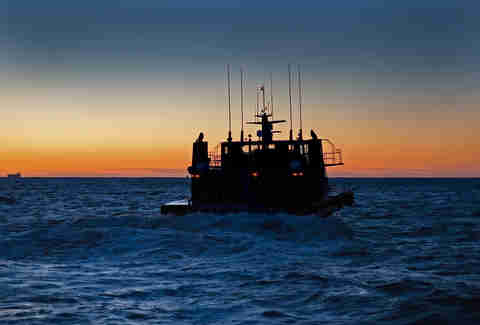 3. You'll see some of the coolest sights on the planet
The best locations for spearfishing also happen to be some of the most interesting: kelp forests, rock gardens, coral reefs, mangrove islands, and offshore structures like shipwrecks, jetties, and buoys. Spearfishing allows for an up close and personal view of these habitats, which most people rarely get to see. "My main draw to spearfishing is independence," Healey says. "The independence of not only being in an environment that man has never tamed, but also to be a part of it. Even if I come in empty-handed, there's never a day that goes by in the water that I don't learn something."
 
4. It's damn good for you
Let's not forget the intense physical workout that spearfishing delivers. Diving underwater and swimming for hundreds of meters at a time, then wrestling fish to the surface, delivers ridiculous levels of anaerobic, interval, and cardiovascular endurance that can burn thousands of calories. "Growing up in Fiji for parts of my childhood, there was no talk of catching waves -- only fish -- and that became my 'ultimate thrill' very early on," says nomadic big-wave surfer and adventurer Aamion Goodwin. "Spearfishing forces you to expand your lungs while slowing your body's movements so you can have time in the deep to search out your prey. [So] you actually try to think about absolutely nothing -- to slow your heart rate down by relaxing." What better way to exercise than combining zen chillness and fish murder?
So what are you waiting for? Armed with this knowledge, a little can-do spirit, and a good spear gun, you could be ticking off one of the world's best bucket-list activities this weekend. Jump on in -- the water's fine!