Everything You Need To Do At Dreams Resorts & Spas' Newest Location: Playa Mujeres
Courtesy of Dreams Resorts
Playa Mujeres is just 10 minutes from downtown Cancun, and it's now home to Dreams Resorts & Spas' newest location -- where there's everything from tequila tastings to a traditional Mayan sauna, plus more than a dozen bars and restaurants (some you don't even need to get out of the pool to visit). Plus, you won't need to think about your budget, as nearly everything is included in Dreams Resorts & Spas' Unlimited-Luxury®, i.e. their all-inclusive package. Because your vacation should include as much time doing whatever you please, we broke down everything you should hit up when you visit. Oh, and to make sure that your vacation doesn't get interrupted by something as annoying as arranging a cab from the airport, Apple Vacations has set up a package to book this resort (and loads more) that truly covers everything.
Sweat it out in a traditional Mayan sauna
The spa at Dreams Playa Mujeres features a temazcal, a centuries-old style of sauna that was first used by the Mayans after battle. (On vacation, "battle" means a light sunburn.) They are usually made out of volcanic rock that's then heated to produce steam -- and a session in the temazcal is included in Dreams Resorts & Spas' Unlimited-Luxury® package. It also includes an entire healing ritual, with aromatherapy, led by an intercessor.
Get a massage underwater
Besides ancient purifying rituals, the Dreams Spa by Pevonia® offers all the services you'd expect at a beach resort: facials, pedicures, manicures, and massages. Except at Dreams Playa Mujeres, the massages happen in a Watsu pool -- a pool that's filled with chest-deep, bathtub temperature water. A practitioner will help you stretch and work out the kinks caused by too many work emails, all while you're cradled in the water.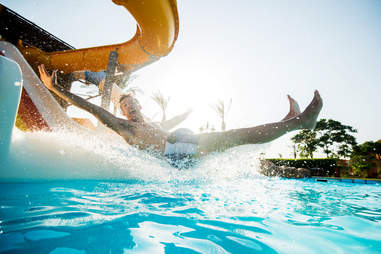 Embrace your inner child at the waterpark
No longer will your vacation beach days be spent with your nose in a book. At Dreams Playa Mujeres, the resort waterpark is open to all ages, so instead of trying to make sure sand stays out of your e-reader, you can zip down waterslides, shoot water guns, and get drenched by a giant bucket. Once you're all tired out, you can get back to that crime novel.
Be handed a drink while you float down a lazy river
Beachfront hotels are normally known for their swim-up and oceanside bars, but to get a drink on the lazy river at Dreams Playa Mujeres' onsite waterpark, you don't even have to get out of your tube. Currents, the lazy river bar, serves up top-shelf cocktails and frozen drinks until 6pm -- even offering a featured cocktail that changes daily. Plus, it takes "lazy" to a whole other level.
Courtesy of Dreams Resorts
Take part in a tequila tasting
You're in Mexico, AKA the birthplace of tequila, so learning a bit about the national drink should be at the top of your to-do list. Dreams Playa Mujeres offers tequila tastings weekly at the resort, where a sommelier will walk you through everything from tequila Extra Anejo to smoky mezcal, and learn about the tequila-making process while you sip.
Learn some Spanish
If all you can remember from high school Spanish class is how to say "please" and "thank you" -- it may be time to brush up on your Español. Lucky for you, Dreams Playa Mujeres offers lessons at the resort that focus on basics and conversational phrases, so after an hour-long session, you may be able to not only order your drink in Spanish, but even roll your r's.  
Fly fish in a lagoon
The Nichupte-Bojorquez lagoon system is huge -- like 3,000 hectares huge. And throughout those thousands of acres is an entire mangrove forest and ecosystem, known for tropical birds, lots of fish, and plenty of Instagram-worthy natural scenery. It's about a half hour from Dreams Playa Mujeres, and one of the most popular activities there is fly fishing. Besides that, you can spend the day exploring the mangrove forest on a jet ski or a guided jungle tour.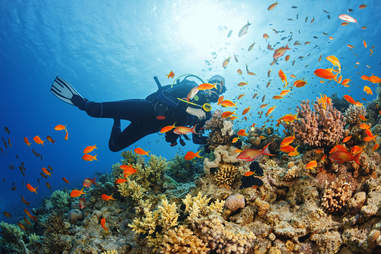 Scuba through the Caribbean
Clear blue Caribbean waters full of tropical fish and coral reefs are what scuba enthusiasts flock to, and with dive sites like Isla Mujeres and Isla Contoy around Playa Mujeres, you'll be able to explore them for yourself. Dreams Playa Mujeres also offers scuba lessons and training on-site, if you're rusty.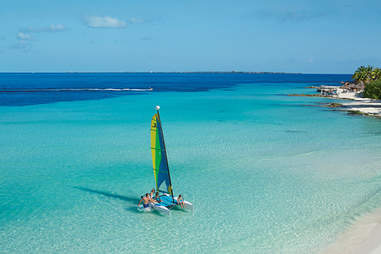 Courtesy of Dreams Resorts
Get out on the water
Besides making for a pretty view from your beach chair, Mexico is a playground for watersports and activities, many of which Dreams Playa Mujeres offers onsite. You want to kayak? Snorkel? What about play water polo? Jet ski? It's all here, and takes place right in the ocean. Many of the options are complimentary in their Unlimited-Luxury® package, too -- while others you'll need to pay a fee.
Have a formal, authentic Mexican dinner
There are seven restaurants, a buffet, a cafe, and an ice cream parlor at the resort, and with Unlimited-Luxury®, all your meals are included. If you're looking for an authentic Mexican dinner, though, head over to Tres Colores -- a formal dinner option where your shirt needs a collar. The menu is worth dressing up for, with items like braised shrimp tostadas and slow-roasted pork shanks. If you run out of restaurants to try at Dreams Playa Mujeres, (you deserve a medal), Unlimited-Luxury® guests can also head over to Secrets Playa Mujeres Golf & Spa Resort next door for even more options, all included.
Courtesy of Dreams Resorts
Or order room service at 3:30am
Because midnight snacks are to be expected, especially on vacation, Dreams Playa Mujeres offers 24-hour room service to all their Unlimited-Luxury® guests. That means whether you feel like having eggs benedict, or need a late night burger after going to one of the nightly themed parties, snacks are just a phone call away. Oh, and the mini bar in your room is restocked daily with beer, juices, sodas and bottled water.
Take a ferry to a tiny island
Isla Mujeres is an island off the coast of the Yucatan Peninsula, and just a mere 4.3 miles long. It's considered to be a capsule of "old Cancun" -- with lots of fresh seafood restaurants, spots for snorkeling and scuba diving, and a facility to house and rehabilitate the local sea turtle population. To get there, you'll need to hop on a ferry, but it's only about 9 miles from Dreams Playa Mujeres.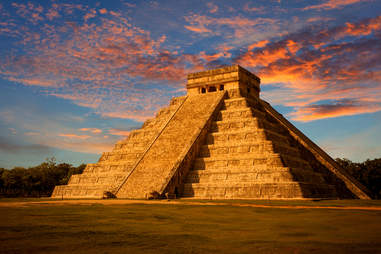 Explore Chichen Itza
This isn't your run-of-the-mill excursion -- this is Chichen Itza, the site of the Mayan ruins considered to be one of the seven wonders of the modern world. The most striking of the nearly millennia-old structures is the step-pyramid dedicated to the feathered serpent deity Kukulkan. Though we're still around post-2012 Mayan doomsday predictions, their relationship with time is still pretty spot on. There are 91 steps on each side of the pyramid that total to 365 when you count the final platform that makes its top. During the equinoxes, shadows crawl down the side of the structure, evoking the serpent deity for which the temple is named. Chichen Itza is about two hours from the resort. To get there, you'll book this excursion through Amstar --  a local transportation and tour provider that works with Apple Vacations.
Practice your putting
It's pretty convenient when the resort you're staying at is practically neighbors with the Playa Mujeres Golf Course -- and it's even more convenient that the price to play a round of golf there is exactly $0.00. Rounds are complimentary for the resort's guests, as is transportation and greens fees. As an extra bonus, you'll be able to take in ocean views as you play 18 holes.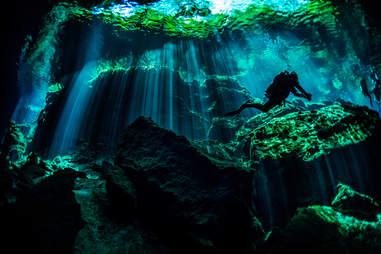 Tour underwater caves
In Mayan, "Xel-Ha" means "where the water is born" -- and that's what they named the natural inlet and lagoon in Quintana Roo that's about two hours from Playa Mujeres. Today, it's an ecotourism theme park, which means that instead of riding roller coasters, the thrills come from snorkeling through naturally-occurring underwater caves, while catching glimpses of more than 90 species of tropical fish. It's just under two hours from the resort, and Amstar will help you book it.
And Here's How To Get There
Why would you waste valuable vacation time booking your excursions or trying to hail a cab from the airport? All that cuts into time you should be spending in a beach chair, preferably with tropical drink in hand. When you book a trip with Apple Vacations, all inclusive means all-inclusive. Your airfare and hotel are of course booked together -- but so is your airport transportation (thanks to Amstar), plus any upgrades you asked for (hello, rooms with a swim-out pool) and the tours and excursions you've had your eye on. Oh, and the flights? Apple's Exclusive Vacation Flights are nonstop, that means you won't end up sleeping in the airport when you should be in an ocean-view room. To book it, all you gotta do is click over here.