Paid Content For

Here's Everything You Need to Do in Vancouver This Summer
Paid Content For

Josef Hanus / Shutterstock
Josef Hanus / Shutterstock
Living in Vancouver means spending nine months waiting for three months of summer. But once you make it, the city thrives. If the nearly perfect weather doesn't make you fall in love with the scenery and outdoor adventures, then the festivals, celebrations, and food will. Take this as the only list you'll need to enjoy Vancouver to the fullest this summer.
Hello, beaches
Nobody needs convincing to hit the beach, but Vancouver in particular is known for our great shores -- whether that's the variety, views, and lively social scene of Kitsilano Beach, or the windswept sportiness of Jericho Beach, summer is the time to take to the tides! Extra-adventurous exhibitionists may even want to bare all at clothing-optional Wreck Beach.
Ooh and ah competitively
Every year three nations are chosen to compete in the Vancouver Celebration of Lights. This year the competition pits Canada, the United Kingdom, and Japan against each other. The fireworks are set up on a barge out on the waters of English Bay as people line up from Second Beach down and around to Vanier Park. As you take in the spectacle, be sure to tune into the celebration radio to sync the fireworks to their curated music.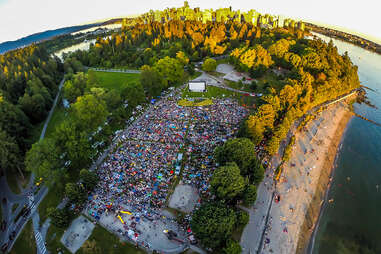 Stay out and watch a movie
Outdoor movies are all the rage these days as more and more cities engage people in ways that pull them away from their Netflix accounts. Stanley Park is the perfect destination for anyone interested in a free movie in the public park. It goes without saying that you need to arrive early to set up, as the movies draw an average of nearly 5,000 guests. This year you can watch Pretty in Pink, The Goonies, and Footloose, so bring a date and a picnic blanket and bask in the glory of '80s romantic comedies.
Make memories while learning how we make memories
Science World evokes some great childhood nostalgia for most Vancouverites, but these days the museum is hoping adults will build some meaningful memories, too. With their Science After Dark evenings, adults can mingle at Science World without the precocious young whippersnappers getting in the way.
Pay a fair fair fare
The Pacific National Exhibition is the go-to fair in Vancouver, though it can be a bit expensive. But there are a couple of free admission days for a cheap day at the fair. This year you'll have the choice of August 22 & 29, but first responders and military can get in for free on the 19th and 20th.
Go from 20 to 0 at Greenheart TreeWalk/Nitobe Japanese Garden
The Greenheart TreeWalk is one of the best experiences in Vancouver. This innovative exhibit in the University of British Columbia's botanical garden is a little over 20 meters high, so it gives an aerial view of Vancouver's coastal forests. After such heights, you may want a peaceful place to relax, so while on the UBC campus, head over to Nitobe Memorial Garden -- one of the most acclaimed Japanese gardens outside of Japan. Honoring diplomat, educator, and, above all, agriculturalist Dr. Inazō Nitobe, the "tea and stroll garden" emanates tranquility, peace, and serenity. If you still want more, the UBC campus is a pleasant walk in its own right, and there are often activities even in summer.
Have a hoedown at the showdown
Who doesn't love a great gourmet food cart? Head to Olympic Village during YVR Food Fest's Street Food Showdown and sample the city's best gourmet food trucks. If this doesn't pique your interest, perhaps you want to hit Big Brunch and take part in the Caesar competition… Canada Day weekend is going to be delicious no matter how you choose to take a bite out of it.
Do anything & everything at Grouse Mountain
Grouse Mountain is an adventurer's paradise. You can zipline around the mountain at speeds of 80kph, paraglide from the peak of the mountain to the Cleveland Park, take a helicopter tour, or just have a relaxing breakfast by the bear conservatory at Breakfast with the Bears. Bears, people! You can even try to beat your best time on the renowned Grouse Grind hike: Just pretend a bear is chasing you and you'll hit new high speeds.
Find your balance in the turning tide
This is a city that loves its yoga, which is why it isn't surprising that many free yoga classes are available, often against the backdrop of Vancouver's various beaches. The summer-long free yoga at Kits Beach commences at multiple times, seven days a week, from now through August 1st. Grab a mat and strike your warrior pose on the shore.
Practice iambic pentameter
Bard on the Beach is an absolute must-do. The Shakespearean festival showcases the legendary playwright's classic plays, as well as related works like Shylock. This year professional actors will perform The Merchant of Venice, Much Ado About Nothing, The Winter's Tale, and Two Gentlemen of Verona. It's rounded out by lectures, forums, fireworks, workshops, operas, orchestras, and a "Bard-B-Q" -- a name the legendary punster himself may not have been able to resist.
Hit all the music festivals
There is no shortage of great live music in and around the city, and summer brings some great choices as far as music festivals go. The 32nd Annual Vancouver International Jazz Festival is huge -- almost two whole weeks of live performances and master classes, running from right now through July 2nd. There are free public performances as well as a club series around town that ranges from free to small donations/covers. Then from July 13-16, it's the Vancouver Folk Music Festival, celebrating its 40th anniversary with 68 acts scheduled from Australia all the way to Scarborough's hometown heroes The Barenaked Ladies. If folk's not your feeling that week, Vancouver Island Musicfest runs July 14-16, and while it does feature some of the same acts (e.g. BNL, Melisande), it's got a little more local focus and includes paintings and crafts for sale by Vancouver-area artists. Plus, the legendary Emmylou Harris is headlining!
Spray your prey
Vancouver Water Fight is on! Bring your bathing suits, water guns, and balloons to Stanley Park on August 13 to begin the great water war of 2017. But where there are wars, there are rules of engagement. So don't forget to read the code of conduct before doing so. Nobody wants to be the dingus who ruined the childlike fun of a massive water war.
Cliffwalk at Capilano Suspension Bridge
If you are looking for a thrilling adventure, check out Cliffwalk: Winding around Capilano Canyon 700ft (or in standard Canadian measurement, 3.5 ice hockey rinks), it offers a bird's eye view of the rainforest below, including through glass-bottomed overlooks. But the park assures you and your nervous significant other that it's "very strong glass" so don't be afraid to take in the beauty of this suspended walkway. After Cliffwalk, the suspension bridge itself will be a stroll in the par -- er… above the park.
Kayak in Deep Cove
If you are looking for an outdoor adventure, there is no better place to head than Deep Cove. The cove not only offers great hikes with magnificent, scenic views, it also hosts kayaking. Kayak rentals are cheap, and the price is well worth it, considering all that you get from the experience. If you're not of a kayaking mindset, the Deep Cove Kayak Centre also rents out "stand up paddleboards, surfskis, and canoes." So you have options, even if you're a day-one beginner.