101 places to get f*cked up before you die
You're on vacation, dammit, and ready to let loose. Check out a museum? Ogle architecture? No thanks. Because you know that true cultural immersion begins (and ends) at a watering hole or epic party, where you can rub shoulders with local drunks. Which makes this guidebook, 101 Places to Get F*cked Up Before You Die: The Ultimate Travel Guide to Partying Around the World your, well, ultimate guide to partying around the world. Check out some excerpts and get ready to make your next trip truly forgettable (in a good way).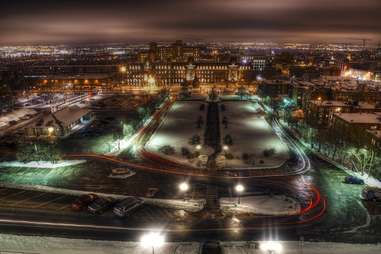 93. Montreal, Quebec
Season: May through September, but ideally June or July
Ideal conditions: Warm enough for terrasse drinking
Daytime activity: Kayaking, surfing the Lachine Rapids, or just hanging out by the water
Ingestibles: Wine, microbrews, marijuana, sangria, poutine with squeaky cheese curds, a smoked meat sandwich, a Montreal bagel
Verdict: It's a cool enough place to warrant a Thrillist Guide, so book it, son!
49. Phuket, Thailand
Season: May through September
Ideal conditions: Dude cruise
Daytime activity: Check out the Sino-Portuguese wares of Old Phuket or snap some photos of Big Buddha
Ingestibles: Thai whiskey, pharmaceuticals, Asian beers
Notes from a local: The day you beat a bar girl at Connect Four is the day you've been in Patong too long
Verdict: Rent a beach chair, and someone will bring you a coconut to wash down your Vicodin
41. Goa, India
Season: November through March is high season; August through October is rainy and quiet, but magical; the week before New Year's is insanely packed
Ideal conditions: Sunny and breezy
Daytime activity: The beaches at Colva, Palolem, and Agonda
Ingestibles: Booze is cheap, and more illicit ingestibles're plentiful
Notes from a local: There are spiritual beaches here, and ghosts
Verdict: Seek and you shall find
22. Lukla, Nepal (Mt. Everest)
Season: October and November
Ideal conditions: Foggy
Daytime activity: Acclimatizing, glissading
Notes from a local: Lukla's airport is the most dangerous in the world; the sole runway has a twelve-degree incline, a short length, and ends with a sheer cliff
Verdict: Stoke levels will be high as you're partying days away from the nearest paved road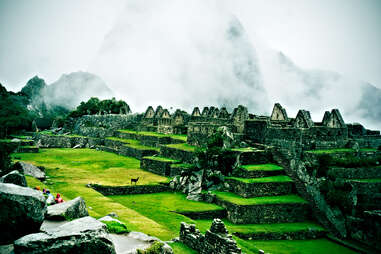 21. Machu Picchu, Peru
Season: July and August
Ideal conditions: Clear skies
Daytime activity: Vibing on ancient trails
Ingestibles: Cusqueña Beer
Verdict: An almost cartoonishly intense place that should be experienced at least once, drunk or sober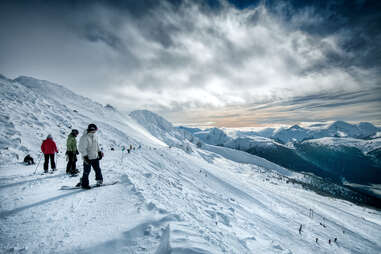 14. Whistler, British Columbia
Season: November through March
Ideal conditions: A clear morning after a foot of fresh pow
Daytime activity: Shredding
Ingestibles: Poutine, sushi, smoked salmon, marijuana, Canadian whiskey
Notes from a local: Our motto in Whistler is to "live life like you're always on vacation" -- we stand by it
Verdict: Once you make that final bend on Highway 99, you'll understand; here's the Thrillist Mountain Guide
9. Koh Phangan, Thailand, for a Full Moon Party
Season: Check the schedule; once a month, generally mid-month
Ideal conditions: Warm and sunny, with sporadic lightning storms to keep things exciting
Ingestibles:Buckets, Chang beer, and more mind-altering substances than you can shake a hallucinated stick at
Verdict: Burn cream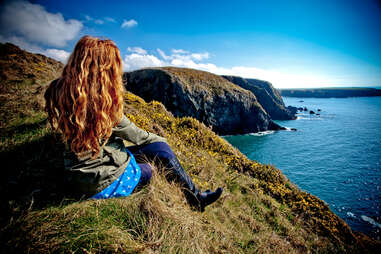 8. Dublin, Ireland for St. Patrick's Day
Season: Mid-March
Ideal conditions: Apexes of Irish drinking culture will be reached, weather be damned
Ingestibles: Deep-fried Mars bars, Dutch Gold, Guinness, whiskey, Buckfast, full Irish breakfasts
Notes from a veteran: Go to Copper Face Jacks if you want to meet some genuine Irish farmers (and then probably end up fighting them)
Verdict: Drinking elbow-to-elbow with an Irishman on Paddy's Day will award a thousand or more f*cked-up points
Convinced this guidebook was made for you? Invest the best spent $10.86 of your life here.