Why Young American Expats Flock to This Cheap Beach Paradise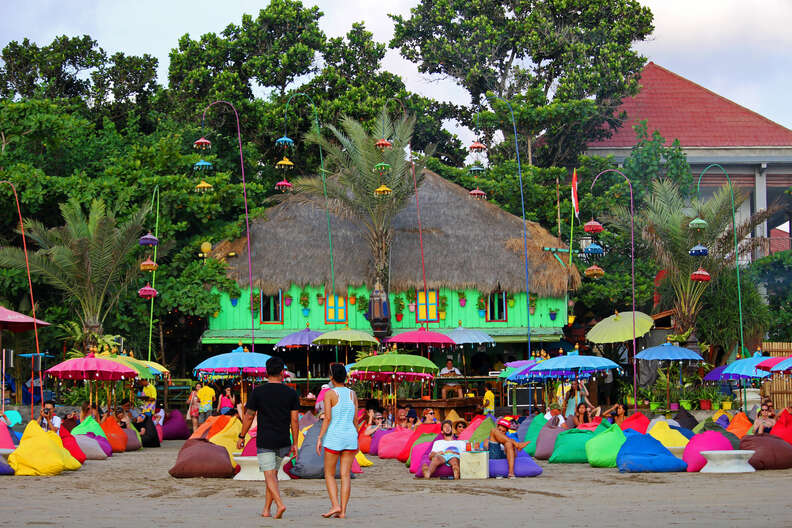 Canggu Beach, Bali

| Dino Geromella/Shutterstock.com
Canggu Beach, Bali

| Dino Geromella/Shutterstock.com
There's a village in Bali where American expats cavort on scooters, surf swells, and beach verandas all year round. No, this isn't the Eat, Pray, Love crowd -- these are Silicon Valley exiters, social media influencers, artists and filmmakers, health-conscious yogis, and miscellaneous "woke" folk living their best lives, as seen on Instagram.
This is Canggu (pronounced Chang-gew), an area on the Indonesian island's beautiful southern coast with so many clean living cafes and artisan design shops you could say it's reached peak hipster. Canggu has been called the Brooklyn of Bali, with a side of rustic SoCal vibes, but it's less obnoxious than those nicknames suggest. Truly, when your average work day consists of commuting across rice paddies and surfing on your lunch break, it rightfully deserves to be hashtagged #LivingTheDream.
Cheap rent and a work-life balance that just can't be beat
Bali has been a refuge for bohemian expats since at least the 1970s -- a preview of this new wave of 20- and 30-somethings who have flocked here in the past five years. Now, it's essentially Neverland for defectors of "the daily grind." Far from dropping out of life, though, most of Bali's expats make ends meet working freelance in marketing, tech, or e-commerce, according to research by Rob Litchfield, a Washington business prof studying the island's digital nomad community.
"People find so much balance here," says Michael Craig, an Aussie who fled to Bali's surf breaks to cure his office burnout. Craig is the founder of Dojo Bali, a popular 24-hour coworking space in Canggu near Echo Beach. Along with shockingly reliable Wi-Fi, Dojo Bali is equipped with a swimming pool, hot showers, cafe, and surfboard racks. Its 300 predominantly American members hot-desk hourly or monthly, shelling out $51 a week or $146 a month for unlimited access to the Skype booths, conference rooms, and high-speed internet.
Canggu, likewise, is coming online in a big way. When I visited a few years ago, it was a sleepy beach village. Craig estimates there were 10 restaurants in the area when Dojo first opened in late 2015. That number is now closer to 70. Rents have ballooned by perhaps 400 percent in the past three years.
But the dollar amounts are still modest by Western standards; Canggu remains one of the most stunning beach towns where Americans can live on the cheap. On the high end of the spectrum, a furnished two-bedroom villa ranges from $600 to $900 a month. A room in a larger shared villa with its own swimming pool and terrace might run just $300.
You can live quite well on a modest American salary. "There are some people who are very successful on the international scale," Litchfield told me. "There are also a lot of people doing what they're doing to get by, who could not make that work anywhere else."
A tight community strengthened by weekly events and nightlife
You'll be shocked, I'm sure, to hear how much down time people have in this island beach town. In their slow hours, Canggu's digital nomads network, drink, and take advantage of the best surf swells in the Indian Ocean. Millennial-spirited haunts include Deus Ex Machina, a motorcycle-slash-surf shop; Barstarzz, a wood-outfitted fitness center directly on the sand; and Pretty Poison, an empty swimming pool turned skate park. It's filled with Indonesian boarders flipping and biffing, long-haired Aussie backpacker-types, and professional Instagrammers looking blithe in beachwear.
Beautiful people are everywhere. You'd expect to walk up and be brutally rebuffed, Mean Girls style. Then you find a community warm and friendly, bound by the shared expat experience.
Building a social circle is easy with networking BBQs and weekly events at Dojo Bali. Or stop in for Dirty Ol' Wednesdays, an expat rite of passage at the notorious Old Man's Bar. You'll find an eclectic stratum of foreigners there crowded under one thatched roof, where all-day drinking at cocktail stands, sweaty dancing, and an unpretentious "anything goes" attitude tends to descend into stupors and a lot of shirtlessness.
Breakfast at Quince in Bali
Creativity is fueled with vegan, superfood-loaded everything
Dirty Ol' Wednesdays aside, the living in Canggu is decidedly clean. You'll find coconut crumpets and $7 avocado toast at Quince, and kaleidoscopic smoothie bowls at Betelnut. The health food cafes tend to follow each other on bandwagon trends -- one started serving turmeric lattes, and now they all serve turmeric lattes. A Canadian friend of mine living in Canggu recalls three restaurants changing their menus to include more vegan options and salads to meet demand. And of course, looks are important: Dishes and interiors tend to be highly Instagrammable.
That's not to say the wellness thing is all just for show. "I just don't feel as good anywhere else as I do in Bali," another friend, a Canadian software developer, told me. "You could still drink all the Coca-Cola and smoke all the cigarettes you want on Canggu, but all those vegetable-garlic-ginger-turmeric potions are just presented so well. Everyone here is so health conscious."
You'll also find a health-minded subculture that skews more hippie than hipster. They're not the hardcore spiritual folks you'd find in, say, Ubud, an hour inland. Rather, they're millennials who consider spirituality an essential component of wellbeing. "Bali has been a spiritual haven for decades, longer than there has been digital nomads," Rob Litchfield told me. "Digital nomads want to distance themselves from the spiritual seekers. But they're also seeking personal reinvention."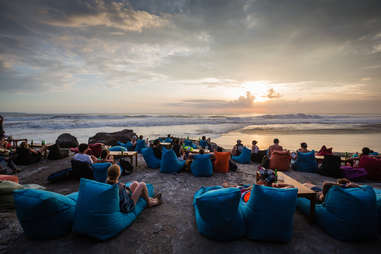 Western entitlement is admittedly a downside
Yet there's always a catch. In Canggu, for one, you'll find a persistent vibe of casual gentrification. For another, it can be a challenge to connect with the true locals, who are known for being open-minded, genuinely kind, and deeply religious. Fiery beach cremations, prayer processions, and colorful weddings infuse the daily backdrop of an expat's life, but people living there tell me they find it hard to make Balinese friends because of the language barrier. Living full-time in Canggu is often too expensive for locals; there are just a few warungs (family-owned businesses serving traditional Indonesian fare) sprinkled between the plethora of transplanted food concepts -- burger joints, Aussie cafes, and what have you.
And in the same way trendiness has been grafted from back home, so have inklings of Western privilege.
"Americans can be the best people in the space, but also the worst people in the space," the owner of Dojo Bali told me. "Sometimes people come in and expect our staff to treat them like it's a five-star hotel when we're hiring village people and trying to upskill them. I just wish people would lose the entitlement."
Paradise only lasts as long as your visa
Living in utopia comes with a few other hitches -- not least among them, Indonesia's tricky immigration rules and expensive visas. Most expats stay on a tourist visa that requires leaving the country every 60 days (a $70 expense each time) and multiple trips to immigration bureaus between. You can hire a visa agent to take care of the latter, but again, you've gotta pay 'em. Some foreigners apply for a Social/Cultural visa, which is good for six months but becomes void the minute you leave Indonesia.
As a result, Canggu is mostly a refuge for solo travelers and very few families, making it a transient place where people (and relationships) come and go. When expats finally do bounce, reality gives them a jolt after living in such an idyll.
"It's not real life," my Canadian friend told me. "Everyone here is beautiful, there are hormones flying everywhere. The minute you move away, you're in for a big wake-up."
But for hopeful entrepreneurs, freelancers, designers, and in-betweeners, Canggu offers a chance to reset. To make connections. And at the very least, to catch a good wave. I talked to Suzy Brown, of Jackson Hole, Wyoming, who was studying for her PhD when she was rocked by the sudden death of her sister. She quit and blew her savings on a plane ticket to Bali and surf lessons. A year later, she is settled in Canggu and bent on staying.
Her typical day? Rising early, surfing for at least four hours, and then enjoying sunset drinks and seafood tacos at her favorite thatch-roofed eatery, The Lawn. "Surfing is my No. 1 priority," Brown says. "I probably wouldn't be living in Bali if it weren't for the surf. With the loss of my sister I've done a 180. I have the values I had before. But life's short."
Sign up here for our daily Thrillist email and subscribe here for our YouTube channel to get your fix of the best in food/drink/fun.