Fasten your seatbelt and adjust your mirrors—this is Rerouting, your one-stop-shop for mapping out the ultimate summer road trip, no matter what gets your engine going. Cruise over to the rest of our coverage for pit stops at offbeat roadside attractions, sweeping desert panoramas, epic mountaintop vistas, oceanfront oyster bars, dynamic public art, and so much more.
Funky Nashville may have been the name of an early 2000s band, but even 20+ years later, the phrase rings a little too true in what's often considered the home of traditional country music. Nashville—AKA Music City—is a hub of creativity perhaps best justified through past and present acts that lived and recorded in the storied Southern town.
But over the past few years, the Tennessee capital has shown its chops and proved it's on par with other serious, chef-driven spots in the region—and we're not only talking barbecue. Outside of its storied performing arts venues (you've heard of the Grand Ole Opry, right?), you'll find fantastic food, plenty of natural attractions, and an arts community just begging to be explored.
Get those creative juices flowing—here are the 12 most exciting, offbeat, and thought-provoking experiences Nashville has to offer.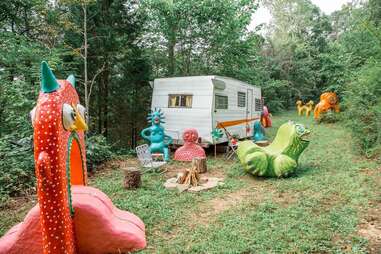 Ashland City
Early morning fog is rolling across 5 acres of Tennessee forests on a secluded hilltop, just a 20-minute drive from Nashville. You wake to the birds chirping outside your refurbed, 1963 Shasta camper (with orange accents), and lean over to click on 650 AM, WSM, "The Most Famed Country Music Station in the World." You rise to make coffee in the French press—a major step up from Folgers in some motel room. This is Creature Camp, after all, an art environment built by Nashville-based artists Bret Hunter and Rebecca Blevins.
Outside the camper are the "creatures" that give the campsite its name—a brightly colored menagerie of sculptures that look equal parts like Nickelodeon characters and something Gaudí could have designed. Maybe you want to chill in the camper and watch VHS tapes on the VCR (remember those?). Or maybe you'd like to take a pottery lesson (the Blevins are more than happy to help hone your skills). Guests can even purchase organic duck eggs produced onsite that they can fry up for breakfast on the camper's electric cooktop. This is outdoor living at its finest, feeling just rugged enough to embrace the oh-so-secluded nature, yet still equipped with modern (yet minimal) amenities, so you don't have to rely too much on your childhood camping skills.
East Nashville
On River Queen Voyages, you can "explore" downtown Nashville without your feet ever touching the hot, southern asphalt. Named after a Jenny Lewis record, River Queen Voyages offers kayak tours on the Cumberland River, as well as—get this—the only PEDAL PONTOON PARTY BOAT downtown. Think of this as the aquatic version of pedalcycle or party bike tour (there's even a centerpiece bar with ice-filled coolers). If you're looking to do something more interactive than just cruise, embark on a group scavenger hunt—in kayaks.
Of course, you can simply kayak along the coast, opting between an hour-long skyline trip or the four-houte, "Full Bash," which heads from Opryland on the East Nashville side of the river past sprawling farmland en route to downtown.
Brentwood
Nashville is rife with celebrity sightings. Many people can say, "I saw a big country star at the Ryman," but only a select few can boast that, "Moo Moo, the goat that stood on that big country star, also stood on me." If you're looking for close encounters of a very cute kind, Goat Yoga Nashville is for you and your crew.
Potential goat yogis can view the barnyard crew on the company's website, with a photo gallery of which celebrities these four-legged friends have rested on. If you decide to make goat yoga a part of your regular practice—or just want a one-time experience to see what all the fuss is about—classes start at $30 and are available most weekends (and some weekdays or by appointment).
Woodbine
Remember that captivating hula hooper you saw at your last music festival? You know, the one with the mesmerizing moves and the outfit matching her hoop? After a few classes at Hula Hoop Nashville (which is, surprisingly, the only studio of its kind in the city), that hooper can be you. Similar to yoga, hoop is all about finding your flow, whether that be through Shakira-like dance moves or fire (although you may want to really have the basics mastered before adding an element like flames). And since most of us don't travel with our hoop the same way we would with a yoga mat, you can even commission your own custom hoop at the shop and receive aesthetic guidance from the knowledgeable Hula Hoop Nashville team.
Old Hickory
I made my first vintage purchase at the tender age of 12 (I still fondly remember that orange skirt with blue cherries and lacy trim.). By now, at the ripe old age of (cough), I am choosy. So when I say Live True Vintage is the real deal, believe me.
Unlike vintage shops in New York or Los Angeles, the racks aren't picked-over (and the prices aren't insane). There's a wide variety of spotless silk lingerie, muumuus, kimonos, workwear, and denim. There's a section dedicated to jerseys. Graphic tees are grouped by color. Almost everything is under $50, and the selection is two full rooms full. Do I need to say more?
Five Points
A few years before she moved to Nashville, stylist Megan Gill was teaching cosmetology in Costa Rica. Her relationships there opened her eyes to ways of other countries shouldering the burden of supplying cheap goods to the U.S. Considering how the products she consumed affected the global community became part of her family's ethos, The Good Fill was born.
These package-free, high-quality sustainable beauty products offer everything you need to keep your body and your conscience feeling good (After trying shampoo bars, you'll instantly convert.). There's even a vegan dishwashing block that's biodegradable and does everything from remove stains from laundry to spot-clean carpets. Could this be our new local replacement for Dr. Bronner's soap?
Green Hills
The product of author Ann Patchett (of Bel Canto and Truth and Beauty) and publishing vet Karen Hayes, Parnassus is a community center for Nashville's literary scene, and continues to rise to prominence thanks to the work of writers like Patchett, Mary Laura Philpott, Tiana Clark, and Margaret Renkl. The store is small—it clocks in at just about 2,500 feet—but still has a transportative quality. A tiny door strung with fairy lights opens up to the children's section, which is full of kid-lit classics and new favorites.
Donelson
Nashville's PHAT Bites (Pretty Hot And Tasty) got the thumbs up from Food Network's Guy Fieri—which is no surprise for locals. Taking over a renovated auto shop covered in graffiti art, costumed manikins, and one-of-a-kind sculptures, this joint is legendary.
In the words of owner Julie Buhler, Phat Bites is all about "fat sandwiches and skinny salads."
What's a fat sandwich, you ask? Find out for yourself by trying the Hot and Cold Sweats (sliced sirloin, ghost pepper cheese, caramelized onions, bacon mayo, lettuce, and tomato on a ciabatta hoagie). As for the skinny salad, our pick is the Ninja Star: a Chinese chicken salad with granola, sunflower seeds, and shredded carrots served on a bed of iceberg and topped with raspberry dressing.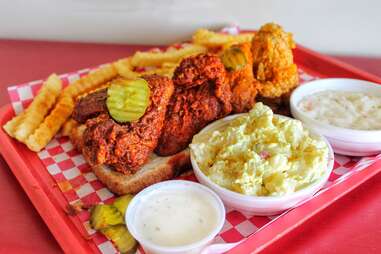 Bordeaux
This restaurant is a remix of Nashville hot chicken past and present. Owner and Nashville native Aqui Hines credits iconic Prince's Hot Chicken Shack as one of her influences, but clarifies that her version is deep-fried with a thicker crust—which are major differentiators.
At 400 Degrees, guests can choose from three tiers of heat: 100° for mild, 200° for medium (classic hot chicken), and 400° for those who can really brave (or stomach) the spice. Hot chicken is a serious staple in Nashville (some even call it a local specialty), and 400 Degrees is known for serving up some of the city's best—which, along with the angel wing mural outside, are worth the visit for the Instagram pics alone.
East Nashville
A joint creation of historian-turned-baker Ali Humbrecht and creative director Zach Halfhill, Guerilla Bizkits is a pandemic project that got its start with online orders via the hardcore-inspired website. The bizkit concept has since morphed into a brick-and-mortar shop with two options: fresh or frozen. Go for the straight-edge buttermilk biscuit or the sammy filled with sausage and a slice of cheddar. If you still need convincing, the founders describe the biscuits's flavor as "somewhere between golden clouds during an autumn sunset and the feeling you get when you see your mom for the first time in a while." I know I'm sold.
Downtown
It doesn't get much funkier than the costumes of Parliament-Funkadelic, which are displayed in their full glory at the newish National Museum of African American Music in downtown Nashville. Trace the history of Black music in America from the 1600s to the present in a setting where visitors are actually encouraged to touch and not just look. Take turns producing a record, recording your own voice, and playing games that reinforce the narratives in each section. Every inch of the gallery space is collaged with story, ephemera, records, and costumes—enough variety to strike a chord with each member of your crew.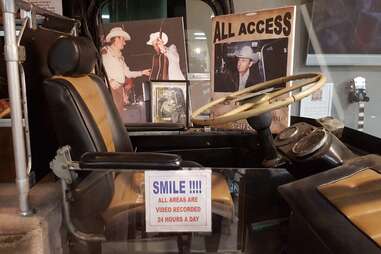 Broadway
Country Music Hall of Famer and Grand Ole Opry Star Ernest Dale Tubb opened the downtown Nashville country record store back in 1947, and then, over the next year, launched the Midnite Jamboree show as a way to spotlight young musicians and their latest record releases. The second-longest running radio show, the Midnite Jamboree is
in its 75th year and still records every Saturday at 10 p.m. at the Texas Troubadour Theatre (admission is free). Now back in its original home at the Ernest Tubb Record Shop on Broadway, the show's spirit remains the same, transporting listeners back to a time when people sat around "listening at the radio" for a wild Saturday night.
Sarah Carter is a writer and country music lover living in Lebanon, Tennessee. Follow her (mostly southern) regional exploits and stories on Instagram.