"Are you having fun?" the attendant at the National Museum of African American Music (NMAAM) asked as he swooped by, genuine concern in his voice. I was admittedly concentrating—hard—at the "Let's Make a Hit" interactive booth. "You be the producer!" said the directions underneath. "What's your style?" I picked a funk-heavy beat, then layered female vocals. "Your production style is Philly Soul!" It declared, spitting out my tune, which I could then save to the RFID bracelet given to me at the entrance, allowing me to listen to my muddy creation over and over at home. "Others in the genre include Benny Sigler and Gamble and Huff." Generous comparisons—these were the producers that laid the groundwork for disco, after all—but informative.
Opened on Martin Luther King, Jr. Day in 2021, the 56,000-square-foot NMAAM trades on one very important tenet: you can't just read about music. To fully understand its influence, music has to be experienced, with perhaps the most technological interactivity outside of science, or children's museums. The producing booth is one of several: There's a sound booth where you can rap along to artists like Kendrick Lamar and Nicki Minaj, and challenge a buddy to a rap battle. There's a booth to create a hip-hop beat. There's a room with a green screen, where guests perform "Oh Happy Day" with Nashville's own Dr. Bobby Jones and the Nashville Super Choir. And among artifacts like Whitney Houston's mink-trimmed jacket, Trina's jewel-studded boots, and BB King's Lucille guitar are "Roots and Streams'' tables with digital origin maps. Choose an artist like Jay-Z and see a range of his peers (Nas), his influences (Eric B. & Rakim), and who he's influenced (Ye). Slide your RFID bracelet up to the table to save and create a playlist to listen to at home. The interactives make the learning more visceral.
But it's not all high tech: Pluck a single-stringed diddley bow to get a feel for the instrument that greatly influenced the sound of the blues. There are also expositions on people and milestones you may not be as familiar with, like Brenda Andrews, the first African American woman to become a partner in a major worldwide music publishing group, and a record from the first Black record company, the jazz and blues Black Swan, which paved the way for Black record labels today.
Plus a whole dance studio, perhaps the first for a museum, where you can follow along to choreography for songs by Motown pioneers The Contours ("Do You Love Me") and Montell Jordan ("This is How We Do It"). So, yes, I was having fun. Even if my own song kind of sucked.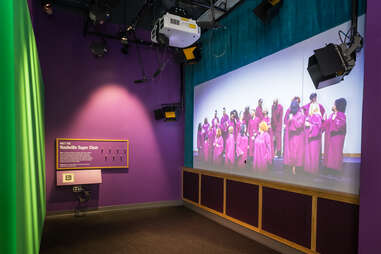 Contrary to conventional knowledge, Music City was not nicknamed for country music. As the story goes, when the Fisk Jubilee Singers—the legendary globetrotting HBCU singing group composed of descendents of the enslaved— performed spirituals for Queen Victoria, she was enamored, declaring that they must be from a "city of music." And that, they were. The choral group are still going strong, celebrating their 150th anniversary last year, with a full schedule of upcoming shows, including Carnegie Hall and Ryman Auditorium. And just by themselves makes Nashville wholly appropriate for a museum on African American music, and its reach.
But there's more: In the 1920s, Nashville venues hosted blues acts like Bessie Smith and Ethel Waters. The city's Jefferson Street was in proximity to three HBCUs, and fostered a thriving Black community, with clubs like Club Baron, which brought in acts like Little Richard, Tina Turner, Otis Redding, and Jimi Hendrix. The Opry stage has been visited by James Brown (at the invitation of country star Porter Wagoner), and the Pointer Sisters. While other cities like Memphis and Detroit may seem more poised for a museum focusing on Black music, Nashville is an example of where it all intersected. Which is why the mission of NMAAM— right across the street from the Ryman, and blocks away from honky tonk central—is to "educate the world, preserve the legacy, and celebrate the central role African Americans play in creating the American soundtrack."
Five galleries link 50 genres and 1,500 artifacts throughout history, from Wade in the Water, which dates back to the 1600s, to Crossroads, documenting the emergence of blues, A Love Supreme, focusing on the Harlem Renaissance and jazz, the post-WWII R&B and Civil Rights of One Nation Under a Groove, and the lively exhibits of The Message, following hip-hop and rap to the present. A Rivers of Rhythm interactive table in the center connects them all with a timeline. Occasionally in the room a performance will pop up—if you've ever wanted to be steps from a larger than life Prince performing "Purple Rain," this is where it can happen.
Along with Stax Museum in Memphis, NMAAM was added to the Civil Rights Trail this February, bringing the number of stops in Tennessee up to 14, cementing their place in history. Plus, the future: On weekends, an emerging artists stage in the lobby hosts up-and-coming acts, with sounds piped out to the street. And who knows, with the recent founding of the Black Opry—currently with a revue of BIPOC artists on tour, and one-year anniversary concert on April 18 broadcast on CMT from Nashville's City Winery—you may just see a Country Music section there too, soon.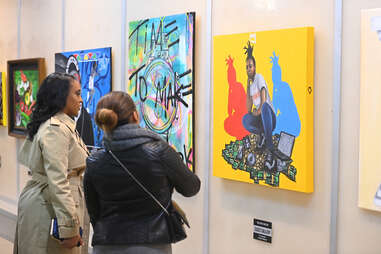 Other Museums to Explore Black Music History
National Jazz Museum in Harlem
Harlem, New York
This Smithsonian affiliate makes it a priority to preserve and to expose diverse audiences to jazz music, producing 100 free shows in New York annually. It's also home to the Savory Collection, over 100 hours of live recordings of jazz legends made from New York City radio broadcasts aired between 1935 and 1941.
The New Orleans Jazz Museum
New Orleans, Louisiana
In the Old US Mint, The New Orleans Jazz Museum celebrates jazz in the city widely recognized as the birthplace of the genre. So much so that near the French Quarter there's also a New Orleans Jazz National Historic Park, with tours by rangers who often are musicians themselves.
American Jazz Museum
Kansas City, Missouri
Kansas City's historic 18th and Vine district was created in the early 20th century when Black Missourians weren't allowed to move below 27th Street. Hundreds of businesses thrived, and a new style of jazz was pioneered.Learn all about it in this museum, before visiting clubs like the Mutual Musicians Foundation, which since the 1930s has run jam sessions on the weekends. Make it a two-fer, the museum is right next door to the Negro Leagues Baseball Museum, which this year was added to the Civil Rights Trail.
Trap Music Museum
Atlanta, Georgia
Southern trap has since become one of the most popular genres of rap music, so it's only fitting that its museum—co-founded by Atlanta rapper T.I.—pays homage to its beginnings. You'll find a vast collection of Atlanta hip-hop memorabilia tracing the genre and its practitioners, including the pink Chevy owned by 2 Chainz that once sat in front of the celebrated Pink Trap House. Also, there's an Escape Room.
Stax Museum of American Soul Music
Memphis, Tennessee
This 17,000-square-foot museum sits on the site of the old Stax recording studio, a.k.a. Soulsville, USA, which produced 167 hits with artists like Otis Redding and Booker T. Step back in time with memorabilia like Isaac Hayes' custom gold Cadillac, plus vintage recording equipment. And don't forget to bring your dancing shoes for the Soul Train disco floor.
Delta Blues Museum
Clarksdale, Mississippi
Home to musicians like John Lee Hooker and Muddy Waters, Clarksdale and the surrounding areas are thought to be where blues began, probably most known as the location of "The Devil's Crossroads," the junction where Robert Johnson sold his soul to the devil (supposedly), marked by a trio of electric guitars. The Delta Blues Museum, in a former train depot, explores the birth of the genre.
The Universal Hip Hop Museum
Bronx, New York
When this two-story, $80 million museum in the birthplace of hip hop opens in 2024 it will be a repository for over 30,000 pieces of memorabilia, plus a very cool-sounding 1970s subway car that will double as a bridge. Until then there's pop-ups at the nearby Bronx Terminal Market, with the March 2022 exhibit spanning the years 1986 to 1990. There will also be a full-on virtual experience with performances—what they're calling a metaverse—so keep a lookout for that. For now you can explore digital spaces like an interactive timeline and interviews relating to items in the collection.
Motown Museum
Detroit, Michigan
Hitsville, USA is the original headquarters and recording studio of Berry Gordy's Motown Records, today housing artifacts, photographs, and memorabilia, and a restored upstairs flat where Gordy lived with his family during the early days of the label. It's currently closed until summer 2022 for a $50 million expansion, to open as a mind-blowing 50,000-square-foot complex of entertainment. Until then, there's a virtual exhibit: Still Going On, in honor of the 50th anniversary of Marvin Gaye's album What's Going On.
Vanita Salisbury is Thrillist's Senior Travel Writer. She needs to brush up on her producing skills.