Paid Content For
Havaianas
Exploring Brazil Beyond the Beach
Paid Content For
Havaianas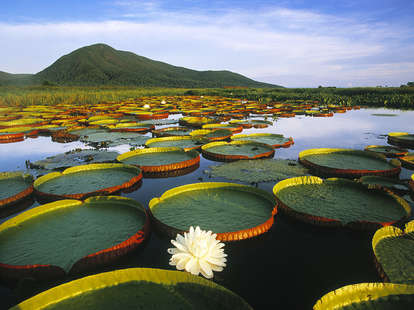 <a href="http://www.flickr.com/photos/12333120@N00/3679129785" rel="nofollow" target="_blank">miquitos/Flickr</a>
When Fred Astaire starred in Flying Down to Rio in 1933, Brazil was already attracting millions of tourists from the emerging jet set of the US. The bacchanals promised by Carnival season and the comparatively laid-back lifestyle appealed to travelers hoping to escape buttoned-up American society, and tourists streamed to the country in a way that hasn't really stopped since. But this tourism has been until very recently confined to Brazil's beaches.
Iguazu Falls
Raging along the Argentine/Brazilian border is one of the most impressive, if not the tallest or widest, waterfall in the world. A series of cliffs cause the Iguazu river to split into upper and lower formations, creating a unique horseshoe of falls that has attracted visitors from everywhere on Earth. Much like Australia's Uluru, Iguazu Falls has an airport dedicated to it, which allows supply to keep up with demand in the Brazilian tourism industry. When Eleanor Roosevelt saw the falls, she reportedly exclaimed, "Poor Niagara." Solid burn, Eleanor.
Parque Nacional da Chapada Diamantina
In the Brazilian state of Bahia, also home to the popular beach destination of Salvador, is a national park that offers more sheer variety than one could possibly expect from a single tract of government-protected land. Camping out in the park's many caves and wooded gullies is free and can be done without permit, making the park perfect for those who are looking to escape the Olympic crowds by getting to the great outdoors. It's known both for diamonds and gold hiding in its rivers and its scenic escarpments, so a visit there might give you a chance to find treasure or learn what an "escarpment" is.
Havaianas embodies the fun, vibrant, and spontaneous way of Brazilian life. As the original flip-flops created in 1962, Havaianas have been bringing the Brazilian spirit all around the world with high quality rubber and bright, joyful designs. They're as Brazilian as caipirinhas, beautiful beaches, and the bossa nova. Not since the tire has rubber done so much to get people moving.
Fernando de Noronha
There are beaches here, but the 20-odd island archipelago jutting out into the Atlantic hundreds of miles from the Brazilian coast and its banana boat-crowded sandbars is about as different as you can imagine from the brochure version of Brazil. Pristine diving waters, sustainability-minded tourism, and a population total of around 2,000 make Fernando de Noronha the polar opposite of Rio's hyper-energetic beach culture. You might not see as much bum, but it's a small price to pay for paradise.
Tijuca Forest
One of the best things about Brazil is that you don't even have to leave Rio to escape into the rainforest. Making Manhattan's Central Park look like an overgrown backyard, Tijuca Forest is the largest urban arboretum in the world. Hiking trails, restaurants, natural and manmade bodies of water and pieces of sculpture, including the famous statue of Christ the Redeemer atop Rio's highest point all make Tijuca -- an indigenous word for marsh -- a seemingly impossible center of natural urban calm.
The Gaucho Trail
Gauchos (South American cowboy equivalent) are trying to keep their culture alive through tourism. With southern Brazil's rolling vistas and free-range cattle, some of the best steaks in the world are produced by the herds kept safe and sound by Brazilian gauchos, and you can share the experience, riding a six day trail with real cowboys and staying along the trail in their homes. Just don't make friends with any cattle -- they're going to be your dinner. And breakfast. And elevensies.
Pantanal
The world's largest tropical wetland is one of the finest examples of Brazil's unique flora and fauna. Established as a world heritage site in 2000, Pantanal has been lauded as a better place to see wildlife than the Amazon. Twenty times the size of the Everglades (Florida, you got served) and with an extremely minimal population, Pantanal is untouched even by rural Brazilian standards, and cooperation between private landowners and the Brazilian government has allowed for sustainable and enjoyable tourism that's beneficial for everyone involved.