Sleep in This See-Through Skypod on the Side of a Mountain
If you're the kind of adrenaline junkie for whom BASE jumping is a natural part of the vacation process, congratulations: you've just found your next destination. Located in Peru's Sacred Valley, Natura Vive's Skylodge Adventure Suites gives you the hotel room you've always wanted, provided what you've always wanted is to spend the night in a transparent pod bolted 1,300ft above the ground on a sheer cliff face.
Each of the three suites/insane-o-pods is hand-crafted from aircraft aluminum and weather-resistant polycarbonate, and features a dining area and four beds which sleep up to eight occupants total.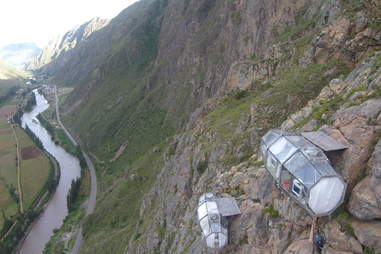 You'll gain access to your pod via a roof-mounted bubble hatch, and there's also a deck area made of wooden planks that seems extremely safe. ​There's also a dry toilet in there, in case you were having a panic attack over the idea of doing number two over the side of said safe deck area.
As for how you'll actually get up there in the first place, you've got two options: either climb the Via Ferrata (or "Iron Road") by way of steel cables and metal ladders, or "hike an intrepid trail through ziplines," as Natura Vive words it on their website.
Either way, once you're up there you'll be afforded spectacular 300-degree views of the Sacred Valley, made even more magnificent once the sun goes down and the stars come out. Unless it's raining, in which case you'll be trapped in a clear pod for the duration. Fun!
Check out some more photos of the Skylodge pods below: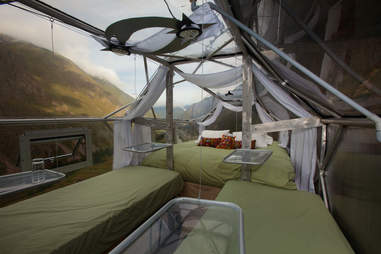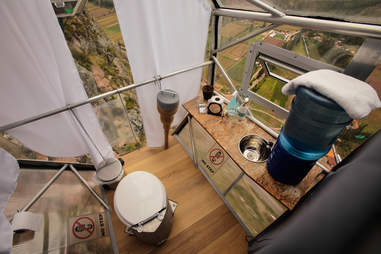 Hit up the Natura Vive website for more information on the Skylodge Adventure Suites package, which includes transportation to and from Cuzco, as well as breakfast and dinner (with wine!).

Gianni Jaccoma is a staff writer for Thrillist, and while he'd love to visit this place, his lil heart couldn't take it. Follow him up the Via Ferrata @gjaccoma, and send your news tips to news@thrillist.com