Eating conch dork and swimming with feral pigs in Exuma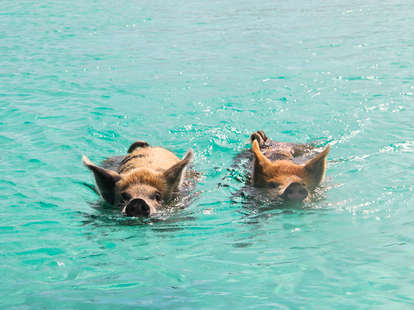 Chris Watkins
Chris Watkins
If the first image that springs to mind when you think of the Bahamas is a beach filled with swimming feral pigs, then you either have a really low opinion of tourists, or have been to Exuma... because that's literally what they have there. Our Thrillist Adventure Squad hopped a puddle-jumper 35mi Southeast of Nassau to check 'em out, taking a literal deep-dive into an area of the Bahamas that's all-too-frequently overlooked.
Exuma is an an archipelago of 365 cays (29 of which are inhabited by the likes of David Copperfield, Nicolas Cage, and Chuck "You're Already Dead Before You're Done Reading This" Norris). It's divided up into three major areas -- Great Exuma, Little Exuma, and The Exuma Cays, each wrought with one-of-a-kind experiences and local flavor.
Bay of pigs invasion at Big Major Cay
No this isn't dinner (yet), this is Big Major Cay AKA "Pigs Beach", an uninhabited island completely populated by feral pigs. Nobody knows exactly how they got there, but some tales say that they survived a shipwreck and swam ashore, while others assert that sailors left them with the thought of coming back to eat them and forgot. They're certainly not going hungry, as over the years, they've figured out that swimming up to incoming boats will totally get them fed, and thus do it all the freaking time.
Let's just hope they don't have a flashback and lash out due to prior transgressions.
Land of the lost at Bitter Guana Cay
As the name suggests, this island near Staniel Cay is completely inhabited...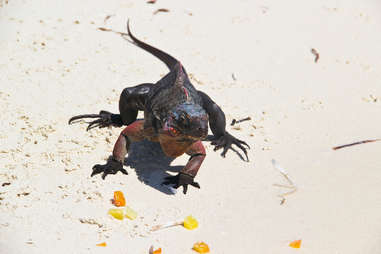 ... by these endangered rock iguanas who, unlike the name suggests, are actually pretty sweet (so long as you're keeping them happy by feeding them fruit cups and grapes).
Never Say Never Again at Thunderball Grotto
Noted as one of the top diving locations in the world due to its crystal clear water, underwater pathways, and thriving aquatic life, Thunderball Grotto was the backdrop of the 1965 Ian Fleming classic it's named after, Never Say Never Again and Into The Blue, that movie with Jessica Alba and the dude from Fast and the Furious who's not Vin Diesel.
Stay thirsty my friends, with Kalik
The official brew of the Bahamas, Kalik is celebrating its 25th year of keeping tourists and locals alike well lubricated to withstand the hot Caribbean sun. Produced by Commonwealth Brewery (the same folks behind Heineken) the Bahamas is the only place you can get the 5% ABV'er and the extra strength Gold version at 7%.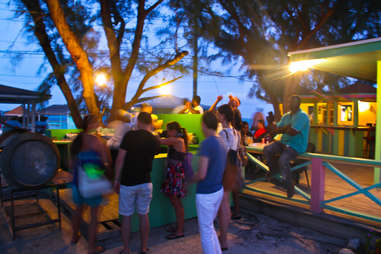 Rub elbows with the locals at the Fish Fry
Locals descend upon this totally happening block party every Friday night for some of the most authentic Bahamian eats on the island. This Great Exuma food fest has everything from grilled lobster tails and steak to powerful rum punches. And speaking of lobster tails...
... Santana's Grill Pit has what's considered to be some of the biggest and best tasting in the Bahamas. Go for the "cracked" lobster that's caught fresh and fried right in its shell.
And this guy desperately wanted to show us that he had crabs.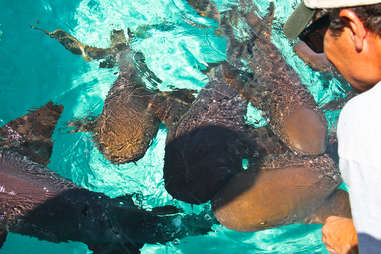 The only time it'll ever be ok to swim with sharks
...Is at Compass Cay, which is home to 30+ Nurse Sharks that've been domesticated over time by being fed scraps from locals & tourists, who then flip Death the bird and actually swim alongside of them.
Unlike the sharks you find in the open ocean and/or tornados, Nurses are pretty docile -- but they're still willing to perform amputations if provoked.
A limited time party on your own island
That's right, everyday when the tide goes out, it reveals Exuma's many sandbars as spots of pristine white sand in the middle of crystal clear waters. You can take over one of these newly formed temporary islands for cookouts, rounds of volleyball, or performing perfectly executed, not-at-all painful or poorly landed one-handed cartwheels.
If Cheers were set on an island, it'd be Chat 'N' Chill
Chat 'N' Chill has made a name for itself catering to A-list celebrities and luxury yacht owners with their laid-back brand of island hospitality/frozen pina coladas. Located on Stocking Island, their mantra is "no shoes, no problem" ...just better make sure you have stockings.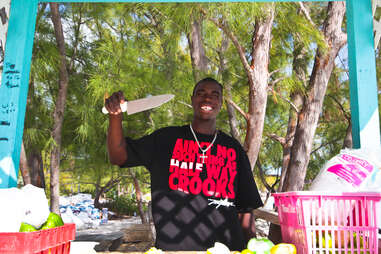 Conch vasectomies performed daily by this guy
Meet AJ, a Mobb Deep connoisseur with a master's degree in all things conch. The waterside conch bar at Chat 'N' Chill takes the freshly harvested molluscs, and dispatches them right before your eyes for the freshest conch salad you will ever have. But the kicker...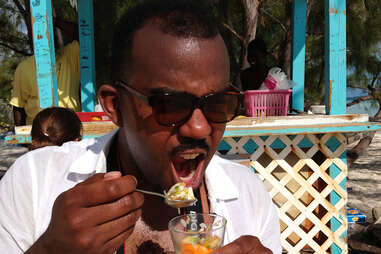 ... is that after the conch is removed from its shell, its pistol (aka Anthony Weiner) is also removed and eaten by local men to add to their virility, Highlander-style. We opted for ours to be diced and incorporated in with the rest of the conch salad mixture of locally grown onions, tomatoes, peppers and fresh lime juice. The Thrillist Adventure Squad feels stronger where it counts already.
C 'N' C also does a pretty mean conch burger. Man, Bahamians sure do love conch.
This little piggy went to your stomach
And while you might be concerned that you may have actually swam/bonded with one of the pigs used for Chat 'N' Chill's Sunday oink roast...
... your only real concern should be eating enough of the succulent hog to eliminate every thought in your mind that you just ate a conch's penis.