The World's Most Fascinating Cemeteries to Visit Before You Die
cimetière du pere lachaise

| AnastasiaNess/Shutterstock
cimetière du pere lachaise

| AnastasiaNess/Shutterstock
Here's a cheesy joke: Why's that cemetery so popular? Everybody's dying to get in!
Seriously, though, cemeteries are ridiculously popular attractions, so much so that die-hard fans (sorry, I'll stop) even have their own nickname: tombstone tourists. The world's most visited cemetery, Père Lachaise in Paris, receives over 3.5 million visitors each year -- nearly the same number of people who hit up the Empire State Building in the same amount of time.
Drake probably said it best, "everybody dies but not everybody lives," and we know visiting a cemetery is not nearly as fun when you're dead, so we put together this bucket list of 20 fascinating graveyards to hit while you're young, spry, and not in a box.
Waverley Cemetery
Sydney, Australia
Best reason to visit: The ocean views.
About 80,000 people have been laid to rest on the cliffs of Australia's famous rugged coast (the ultimate "down under," right?) since Waverley opened in 1877. The cemetery, which is located where the popular Bondi to Coogee path meets the town of Bronte, is known for the Victorian and Edwardian monuments that stand above the graves of cricket legend Victor Trumper (cricket kills us with boredom, too), poet Henry Lawson, and over 200 war veterans.

Okunoin Cemetery
Mount Koya, Japan
Best reason to visit: The awesome monuments at this Buddhist pilgrimage site include everything from spaceships to eternally-lit lantern temples.
This forested site on the side of Mount Koya is where Kobo Daishi -- the founder of Shingon Buddhism -- lies in eternal meditation and, as such, it's where many devoted followers want to be buried. So many, in fact, that it's the largest cemetery in Japan. Grave markers line the path to Daishi's mausoleum, and each salvation-seeker's tombstone is more unconventional and weirder than the last. Look for the memorial dedicated by a local pesticide company to termites, and for statues that mimic monks and coffee cups. You can't make this up, people.
Bonaventure Cemetery
Savannah, Georgia
Best reason to visit: It looks like a set out of True Blood, and if you're ever gonna get "turned," this is your best shot.
This resting-ground-cum-sculpture-garden is all old oaks and eerie Spanish moss, and we're willing to bet that Sookie Stackhouse and Eric Northman would approve. The 100 acres of this former plantation are scattered with Southern Gothic monuments, and these grounds became iconic after they appeared in Clint Eastwood's 1997 film, Midnight in the Garden of Good and Evil.
The Merry Cemetery
Sapanta, Romania
Best reason to visit: To see a lighter take on life after death.
Be careful what you do in the town of Sapanta because if you were, say, to accidentally croak, your tombstone in the local burial ground might feature a tongue-in-cheek poem about your vices and a cheeky illustration to match. You know, assuming the locals really got to know you. The "merry" cemetery features over 600 ornately carved, colorful wooden crosses, often with a dark or extremely literal take on the life of the body that lies beneath it, whether it's a car accident victim, an alcoholic, or a lifelong sheep herder.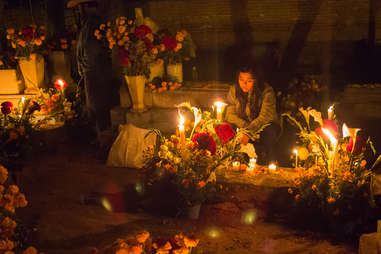 Panteón Antiguo de Xoxocotlán
Oaxaca, Mexico
Best reason to visit: This is one of the best places to experience the Day of the Dead.
Try not to trip over the masses of orange and pink flowers and flickering votives, or eat from the plates of the deceased's favorite foods, while you navigate through groups of mezcal-sipping families. On October 31, these grounds come alive with those looking to honor their dead family members and friends for Día de los Muertos. The ornately decorated graves are a photographer's dream, but respectfully ask before you snap a photo.
Highgate Cemetery
London, England
Best reason to visit: To see the cemetery's most famous dead dude, Karl Marx.
Highgate is one of seven garden-like cemeteries that were built in a ring around London in the 19th century, when inner-city burial grounds had become overcrowded and putrid and stinky. Today, this is a shady place (as in, from the sun, not for finding sketchy dudes) for an escape from the city. Gothic tombs and buildings are now overgrown with ivy, and the vault-lined passageway known as the Egyptian Avenue is just as impressive as ever.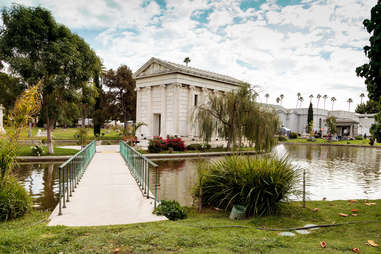 Hollywood Forever Cemetery
Los Angeles, California
Best reason to visit: For a selfie with that cool statue of Johnny Ramone.
This place is like a who's who of studio founders, writers, directors, and performers in Hollywood history; it's where the industry's biggest players go to die. Appropriately, the scene here is full of gaudy tombstones and mausoleums, peacocks, palm trees, and reflecting pools. Live concerts and movie screenings aren't uncommon on the cemetery's manicured lawns. There's even a memorial for Toto.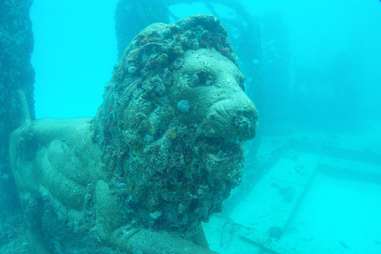 Neptune Memorial Reef
Key Biscayne, Florida
Best reason to visit: For a new spin on scuba diving.
Here in the land of conch fritters and Key lime pie, people's cremated ashes (and small tokens of their memory) are mixed with cement to create stately columns that stand in a manmade reef inspired by the lost city of Atlantis. Or if that's too flashy, you can also have your ashes molded into the modest shape of a shell or starfish.
Cimetière du Père Lachaise
Paris, France
Best reason to visit: To fit in with your study abroad friends, as this is the most visited cemetery in the world.
Marketing this place as the hub of Paris' dead rich and famous was the only way to get the burial hype started here back when it opened. Since then, business has boomed -- the list of famous corpses now buried there includes Jim Morrison, Oscar Wilde, Frederic Chopin, Marcel Proust, and Italian painter Amedeo Modigliani. Wilde's tomb is one of the garden cemetery's most famous and is covered in the lipstick kisses of admirers.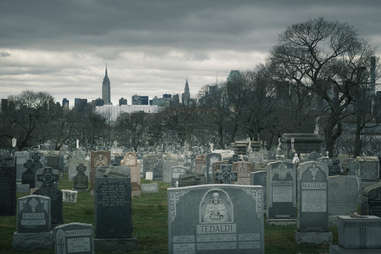 Calvary Cemetery
New York City, New York
Best reason to visit: To see the millions of New Yorkers who actually do sleep.
There's more gray than green on these 365 acres of burial grounds that stretch across Queens. Aside from amazing vistas in which towering monuments appear to be extensions of the city's skyscrapers, the cemetery hosts the bodies of some of the builders and protectors who made the city what it is today. There's also a huge contingency of mobsters buried here, and the grounds even served as a set for a burial scene in the Godfather.
Punta Arenas Cemetery
Punta Arenas, Chile
Best reason to visit: For a visual feast of stark white tombs next to meticulously manicured hedges
It's just a short walk from the center of Punta Arenas, but a trip to this cemetery is more like a step back in time. Here, the corpses of some of Chile's elite sit beneath opulent tombs and mausoleums -- some bright white and decorated with bursts of colorful flowers, others painted in vivid colors themselves. Just don't be the idiot who tries to walk through the eternally closed front gate -- one of the cemetery's notable residents paid for that gate to be built with the stipulation that it would close forever after her body crossed it. So, yea, it's closed.
South Park Street Cemetery
Kolkata, India
Best reason to visit: To take a break from the frenetic streets of India and gulp as much fresh-ish air as possible.
This Christian cemetery dates back to the 1700-1800s, when architecture in colonial India often boasted a mix of both Western and local influences. The vibe here is overgrown tropical jungle scattered with crumbling tombs and mausoleums (that may or may not be haunted) that mimic the disrepair of the city's most majestic buildings during the era.
St. Louis Cemetery No. 1
New Orleans, Louisiana
Best reason to visit: To cover your bases, just in case voodoo is a real thing.
This hot-as-hell labyrinth of above-ground graves is now only accessible by private tour, but still well worth the visit. Made famous by its appearance in the 1969 film Easy Rider, the cemetery is set to eventually welcome another movie star into its ranks -- Nicolas Cage has commissioned a pyramid-shaped tomb here in anticipation of his death by rotten tomatoes. And don't forget to swing by the grave of voodoo queen Marie Laveau if you're even the slightest bit superstitious.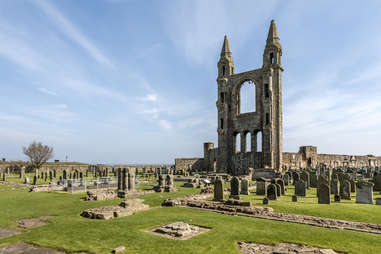 Saint Andrews Cathedral Graveyard
Saint Andrews, Scotland
Best reason to visit: Probably to feel like you're in Harry Potter.
Long, long, long before Prince William courted Kate Middleton at the University of Saint Andrews, a Roman Catholic cathedral towered over the quaint seaside Scottish village of the same name. Dating back to 1158, the cathedral had a tumultuous history, once serving as the headquarters of the Scottish Church before being left abandoned by 1561. Now, on a typical foggy Scottish morning, a trip to the graveyard around the ruins is a truly mystical experience.
Cementerio de la Recoleta
Buenos Aires, Argentina
Best reason to visit: To belt "Don't Cry For Me Argentina" at the tomb of Eva "Evita" Perón.
A trip to La Recoleta feels like journeying into a small city of marble mini-mansions housing the remains of Argentina's most celebrated (and loathed) subjects. It's among the most popular tourist attractions in Buenos Aires, and you could easily get lost and spend the entire day exploring the some 6,000 plus ornately decorated mausoleums -- but just don't stay too long, otherwise you might just have to stay forever.
Mount of Olives Jewish Cemetery
Jerusalem, Israel
Best reason to visit: You're on Birthright.
First of all, this ancient cemetery is massive, and if you read its review on Tripadvisor (yes, people rate cemeteries on Tripadvisor) you'll see that every visitor is wildly impressed by the sheer scale of it. Second, it's perched on the side of the Mount of Olives, offering incredible views of Jerusalem's Old City and a sweeping vantage point of some of the world's most important religious sites. A tour here also gives you a more intimate look at Jewish customs, like placing stones on graves, and rumor has it you can even take a camel ride around the top of the Mount.
Mirogoj Cemetery
Zagreb, Croatia
Best reason to visit: To get the 'Gram in one of Europe's most spectacular cemeteries.
There are some cemeteries that make you step back and say, "you know, I'd rather just be cremated," but Mirogoj is definitely not one of them. The city-owned cemetery dates back to 1876, and walking through the picturesque arcades, with intricately tiled floors, is to be immersed in the true respect and care that Croatians have for the departed.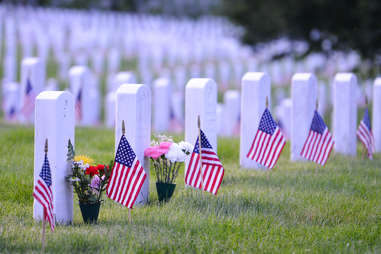 Arlington National Cemetery
Arlington, Virginia
Best reason to visit: To pay respect to America's finest.
As far as cemeteries in America go, there is none more famous or respected as the Arlington National Cemetery, where more than 400,000 active duty service members, veterans, and their families have been laid to rest. And while often overwhelmed with flocks of tourists and middle schoolers from the Midwest, the sweeping rows of white marble headstones, and the constant guard at the Tomb of the Unknown Soldier, are sobering reminders of the ultimate sacrifice that many have made for the good ole US of A.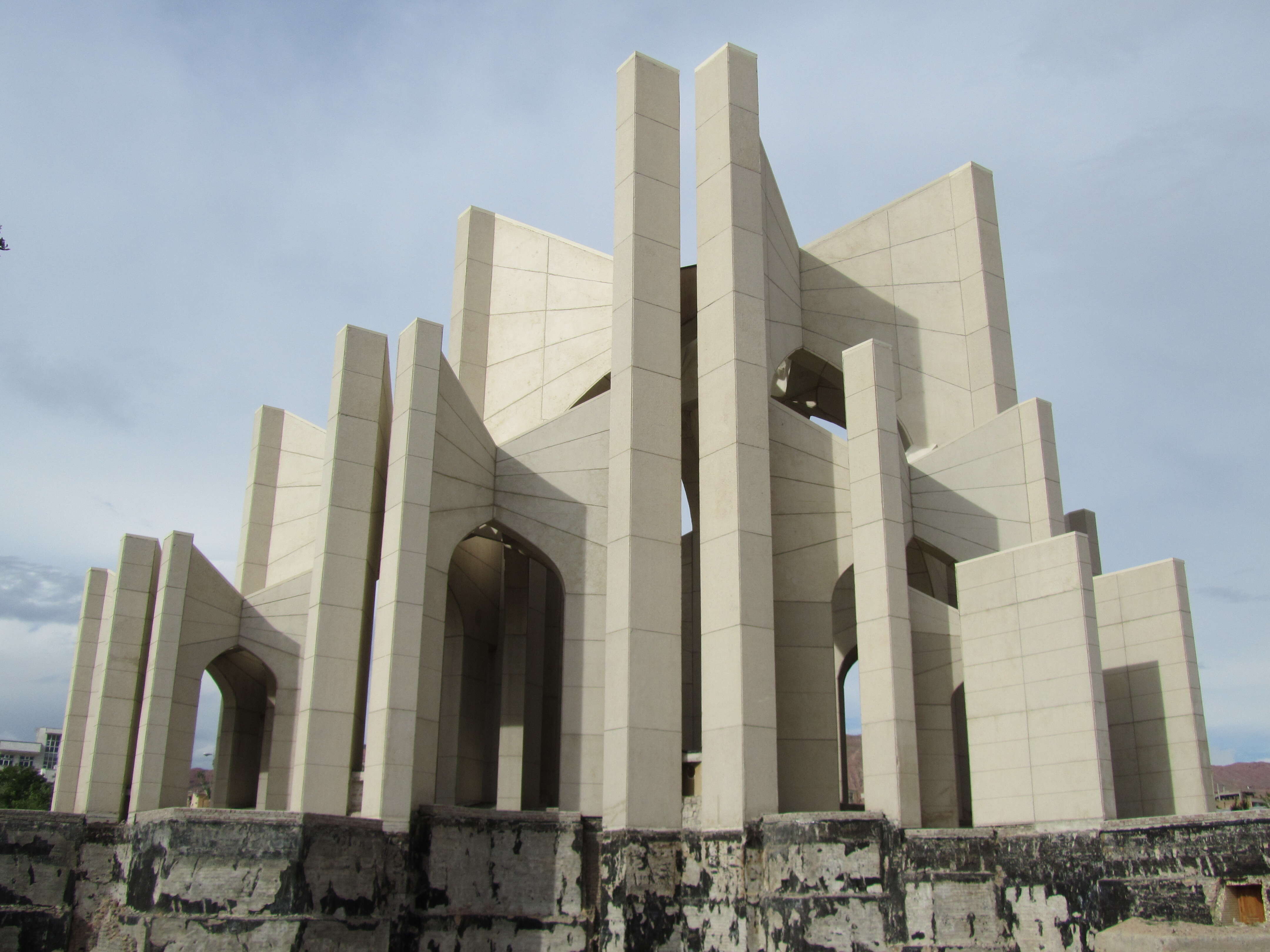 Maqbaratoshoara
Tabriz, Iran
Best reason to visit: You're a literary scholar specializing in Iranian poetry.
So chances are very slim that you actually are a literary scholar specializing in Iranian poetry, but regardless, the unforgettable design of the cemetery's main structure, the Poet's Tomb, is worth the trip. And to experience a burial ground that celebrates the lives of writers -- some dating back as far as the 11th freaking century -- puts new meaning on Dead Poets Society.
Cementerio General
Santiago, Chile
Best reason to visit: You've always wondered what a mausoleum for clowns would look like.
Cemeteries can tell you a lot about a community's social structure and cultural values, and few are as telling as Santiago's largest cemetery. The 2 million+ burials can be overwhelming to navigate, so grab yourself a tour guide who can point you to the unique monuments and mausoleums dedicated to specific professions, like teachers, firefighters, and most popular of all -- at least before AHS: Cult -- clowns.
Sign up here for our daily Thrillist email and subscribe here for our YouTube channel to get your fix of the best in food/drink/fun.