Hotels, much like Carrot Top, need excessive weight lifting a ton of personality to keep heads in beds. Therefore, unlike Carrot Top, it's no surprise they're often sought after by filmmakers as a setting for/star of their productions (much like Wes Anderson's new The Grand Budapest Hotel). So, feast your eyes on ten of the coolest hotels to grace the big screen...
Recommended Video
Please Don't Hang Up: Miami
Millennium Biltmore Hotel -- Los Angeles, CA
Boasting four restaurants and bars, over 600 rooms, and more than 20 Hollywood movie creds, the Biltmore's also hosted eight Oscar ceremonies, and was used numerous times in the highly-mediocre '90s sitcom Ally McBeal. Why so popular? It could be the carved marble fountains, massive wood-beamed ceilings, and cast bronze stairwells... but it's probably because Ghostbusters was filmed here. Scratch that, it's definitely because Ghostbusters was filmed here.
Oak Alley Plantation -- Vacherie, LA
Originally a place where old, bearded rich dudes would hang, Oak Alley didn't last long. Thanks a lot, Lincoln! After the Civil War, the property fell into a perpetual state of disrepair until the late 1920s, when it was finally restored to its film-friendly self. Roles include Interview with the Vampire, Travolta-throwback Primary Colors, and the "this is actually a real movie?" romance, Midnight Bayou, starring one of the O'Connell brothers.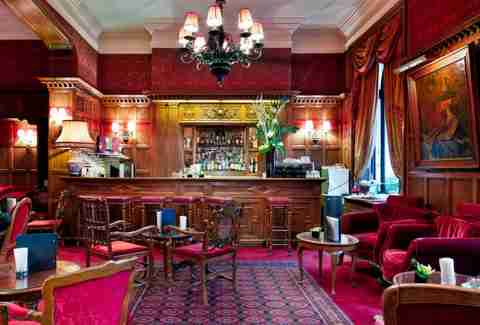 Hotel Raphael -- Paris, France
A luxury hotel built during the Roaring Twenties, the Raphael became a retreat for a gaggle of Hollywood stars, including Katharine Hepburn, Charles Bronson, Clark Gable, Steve McQueen, Roger Moore, Kirk Douglas, and Marlon Brando, who really enjoyed his Parisian butter. It can be seen in works such as Wes Anderson's Hotel Chevalier and a musical war comedy called Grandpa is the Resistance, which sounds suspiciously similar to what happens when the entire family needs to agree on a restaurant.
The Bellagio -- Las Vegas, NV
Weighing in as one of the largest hotels in the world, the Bellagio's been in just about every movie that comes to mind when you think of Vegas flicks... The Hangover? Of course. Ocean's Eleven? Yep. Rush Hour 2? Naturally. When not starring in high-budget blockbusters and accommodating over 3,000 people, the Bellagio plays host to world-class poker tourneys and fine art showings (like Rush Hour 2!).
The Timberline Lodge -- Mt. Hood, OR
Stephen King's book, The Shining, was inspired by a stay at the supposedly haunted Stanley Hotel in Colorado, which you might remember as the Danbury Hotel from Dumb and Dumber. Well, when Stanley Kubrick got his hands on the movie rights, he moved the action up to the Timberline. Stephen King was way pissed, and shot a retaliatory made-for-TV version back at the Stanley, but that completely flopped because, well, have you seen Kubrick's version?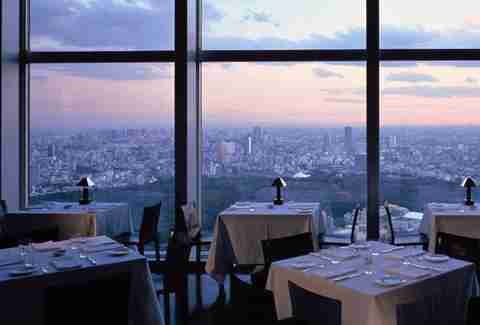 Park Hyatt Tokyo -- Tokyo, Japan
You'll remember this 5-star hotel from Lost in Translation, which stars Bill "Groundhog Day Ghostbustin' ass" Murray as an aging movie star who's shooting an ad for Japanese whiskey. He meets Scarlett Johansson, and the two go off to sing karaoke and hardly speak to each other. Aside from the film cred, the Park Hyatt gets points for stacking guest rooms from the 39th to the 52nd floor, so wherever you stay, the views are dizzying.
Hotel Regina -- Paris, France
Constructed mere steps from the Louvre, the Hotel Regina's got 120 rooms and suites overlooking the Tuileries Gardens. Sometimes Matt Damon shows up to film thrilling action movies here (see: The Bourne Identity). Also, in '09, Michelle Pfeiffer filmed a comedic love story thing here called Chéri, which you definitely didn't see.
The Fontainebleau -- Miami, FL
"One of the most historically and architecturally significant hotels on Miami Beach", the Fontainebleau is a pretty big deal here, much like Will Smith and mosquitoes. Take your pick from 12 restaurants and bars, a few swimming pools to float around in, and a hefty presence rooted in cinematic history. Such credits include: Scarface, The Bodyguard, and the never-ever-nominated-for-anything classic, Police Academy 5: Assignment: Miami Beach.
Beverly Wilshire Hotel -- Los Angeles, CA
You're goddamn right they filmed Pretty Woman here. Remember when Richard Gere unexpectedly and charmingly snaps the jewelry case on Julia Roberts' finger? OH MAN, CLASSIC! What you might not know is the hotel has accommodated President Barack Obama, Elton John, and Hirohito, the freaking Emperor of Japan (though not all at the same time, or else we'd have a hilarious joke for you). Bonus fact: John Lennon and Elvis Presley both called the Wilshire home for an extended period of time.
The Plaza Hotel -- New York, NY
Being one of the most luxurious hotels in Manhattan, as well as serving as the backdrop for over 25 films, The Plaza's got a pretty neat history... it was once owned by Donald Trump, it's one of just a handful of hotels with National Historic Landmark status, it's where the Beatles stayed when they first came to the States, and it even appeared in Grand Theft Auto IV (in which it was remarkably resistant to flame throwers and grenades). Check it out in Crocodile Dundee, Almost Famous, and this year's The Great Gatsby.