Ever dreamt of crashing at a famous person's pad? Of literally walking in the footsteps they left when scampering to the toilet in the middle of the night, or cooking up a self-catered dinner where they cooked their final, fatal dose of heroin? Well, weirdo, you're in luck. Thanks to sites like Airbnb, a number of celeb and/ or historic residences are now available as rentals. Here are five you should check into.
5. Jean-Michel Basquiat's loft
New York, New York -- $650/nt
Billed as a "Crazy Fab" loft on the "hippest" street in NYC (O…M…G!!!), this sprawling two-bedroom-plus-studio-alcove, one-bath SoHo space was the early '80s home of famed artist Jean-Michel Basquiat. It rocks hardwood floors, a massive kitchen, and tons of light. Reportedly, Madonna also crashed here for a couple of weeks once. So there's that, too. If you only need/ can afford the studio portion, you can rent just that bit for $275/nt (but you'll have to share a bathroom with the owners).
Local tip for travelers: Blend in with Manhattanites by treating sidewalks like freeways (pass on the left!), pronouncing "Houston" Street like "House-ton", and ordering off-the-menu classics at cool restaurants.
4. Pablo Picasso's atelier
Paris, France -- $257/nt
Located in the building where Picasso lived and painted in the early 20th century, this modern one bedroom, one bath loft in Paris's Montmartre neighborhood accommodates four and offers stunning panoramic views of the city, including the Eiffel Tower and Notre Dame.
Local tip for travelers: If you're looking to see the sights from a different vantage point, why not fly over town in a Zeppelin? And for the hottest weeknight party scene, be sure to hit up "French Tuesdays" at the Buddha Bar Hotel (not the Buddha Bar) -- expect at least 700 beautiful people to be busting out to great music in fine threads.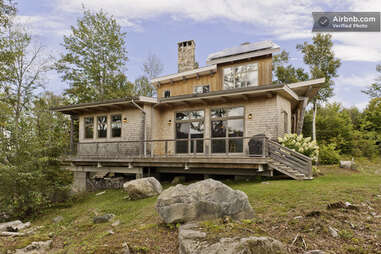 3. Bode Miller's ski house
Carroll, New Hampshire -- $800/nt
Five-time Olympic medalist and bad boy of the slopes Bode Miller recently put his four-bedroom custom estate up for grabs, and it's already booked solid through the winter season. With views of Mt. Washington, room for ten, and easy access to both Cannon Mountain and Bretton Woods resorts, it's a most excellent location to base yourself (and probably comes with a PlayStation 2 and accompanying Bode Miller Alpine Skiing game).
Local tip for travelers:Mt. Washington's New Hampshire's largest ski field and has 102 trails, nine lifts, and four freestyle terrain parks. Cannon's got 73 trails and ten lifts. Both are open year-round, with the summer season appealing to hikers, bikers, and climbers.
2. Rudyard Kipling's Naulakha
Dummerston, Vermont -- $350-450/nt
Two-and-a-half hours down the road from Bode's place, get your literary fix with a stay in the secluded country home of Nobel Prize-winning author and poet Rudyard Kipling, the very place where he wrote such classics as The Jungle Book. Fully restored with much of its original furniture, this four-bedroom boasts a full library, a game room with a billiard table, and, reportedly, "Vermont's first" tennis court.
Local tip for travelers: Kip named the house after the Naulakha Pavilion, a white marble chamber inside Lahore Fort, Pakistan. It looks nothing like the Naulakha Pavilion ... but who cares! There's swimming and boating to be had in the Connecticut River, on and off-track biking, hiking, and golf to amuse yourself with.
1. Howard Hughes's mini-estate
Palm Springs, California -- $500/nt
Finally, pack your favorite pee bottle and head to the mountains of Palm Springs, where you can kick back poolside and soak in the desert views in this mod tri-level home with its own spa, pool, and crazy winding patio balcony that kind of looks like a putt-putt green. Not only did the famed aviator and businessman own the abode, but so did Eva Gabor. Smokey Robinson vacationed here, and Robert Evans (producer of The Godfather) had his honeymoon here.
Local tip for travelers: The late Bob Hope's volcano palace is just up the road, so a neighborhood stroll may prove as entertaining as a TMZ tour. And, if you opt for a trip downtown for a bite, ask your cabbie to take you to "the Loop" or "the Village" to get dropped right in the heart of it all.