Crisscross the Absurdly Pretty Faroe Islands by Driving Underseas
Cars magically island hop in the Land of Maybes.
Travelers, start your engines: You are now entering The [Scenic] Route, a rip-roaring exploration of the world's most incredible international road trips, from lush Rwandan jungles and ancient Peruvian mountains to seaside Irish villages, dreamy Japanese forests, and twisty Romanian hillsides. For more reasons to hit the pavement—plus tips, interviews, and a custom road-ready playlist—cruise over to the rest of our coverage here.
There was something in the road. It showed no sign of moving as I slowed to a stop and upon further inspection, "it" was a "they," and they were two sheep casually napping in the middle of the highway. Traffic jams don't always happen in the Faroe Islands, but when they do, there's typically sheep involved.
The far-flung collection of 18 islands sits dramatically remote in the North Atlantic Ocean, somewhere between Iceland and Norway, and has more sheep than people. This explains the need to watch out for napping floofs on the roadways. Nicknamed 'The Land of Maybes' by locals, a road trip here kind of forces the adoption of the Faroese laid-back mentality where plans can, and will, change on a dime… because the weather says so.
Cinematic scenery abounds; imagine staggeringly steep cliffs, waterfalls spilling into the ocean, postcard-worthy lighthouses, untouched nature, and storybook villages with turf-adorned roofs. It's a place brimming over with some of the most jaw-dropping scenery in the world, rendering it a self-driving paradise with the freedom to go at your own pace. And with undersea tunnels, including the only underwater rotary in the world, your car can seamlessly island hop to all the different parcels of land.
This route is tailored to hit up some of the more off-the-beaten-path spots as well as the iconic ones, all while blowing your mind. It'll cover seven islands over the span of five days and scorch scenes into your brain that'll fuel your daydreams for years to come. Pack your hiking boots and a camera, it's time to dodge some sheep.
When to visit the Faroe Islands
Every season is the 'windy season' in the Faroes. There's a reason local families have to anchor down their backyard trampolines. Aside from that fun fact, each actual season has its own allure in the Faroes, but the best timeframe to visit for optimal weather is between May and September. Because of the destination's position in the far north, this season also brings longer daylight hours, with sunsets past 10 pm and more time for adventuring. Even so, there's always a risk that weather will cancel flights or island-to-island ferries, but that's life in the 'Land of Maybes.' These are also the months with the highest chance of viewing puffins.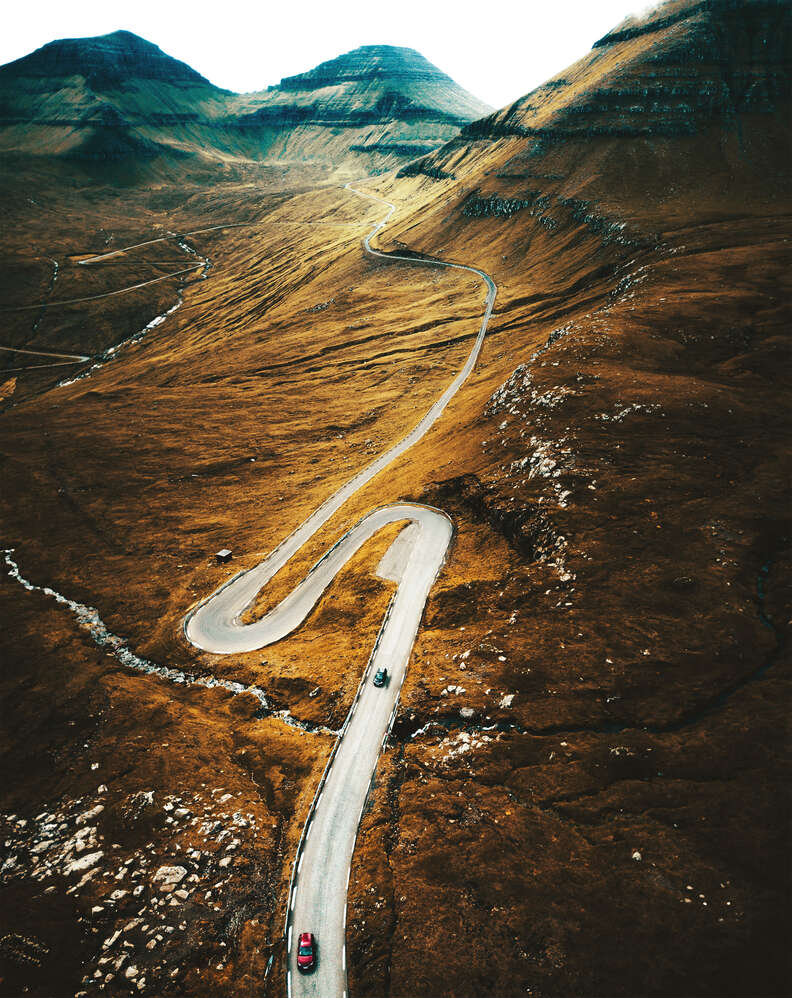 How to rent a car and drive in Faroe Islands
Driving in the Faroe Islands is its own kind of beast. That's mostly because focusing on the road is difficult when all you want to do is stare at the ridiculous beauty that's literally everywhere. If you're anything like me, you'll find yourself laughing like a lunatic because you can't believe that a place like this exists.
But a trip like this is not for the faint of heart, as you'll encounter scary steep drop-offs, blind corners, ever-changing visibility, and single-track tunnels and roads. Newly-built tunnels now connect most of the archipelago, including the freshly constructed 6.9-mile-long tube with an undersea roundabout, the first of its kind in the world. Driving through them isn't free; a toll (typically between 10-13 euros for the longest tunnels) will register through a toll chip and get charged to your credit card once you return the rental car. Or you can opt to pay a flat-rate fee upfront, which will cover unlimited tolls.
Renting a car is possible from the few companies at the airport, though automatic vehicles are a little harder to come by and are typically more expensive to book. Driving is on the right side of the road, same as the US, and travelers should expect windy, narrow, cliffside roads. Speaking of narrow, some roads and tunnels are only wide enough for one car at a time, but there's a system for dealing with this. Street signs let you know who has the right of way (indicated by the black arrow), and there are small pull-offs on the yielding side.
Since some tunnels are lengthy, you will likely encounter another vehicle that has the right of way coming directly at you. Don't panic, just use the next closest pull-off, which are located every 100 meters. Once the cars pass, you can proceed, but be aware that you may have to pull off several times in one tunnel crossing if you don't have the right of way. When exiting the tunnels, use the mirror to see if anyone is approaching. This is one of the most unnerving aspects of driving in the Faroe Islands, though you do get used to it—and hence the slower speed limits.
Most rental cars take diesel, which means you can get a lot more mileage out of them before you need to refuel. That being said, make sure to plan your gas station stops based on your distances during the trip, as they aren't everywhere. Your lights must be on at all times, and when the thick Faroese fog shows up like an unexpected visitor (and it will), you'll understand why. One last note: although almost every road in the Faroe Islands is scenic, there are special 'Buttercup Routes' indicated by the signs with a yellow flower. This means it's the extra scenic route.
Since nothing in the Faroe Islands is too terribly far, it's possible to use the city of Torshavn as your base. Your days can be spent road tripping these routes and your evenings dining and drinking in the city.
Vágar to Torshavn
Your arrival to the Faroes will be on the island of Vágar, which has much to offer past the airport. Hit the road running straight out of the rental car gate by driving north about 15 minutes to the small village that made these islands famous. Gasadalur can be accessed through the tunnel built in 2004 or on foot via the old Postman Route, a three-mile moderately difficult hike from the town of Bøur.
However you choose to reach this once-isolated village, you'll be rewarded with views of Múlafossur, the iconic oceanside waterfall that became the symbolic image of the Faroes. On a particularly windy day, you'll even get to see the cascade blow upwards; a fairly regular occurrence. Pay attention to the cliffs surrounding the waterfall—this is one of your chances to spot puffins.
Hop in the car and head towards the capital of Torshavn on the neighboring island of Streymoy, though be prepared to pull over several times, since the 37-mile route is chock full of more views than your brain can handle.
If you're jonesing for another hike, the 45-minute, easy walk to Sørvágsvatn or 'Hanging Lake' is a popular one. The lake is perched above the ocean and appears like an infinity pool. It makes for fantastic photo opportunities, though there is a fee of 200 krone to be paid at the gate.
If you've worked up an appetite, stop in the next village of Sandavágar and head to Fiskastykkið, a cozy waterside cafe with amazing fish soup.
Hop back on Route 11 and pass through your first undersea tunnel to end up on the island of Streymoy, the largest and most populated of the Faroe Islands. Here, check out the lesser-known village of Leynar, a quaint seaside spot popular with vacationing locals and ideal for walking on the beach to search for sea glass treasures.
Drive half an hour on Route 10 and you'll land in Torshavn, where you can settle into the Havgrím Seaside Hotel, a boutique stay with an awesome breakfast that's within walking distance to the city center.
Torshavn to Gjógv
Prepare to cover a smorgasbord of Faroese terrain. This leg can either be done as an 88-mile loop that brings you back to Torshavn or a 58-mile drive if you choose to slumber in Gjógv. Meander up Streymoy's east side along Route 10, where you'll pass endless coastal cliffs, ocean vistas, beach villages with rustic boathouses, and many more sheep.
After about 48 miles, you'll reach the first roadside stop, a giant waterfall dubbed 'Fossa.' Enjoy a cascade spritz before going another 10 minutes to the seaside village of Tjørnuvík, sitting in a pretty cove with a wide expanse of beach. Here, you can see the "Giant and the Witch" sea stacks in the distance. The village is amongst the oldest in the Faroe Islands and is a favorite for surfers and Viking-era enthusiasts (we know you're out there).
Grab one last glimpse of a thundering Fossa as you double back down Route 10 in order to cross over to the island of Eysturoy via tunnel. Head to Funningsfjørður, where you'll skirt the edge of the fjord before reaching the village of Funningur and sweeping views.
Grip that steering wheel a little tighter as you make your way up the mountain switchbacks on a single-track road; the views only get more impressive towards the top. Here, you can choose to hike the Gongutúrur / Hvithamar trail, a 0.9-mile loop with a stunning vista.
Gjógv is just three miles further, where a true storybook village with an iconic sea gorge awaits. The town is built around a natural split in the land that's used as a narrow harbor (when the ocean is calm enough, that is), where the ocean spills in with each wave. The view is best absorbed from the trail behind the cafe, where you can climb up just a little ways and take the famous photograph angle of the scene below. Keep an eye out for puffins hanging out in the cliffs of this area as well.
Make sure to stop at Joe Pizza in Hvalvík for lunch or on your way back to Torshavn; they make delicious pizzas and are one of the only places open late.
Torshavn to Viðareiði
Perch yourself at the edge of the world when you reach the northernmost village in the Faroe Islands. But first, you have to drive there. This leg requires traversing a couple of the old tunnels with the single-track lane and pull-offs for those who do not have the right of way. This stretch makes a great opportunity to explore Torshavn (one of the world's smallest capitals) in the morning and then spend your afternoon and evening road tripping up to Vidareidi.
Stroll Tinganes, the tiny old town packed with turf houses, some of which are now restaurants. One such restaurant is Barbara Fish House, a fine-dining meal not to be missed—be sure to make a dinner reservation for at least one of your evenings in Torshavn. Purchase a locally crafted Faroese sweater, stroll the harbor, pop into a cafe, or visit the Nordic House, a cultural center with events, exhibits, and food.
This island of Kunoy and village of the same name is accessed by an hour's drive north, via one of those single-track tunnels. Once there, the small fairytale town practically begs to be photographed.
It's only 16 miles from Kunoy to Vidareidi on the island of Viðoy, but getting here also requires an even longer single-track tunnel. Luckily, this one has a stop light that assists drivers; however, it should be noted that the light only runs during the day, otherwise you need to rely on the old-school method.
Backed by Villingardalsfjall, the third highest mountain in the Faroes, and a pretty-as-can-be cove looking out to the open sea, Viðoy is easily one of the most picturesque locations of this Nordic destination. An incredible view unfolds as you exit the tunnel, with a trifecta of mountains, cliffs, and the sea. If you're looking to stretch your legs and tackle a challenging three-mile out-and-back trail, the cone-shaped resident mountain is ready for you. There is a fee to hike here of 200 krone, but the panoramic view is priceless. Hiking with a guide is always a good idea in the Faroes, as many of the trails aren't that well marked and weather conditions can change quickly.
Head down to the beach, where a gorgeous seaside church and stunning cove await for the evening show, courtesy of Mother Nature. Watching a sunset in Vidareidi will be a memorable highlight, so long as the weather cooperates.
Torshavn to Suðuroy
Now that you've ticked off the north part of the Faroe Islands, it's time to head south. Suduroy is the southernmost island in the Faroes archipelago and is accessible by a two-hour ride on the car ferry (Torshavn to Tvøroyri route). This lesser-visited island is a visual and cultural treat.
Drive 10 minutes to Hvalba, a village with pirate history, and check into your home base for your stay in Suduroy. Heima í Stovu is a bed and breakfast and a living museum run by two cousins who spent their childhood summers adventuring the area surrounding their grandparent's house. The owners will pack you a picnic lunch, take you on an epic guided hike, and cook a fabulous dinner to enjoy amongst new friends. Hvalba has a beautiful beach, friendly residents, and a view of the tiniest and uninhabited island in all of the Faroes, Litla Dimun.
Stay close to Hvalba with a visit to the postcard perfect village of Sandvik, or absorb the coastal view from Hvalbiareidi harbor, with its worn boathouses and striking cliffs. Or venture further with a 23-mile drive to Sumba, the southernmost village in the Faroe Islands, complete with a gorgeous cliffside lighthouse called Akraberg. Marvel at the seaside Eggjarnar Cliffs, where you can also see remnants of a WWII station on your way back to Tvøroyri to catch the ferry back to Torshavn.
After completing your first road trip in the Faroe Islands you'll probably need a minute to wrap your head around all that you've seen. Spend one more night in Torshavn to soak it all in, relishing in the experience and the sheer number of sheep you've encountered. It's easy to spend more than five days in the Faroe Islands, with the allure of so much more natural beauty and authentic culture to discover—but that's also what return trips are for, right?
Lauren Breedlove
is a freelance writer, travel photographer, and the girl behind
girlwanderlist.com
, a list-based travel blog where she keeps it real on the regular. She thrives on random adventures, offbeat destinations, and grilled cheese. Follow all her travel exploits on Instagram,
@girlwanderlist
.