You Can Finally Take a Legal Ferry to Cuba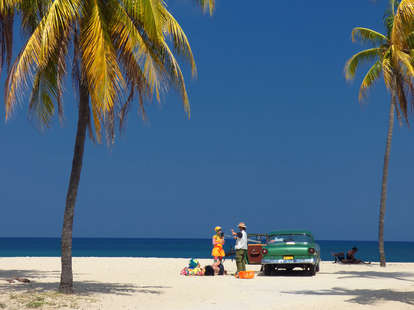 <a href="https://www.flickr.com/photos/zedzap/13256169585/" target="_blank">Nick Kenrick</a>
It seems like getting to Cuba gets a little easier every day. First, travel restrictions were relaxed, opening up opportunities to see the land of Cohibas, Yank Tanks, and Jon Secada without having to plan a cultural exchange or do anything illegal. And now, you don't even have to fly there -- you can take a boat, no problem.
President Obama just reinstated ferry service between Florida and Cuba, making it easier than ever to head to Havana. This is a historic event, as ferrying between the two countries has been off-limits for 56 years -- just ask Elian Gonzalez.
The Sun Sentinel reports so far four ferry services have received official approval to operate from the US Treasury and Commerce department, including Havana Ferry Partners, Baja Ferries, United Caribbean Lines and Airline Brokers Co. More companies will likely apply for licensing and receive approval within the coming months, increasing competition and, hopefully, driving down prices.
Havana Ferry Partners even announced its ferry-approved status on social media.
Why ferry when you could fly? Well, while prices have not officially been set, it should prove cheaper. Another big plus: the absence of luggage fees. Travelers can bring more on board for less money. Which makes a difference for anybody looking to bring American goods across the sea for relatives or to just hand out to people. If you've ever seen the charter plane section of Miami's airport, you'll have a good idea of what it looks like to furnish an entire home via checked bags.
This stands as the next step in repairing the fractured relations between the US and Cuba, and in turn, opening up Cuba's tourism to Americans. After all, the literal rest of the world can visit Cuba without a problem. Let's smoke a legally procured cigar to that.

Kara King is a Thrillist intern and SoCal native. She is still trying to make sense of this strange, worldwide phenomenon called "weather." Follow her attempts to live without all that sunshine at @karatillie.