Tourists Waste a Staggering Amount of Food—But It Doesn't Have to Be That Way
No reason to cry over spilled milk.
Like most great ideas, Diane Daniel's epiphany was born out of a personal desire to fix a problem in her life. She's owned a vacation rental for over a decade, splitting her time between her Florida home and her wife's native Netherlands. When they travel to Europe, the couple rents their Indian Rock Beach home out to travelers.
On one trip back to Florida, Daniel began to notice that guests were leaving items behind at checkout. Families purchased beach chairs and sand toys they couldn't travel home with, so left them for future visitors. Daniel was able to easily redistribute those items locally due to a few local bins designated for beach gear. She also noticed, though, that the amount of usable food left behind by guests was staggering.
"I've always been someone who hates waste in general," says Daniel, "But two years ago, I felt like there was more food than I have ever seen in the cabinets. I was so overwhelmed, I almost threw it all away. Then I stopped myself."
She knew there had to be a better way. Cleaning crews have told Daniel they are inundated by the amount of food left behind, which is often more than their own families can even use. As travelers turn more to short-term rentals and hotels add small kitchens to compete, this problem could only be expected to grow, thought Daniel. So she began to look at the data.
Travelers waste food at an alarming rate
Americans throw perfectly good food in the trash at an absolutely astonishing volume, according to Feed America. They found that nearly 119 billion pounds of food is wasted each year—almost 40% of the food produced in America.
There aren't exact numbers on how much food is wasted by travelers, but preliminary data shows similar trends. One recent study in Telluride, Colorado (conducted by the EPA in partnership with local government) found that 70% of the 8,000 pounds of trash collected during two peak travel weeks could have been eaten, composted, or recycled.
Nearly 119 billion pounds of food is wasted each year—almost 40% of the food produced in America.
The number of short-term home rentals is also expected to rise, according to AirDNA, who predict the market will grow by as much as 9% in 2023. With that, the amount of food waste from those rentals will grow, also. When guests stay in a unit with a kitchen versus a traditional hotel room, they grocery shop—and often can't take the remaining food with them when they leave.
Daniel began brainstorming for solutions to the problem in her St. Petersburg suburb. While the town has only 3,600 residents, it contains around 1,200 short-term rentals—that were dumping food into dumpsters at checkout. She desperately wanted to rescue some of this food, but wasn't sure where to begin. As Daniel began to look for a solution, she found that other residents of resort towns were already trying to address the same problem.

Don't throw those leftovers in the trash
In North Carolina, Rebecca Powell launched Second Helping Ocean Isle Beach in 2015. Inspired by a retired local, Bill Spier, who single-handedly collected nonperishables from vacationers, they began spreading the word that their crew would collect unwanted food.
Powell laughs as she remembers the early days of the program. "We started it like Girl Scouts, sitting out there with our table and handmade signs," she says of her and her friend Teresa Garratt. Second Helping has grown since its inception—donating 15,000 pounds of food to a local nonprofit that distributes it to families with food insecurity and adding more volunteers. Each weekend during the height of tourism season, volunteers collect unopened food from travelers at three designated stations on the island. Property management companies as well as the local government spread the word to tourists.
And the tourists, says Powell, are thrilled.
Donating 15,000 pounds of food to a local nonprofit that distributes it to families with food insecurity.
"People are so excited to give their food. If they don't have food left over, they want to give money," Powell explains. "Even in the world we are living in, even when you turn the TV on and say, 'Oh, my,' every day, there are still kind hearts out there."
Inspired by Second Helping's program, Daniel decided to start up Vacation Donations in Florida. And it's not even the first organization to help spark the flame. Powell is aware of at least five communities that have begun similar programs after witnessing Ocean Isle Beach's success.
Solutions to travel food waste can be simple
Through her years as a travel writer and landlord, Daniel has come to realize that while most vacationers don't want to waste food, they also don't want to have to work too hard to find somewhere to leave it.
That's why at Vacation Donations, she's focused on connecting with those who do have some influence—the unit owners. When they provide bins to leave food in, hang signs about drop-off locations, and promote sustainable travel, their customers are more likely to participate.
"Unless you make the system super convenient, people won't do it—especially on vacation."
She connected with EnviroRental, an organization for vacation rental owners focused on sustainability. Founder Bob Garner explains that while he doesn't consider himself an expert in sustainable property management, he has garnered quite a bit of insight over the past decade since founding his company. "In our industry, so many people really believe that they should be doing something around sustainability, and want to do something, but are confused," he says. "They don't know what to do, and they don't know where to start." At EnviroRental, he provides them with all of the resources at no cost so that they do know where to start. "If we put it all together and give it away for free, there are no barriers to entry."
The pounds of donated food alone are proof that, when given a lead, both landlords and travelers are eager to help. In Indian Rock Beach, many landlords hang fliers about Vacation Donations. They include info on drop-off locations in guest information packets, and some even have specific receptacles where guests can leave food for the local food bank. When Daniel spent just two hours in a rental unit lobby collecting food, she received 35 bags from 12 different units. "It was super exciting, but I also thought about how this is just a sliver of a sliver of all the food that is being thrown out this day on this beach," she says. All she had to do was show up and be available.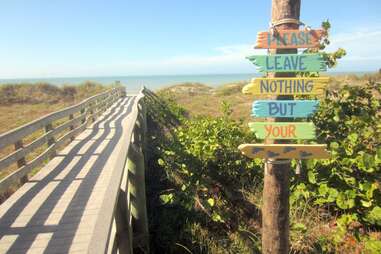 That isn't to say that travelers themselves can't push for better options to reduce food waste, too. Daniel points to the fact that travelers advocated for wifi to be regularly available—and got it. It's no different with food waste, she says.
"When reserving your unit, you could say ahead of time, "I plan to buy some food. Do you have anything in place for donating that when we check out?'" She suggests starting the conversation early on and seeing what they say.
They simply want to let people know there's a better place for their unused food than the trash.
On her part, Daniel knew the solution had to be simple. She says, "Unless you make the system super convenient, people won't do it—especially on vacation. That's just human behavior."
The folks working to collect vacation food waste stress that what they've developed is not complicated. They simply want to let people know there's a better place for their unused food than the trash—both in their own communities and in others, as they work to spread the message.