Oil rigs used to be reserved for the manliest of men, dudes willing to live in the middle of the ocean, brave treacherous storms, and make hilarious "drill, baby, drill" jokes while on leave. Until now, that is.
Thanks to Seaventures Rig Resort, a hotel and dive school built on a former jackup rig, you can spend your vacation on the high seas reenacting your favorite scenes from The Abyss exploring the mysteries of one of the world's best dive sites.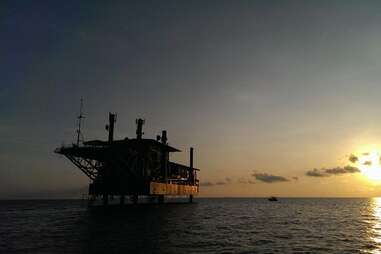 16 miles off the east coast of Malaysia in the Celebs Sea, the retired oil/gas platform rests above the coral triangle and is located near the crystal clear waters of Semporna, Mabul Island, and the sunken wrecks off Kapalai Island -- all considered some of the world's highest-ranked diving destinations.
Didn't expect such plush accommodation on an oil rig, did you? This twin room even boasts remote-controlled A/C and hot water showers, although if you'd prefer to bunk up with a group of friends, there are dorm-style cabins as well.
Did we mention there's a bar? Well, there is. Grab a chair.
As well as ping pong -- consider your non-diving time accounted for.
As you are there for the diving, though, expect to glimpse everything from sharks, cuttlefish, and ribbon eels, to frogfish, giant morays, and even nudibranchs, which are colorful carnivorous mollusks that totally don't like to be constricted by their shells, man.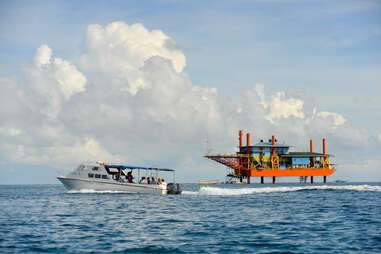 You don't even need to be certified, as you can rent equipment onsite and take pretty much any dive class under the sea -- from PADI open water, to PADI Rescue Diver, to underwater videography. The rig even boasts a signature elevator that "lowers divers directly into the best house reef in the area, right under the Rig". Even better, the lift seconds as a platform for their must-try "famous rig jump".
No, sorry, you can't walk to the rig -- you have to book your minimum four-day/three-night ($837) trip here. It does, however, come with boat transfer from Semporna, full meals, and three daily dives.
Sophie-Claire Hoeller is Thrillist's associate travel editor and actually happens to have gotten her PADI Open Water in Malaysia. The excitement was dampened by the ensuing ear infection. Follow her @Sohostyle