How to Track Down Your Long-Lost Relatives in the Old Country, Wherever That May Be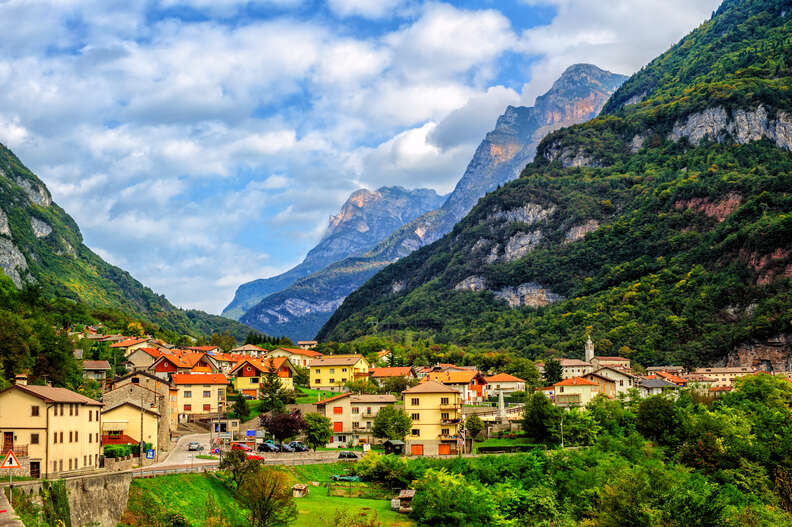 One day in October I drove into the Alps of northern Italy to a teensy village called Camposilvano. I parked at one end of town and could see clear to the other, only a few hundred yards away. The population here is listed at 65, and I wondered if that was inflated.
I visited to look for traces of my great-grandmother. Camposilvano was her hometown, where her family had owned a hotel called the Albergo Alpino... maybe. I wasn't sure. After months of investigating my family history, I wasn't sure of anything. I turned onto a residential street the approximate width of a shopping cart. There was a pickup truck blocking it, and a man unloading firewood from its bed. I stopped my car and walked toward him. "Excuse me!" I yelled. "Do you speak English?"
He said yes and headed to greet me. He appeared to be in his early 30s and was wearing a red T-shirt, blue jeans, and sneakers. We shook hands. He introduced himself as Costantino Rigon. "I'm an American," I said. "I'm doing family research. My relatives might be from around here. My great-grandmother's last name was Stoffella."
His eyes bulged. "My mom was a Stoffella," he said.
I reached into the front seat of my rental SUV and grabbed a legal notebook full of genealogical research. Costantino saw the name Luigi Stoffella -- my great-great-grandfather. His eyes bulged again. He said his great-grandfather's name was Luigi.
"No way," I said.
No way, he thought.
Did I really just drive into the Alps, yell to a guy on the street, and find that we're related?
That encounter was the climax of months of genealogical research. Everything in this story happened to me, and seven months later, I still can't believe it. I almost hesitate to peg this as a genealogy story because it felt, as it was happening, more like a dumb luck story. But I have since learned that many incredible genealogical stories sound like dumb luck stories. Kismet abounds in this field, and it'll probably find you, too, if you go exploring.
If you've always wanted to visit the Old Country -- wherever your Old Country is -- you can pick up some tips from my trip: from not even knowing my grandparents' real names to shaking hands with a distant cousin in a remote Alpine village.
Tip 1: There are tons of resources and experts to help you find your relatives
The desire to comb through the past is universal. The internet has made genealogy easier and more popular. According to Time, genealogy websites are the second-most visited website category, after porn. Likewise, ABC News has reported that genealogy is Americans' second-most popular hobby, after gardening.
Since 2012, when Ancestry.com started offering DNA tests, it has completed 7 million of them, including one for my brother. His results showed we are 72% Europe West, 9% Great Britain, 6% Ireland/Scotland/Wales, and 13% who knows what. But the DNA results only tell us vaguely where we came from. I wanted to know from whom.
An entire industry has sprung up to help you dig into your family story: researchers, books, TV shows and online tutorials. The first step, experts say, is to conduct as much research here as you can. Talk to relatives. Look in attics. Sign up with Ancestry.com and FamilySearch.com. Straight-up dig.
Tip 2: Family stories may be flawed, but you should collect as many as possible
I didn't know how twisted my family stories were until I found documents that disproved much of what I thought I knew about my ancestors -- such as my grandma's name, my grandpa's name, where my great-grandparents were from, and how many kids they had.
My questions really started at my grandmother's funeral, where someone had put together a display of mementos from her life. I called her Grandma Rae, short for Rachel. One of the documents at her funeral was a report card with the name Enrica, not Rae or Rachel. "Who the hell is Enrica?" I asked.
I was told that Enrica was my grandma's original name. One day, an elementary school teacher said something like, What kind of name for a girl is Enrica? We're going to call you Rachel. Rachel became Rae, and she went by that for the rest of her life. That sounded like it was half-true, so I tried to prove that with Census reports. But they didn't help: She was called Henretta there, likely a misspelling based on a Census taker's inability to understand a thick Italian accent.
Whatever my grandma's name was, she moved to Detroit and married my grandfather, whose name I knew was Ed Stanford. Except there was another document at my grandma's funeral, next to her report card, bearing the name Ed Steckel. Naturally, my next question was: "Who the hell is Ed Steckel?"
I've heard two versions of what happened. One is that my grandfather changed Steckel to Stanford because of anti-German sentiment during World War I. That's dull but probably true. The other is that his brother worked at one of the Big 3 automakers, quit, tried to get his job back, and was told no. He reapplied with a new last name, got the job, and my grandfather went along with it. I love that story, even if it's probably false.
"Family stories often come with a lot of things that aren't right. They've been twisted through the years."
Just as I never had reason to doubt my grandparents' names, I never questioned my Italian heritage. Everyone on that side of the family always said we were Italian. My grandmother spoke Italian, her maiden name was Rigotti, and she had brothers named Guido and Tulio. You don't get more Italian than that, right?
Then I found a photocopy of my great-grandfather's passport. It listed his home country as Austria, not Italy. He was born and raised in an area that was then in the Austro-Hungarian empire but was annexed by Italy decades after he left.
I can't stop thinking about this: For all of my life, I thought I had an Italian grandmother named Rae Stanford, but in a way I actually had an Austrian grandmother named Enrica Steckel.
Debora Hill, director and founder of the Pallante Center for Italian Research, says amateur researchers should seek out original documents, as they can be used to confirm or refute what you know. "Family stories often come with a lot of things that aren't right," says Hill, who has made 10 research trips to Italy. "They've been twisted through the years."
Tip 3: Take your research with you
The name thing intrigued me. If I unearthed this much in America, what would I find if I went to Italy?
Last year, I cobbled together writing assignments in France, Belgium, Austria, and Germany. I hatched a plan to visit Italy, too, in part because I wanted to keep looking into my family history and in part because, um, it's Italy.
As I packed, I stuffed my computer bag full of hard copies of genealogical documents. I also uploaded copies of ancient pictures onto my phone. But the information wasn't organized in any meaningful way -- a rookie mistake, especially considering I was going to Italy.
Jenny Tonks, an accredited genealogist for Italy research, recommends using pedigree software to build your family tree and to bring both a hard copy and digital copy with you. Asking someone to help you fill in blank spot(s) on a family tree is better than simply asking when a certain relative was born. "Italians appreciate symbols," she says. "The pedigree is a symbol that carries great weight in a family-centered culture like Italy's. If you want your request to a busy government records office to get noticed, sending in a pedigree chart with the blank spaces highlighted is often the best way to get your request noticed and receive a response."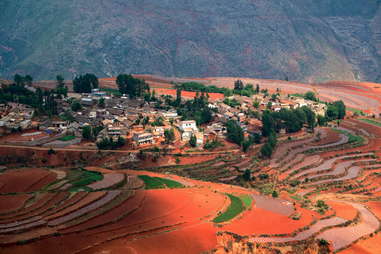 Tip 4: Be open, trusting, and prepared for the unexpected
Before I left for Europe, I booked three nights in Mezzolombardo, where my great-grandfather was born and raised. I envisioned a working vacation -- I would eat pasta, look for records about my ancestors, and write about whatever I found. I left my schedule blank so I could follow my investigation wherever it took me.
"My best advice I can give for visiting the Old Country is to shirk off the American conventions and expectations of timeliness and planning," says Rich Venezia, a professional genealogist who specializes in Italian research. "While, yes, planning in advance is good in terms of research and hotels, there's inevitably going to be a festa, or the church is closed for renovations, or sheep crossing the highway. If we visit the Old Country on an American schedule, we'll never be able to have the type of authentic experience that we crave."
I can't tell you how many people invited me into their homes... simply because they were glad someone was researching local families.
I arrived in Mezzolombardo on a crisp fall afternoon. I parked at my bed and breakfast, got out of the car, and slowly spun around in 360 degrees of visual overload. Imagine mountains shaped like a majestic, craggy horseshoe. Then imagine a river bisecting that horseshoe. Put vineyards on either side of the river, and then drop two old, old, old towns snug against the sides of the horseshoe. Mezzolombardo sits tucked against the south side.
I found the 167-year-old church in which my great-grandfather was baptized. (By coincidence, the church's name translates as St. Peter's. I live in St. Peters, Missouri.) I peeked into the church's baptistry and imagined a priest sticking his hand in holy water and rubbing it on my great-grandfather's soft head. I walked outside and onto the plaza in front of the church. If I was going to walk in the same place as my ancestors, this was the most likely spot.
My great-grandparents were turning into three-dimensional people for the first time.
After I left the church, I followed signs to the town cemetery, where a half-dozen people tended to gravesites. A man with black hair flecked with gray offered to help me. He told me his name was Mariano. Mariano understood just enough English for me to explain what I was doing.
I showed him a picture on my phone of the family gravestone. He seemed to recognize it. He walked me to a spot where it probably used to be. He said he thought it had been removed years ago because nobody had been taking care of it.
He told me to come with him and led me to his car. I kid you not, Taylor Swift was on the radio. You haven't lived until you've listened to Taylor Swift while leaving a cemetery in Italy with a man you met five minutes earlier.
My great-grandparents had a son born in Italy. I never knew he existed, either.
Experts tell me strangers often offer to help Americans who are doing research like I was. You need to make smart choices, of course, but this is the advice Venezia, who has spent months in Italy on research projects, offered: "Be open to new experiences and trusting of the people around you. I can't tell you how many people invited me into their homes, or took me out for a meal simply because they were glad someone was researching local families or visiting a town that usually goes un-touristed. I find Americans tend to be a bit less trusting, at least those of us here in the Northeast, and I think having that type of guard up could really lessen the experience -- or at least would cause someone to miss out on a wonderful opportunity."
The decision to go with Mariano, whom I eventually learned was a police officer, was the pivotal moment in this whole adventure. What followed was life-changing.
Tip 5: Hire a local researcher if you don't trust your own blind luck
Mariano drove to the church office. He parked, walked to the door and rang the bell. A white-haired priest opened the door. They spoke for 30 seconds, and he let us in. Mariano led me up a flight of stairs to the church's records office.
It was obvious he'd been there many times. He pulled out a book labeled "NATI Vol. XI, 1846-1862." He found the right page and ran his finger down the column. He stopped at "Giovanni Rigotti," my great-grandfather. There was something strangely intimate in the way the flowing script recorded him being the 32nd boy born in Mezzolombardo in 1861. The 33rd shocked me: Carlo Rigotti -- my great-grandfather's twin. Carlo died when they were 2. I'd never known he existed.
Mariano put the book back and grabbed another. It showed that my great-grandparents had a son born in Italy. I never knew he existed, either.
The boy wasn't on Census reports from Pennsylvania. I eventually found his name on a ship's registry in 1893. He must have died in Pennsylvania between then and 1900. My breath caught in my throat when I read his name on the ledger: Enrico -- the male version of my grandmother's original name of Enrica.
I thought about that long-ago teacher who had asked what kind of name is Enrica. Now I had an answer. It was a tribute to a lost brother.
Finding out my great-grandfather had lost a brother and a son left me stunned. My voice hitched as I tried to express my gratitude to Mariano. He just smiled, as if he helps Americans uncover family secrets every day. He told me to come to his office on Monday, two days later.
I knew I had gotten lucky to meet Mariano. I didn't know how lucky until I got home and interviewed genealogists. All of them said Americans should not show up unannounced at churches or City Halls and ask to see records. The people working there probably won't let you, and it hurts trained researchers' ability to get access to key documents.
The surest approach is to hire a researcher to help you. Think of it like hiring a fixer, except instead of getting tips about where to buy the best cappuccino, you learn about your family history. Says Hill: "It's also better to hire a person familiar with the particular geographic region because they will be familiar with dialect and local history, and if they are a professional they might be already known and have developed a relationship with various record holders."
Tip 6: They're your relatives, and they're gone. At some point, your heart will break.
Venezia once gave a TedX talk called "How to Grow Empathy From Uncovering Your Roots." That title captured exactly what the visit to the church office did to me.
As I walked from the church, I struggling to process how fast I'd learned of my relatives' sorrows. Before now, I had never mourned my great-grandparents' deaths. They were little more than names. Now they had taken on flesh. I was mourning their loss, plus the deaths of Carlo and Enrico. I was entirely unprepared for this grief.
After moving to America, my great-grandfather worked in a coal mine in Pennsylvania, lost his first-born son, and died of a heart attack at 47 -- the age I turn this year. That can't be the American dream he was chasing. It was worse for my great-grandmother. She was pregnant when my great-grandfather died. That baby -- her ninth that I know of, named John, after his father -- died three days before Christmas in 1910, still an infant.
I found myself wishing they had never left home. Which is an unsettling thought to take to its logical conclusion.
It would have crushed me to be alone in America with all that grief and seven other kids to raise, plus a house full of boarders to look after. She must have been so strong. She died at 54 or 55 (the month of her birth is unclear) in the Spanish Flu pandemic of 1918, one of 675,000 who succumbed in the United States.
I couldn't help but wonder if they regretted moving. Maybe Enrico would have lived. Baby John, too. I found myself wishing they had never left home. Which is an unsettling thought to take to its logical conclusion.
Tip 7: You're related to more people than you realize, so ask and ask and ask
On Monday I walked to the police station to see Mariano. His secretary smiled and called me, "Missouri" -- the state I live in. Little did I know that his meeting would lead to my encounter with Costantino, the distant relative I found on the little street.
Mariano had apparently spent Sunday still playing pro bono genealogist for me. He drew up a family tree for me in black Sharpie. He had discovered my great-grandmother's home region, a fact that so far had eluded me. It was Vallarsa -- and that word jumped off of his notes like a cannon blast. The Albergo Alpino -- the hotel I mentioned before, the hotel I had been obsessed with -- was in Vallarsa. I absolutely had to go.
I drove deep into the mountains, up and down, left and right until all sense of direction escaped me. I got lost once and had to stop twice to let my GPS catch up, until finally, I arrived at the Albergo Alpino.
I had been looking for it for months... imagined my arrival there endless times... and now here it was. I parked, quite literally, in its shadow. And it was closed. And there was nobody around. I felt like Clark Griswold at Walley World.
I milled around for hours and saw only three people. The first one told me he wasn't from there. The second looked like Sammy Hagar if Sammy Hagar had gray hair and was coming off a two-week bender. He just waved when I asked if he spoke English.
The third was Costantino.
I helped him unload firewood. We talked with growing excitement about the improbability of our meeting. He wasn't even supposed to be there -- he normally works Mondays, but he had taken the day off to load firewood. Through fits and starts, we eventually determined that his fifth great-grandfather is my sixth great-grandfather. Or something like that. What's a few "greats" between long-lost cousins?
As for the gray-haired Sammy Hagar, I'm related to him, too.
Tip 8: Every answer leads to more questions. It's a blast.
Costantino, his girlfriend Federica, and I drove from Camposilvano to his apartment in Rovereto. His walls feature a poster of Back to the Future (Ritorno Al Futuro) and a framed Italian newspaper that got the results of Brexit wrong -- "Dewey Defeats Truman" for the modern Euro age. We ate Pringles and compared life stories.
We are both one of four sons, no sisters. He is the youngest, I'm second-oldest. He works with his dad in construction. In high school and college, I worked with my dad in construction. You know those metal fences that you see along mountain highways that catch rocks? His company, Rigon Costruzioni, installs those. Costantino showed me photos that he took while he and his brothers were hanging off of cliffs high above the Mediterranean Sea. Buncha badasses, my cousins.
Later, when I posted a picture of us on Facebook, some of my relatives said they thought Costantino looked like the brother who is two years younger than me. In the pictures, yes. In person, I didn't notice.
He went to his bedroom and came back with a gift: A T-shirt from an annual festival at Camposilvano. The logo on the breast is mountains drawn by his late mother. More of her artwork hangs in his living room.
Costantino and Federica took me to their favorite restaurant and refused to let me pay. I soaked bread in olive oil and devoured it. I asked him to suggest the most authentic dish on the menu, which he did. He ordered pizza and offered me some. Too soon it was time for me to leave. As we said our goodbyes and vowed to keep in touch, Federica ran into their apartment and returned with a bottle of olive oil for me to take home. I've been savoring it, one piece of bread at a time, since then.
What started as simple curiosity turned into a life-changing experience I'll tell and re-tell for the rest of my life. So will Costantino. He was as excited about all of this as I was. We text or email or interact on Facebook at least once a week. I hope to go back to Italy soon-- I've still got my heart set on a certain hotel stay.
Sign up here for our daily Thrillist email and subscribe here for our YouTube channel to get your fix of the best in food/drink/fun.
Matt Crossman has written more than 40 cover stories for national magazines. Read more of his work at mattcrossman.com and follow him on Twitter at @MattCrossman_.