6 Places Around the World to See Fireflies Illuminate the Night Sky
The magical spectacle is one you won't want to miss.
Every summer, fireflies around the world flicker their abdomens in search of love. Synchronous fireflies, as they are called, coordinate a unique flash pattern in order to attract a mate, resulting in a magical show of twinkling orbs. This week, one of the most dramatic light displays will occur at Great Smoky Mountains National Park, but it won't be the only firefly fest taking place this season. These brilliant, bioluminescent bugs are synchronizing everywhere, from Mexico to Southeast Asia. And, believe it or not, they're selling out like Beyonce—so be sure to book tickets in advance. Here are the best places around the world to watch the little guys beam.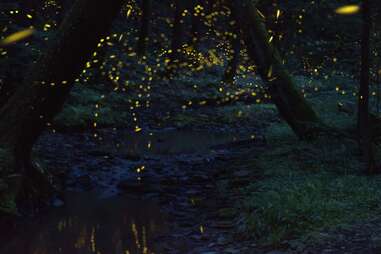 Dates: June 30 & July 1
While the firefly show at Great Smoky Mountains National Park is certainly the most popular in the US, there's another festival going on about two hours north of Pittsburgh, in Kellettville, Pennsylvania. Catch the 2023 PA Firefly Festival Nights on June 30 and July 1. In addition to watching the flashy mating dance, you'll be able to enjoy live music, nature exhibits, and presentations from firefly experts. Tickets are released through a—dare we say—competitive lottery system. If you're not lucky enough to snag some, check out these other firefly events happening across the state.
Dates: Year-round
In the Selangor district of Malaysia, you can take a ride on a sampan, or traditional wooden canoe, on the Selangor River to witness one of the largest firefly colonies in the world. The bright insects here depend on the sap of Berembang trees—a type of mangrove that grows in humid, swampy environments—for food. And since the boat is not motorized, you can get as close to the scene as possible, without disturbing the natural habitat.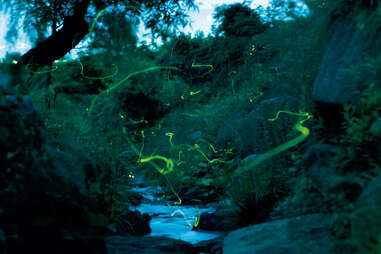 Dates: June 10-July 9
In Japan, fireflies, or hotaru, symbolize everything from fallen soldiers to romantic passion. Bask in the presence of these bright beauties during the Minakami Firefly Festival, which takes place during the high season at Tsukiyono Firefly Village and lasts from mid-June to mid-July. This festival involves a two-kilometer trail, so you can enjoy an hour-long, fairy tale-esque walk along the fireflies' stomping grounds. Best of all? It's free.
Dates: Year-round
Cruise among the mangroves and coconut trees of the Donsol River, located within the Sorsogon province of the Philippines. In addition to seeing clusters of fireflies light up like a Christmas tree, you might also be greeted by glowing plankton. Tours are offered year-round, though visibility is best when the moon is hidden.
Dates: June 10 - August 14
In the forest of Nanacamilpa, right outside of Mexico City, millions of fireflies come out to play during the region's rainy season, which runs from mid-June to mid-August. Thanks to this firefly spectacle, Nanacamilpa has seen a rise in tourism in recent years, which is motivating residents to focus on conservation rather than deforestation.
Dates: May-June
Purushwadi, a small village located about four hours away from Mumbai, is famous for its annual firefly festival, which takes place just before the monsoon season, from the third week of May until the third week of June. Consider making a camping trip out of it and laze around nearby rivers while snacking on in-season mangoes.