Earlier this summer, Qatar Airways grabbed headlines when it announced that it was doing away with first class seating on long haul flights. The news was rather unexpected, given that the carrier has built its identity around an ultra-luxe product in the sky; it's often ranked as one of the best airlines in the world. But the company's CEO acknowledged that the massive footprint of first class seating simply doesn't efficiently maximize revenue.
Most US carriers, for their part, had already abandoned first class seating over the previous decade. American Airlines is the last domestic provider offering first class on international flights, and it plans to phase those seats out at some point in 2024. So, what gives? Is first class… dead?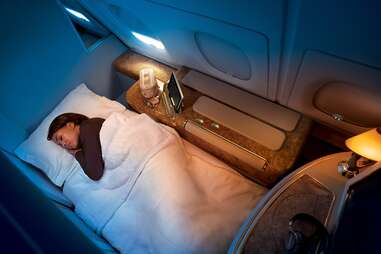 The modern calculus of commercial aviation points to yes, as airline execs seem determined to cram as many passengers on each plane as possible. JetBlue recently retrofit its Airbus A320s, bumping up the total number of seats from 150 to 162. American Airlines followed similar measures shortly thereafter. Don't even get us started on Spirit, where the combination of paper-thin seat backs and an inability to recline from an impossibly upright position makes passengers feel packed like sardines in a can. And if Ryanair had its way, you wouldn't even have seats at all: in 2012 the airline's chief unveiled plans for "standing berths" on its fleet of Boeing 737s.
It's not like anyone is going to confuse these carriers with prestige airlines such as Qatar, Emirates, or Singapore Airlines. Nevertheless, it's indicative of a prevailing trend in the industry: that, when it comes to revenue, more is more. Then again, before you consider cushy first class seats dead and buried, take a moment to consider business class.
While first class has certainly been on the decline, business class has taken off. This particular cabin of service was revolutionized in 2000 when British Airways introduced the first convertible lie-flat seat, affording business passengers access to a bed in the sky. A spate of airlines followed suit and many began rebranding their first class product as "business" solely because corporate travel accounts often allowed employees to purchase fares in the latter but not the former.
"In the eyes of most passengers today, the difference between first and business class is in name only," according to Ben Mutzabaugh, senior aviation editor at The Points Guy. "Especially on long international flights, most of these cabins have seats that convert into lie-flat beds—some with sliding doors that turn the passengers' space into a private pod. Whether you call it 'first' or 'business,' passengers on most big airlines will find these seats pretty posh."
Currently there are only a handful of carriers maintaining both first and business class on long international routes. Among them are Lufthansa, British Airways, Qantas and Air France. "Today first class is really more of a niche product aimed at the super rich—or frequent-flyers rich with airline miles or points—who are seeking a truly luxurious experience," explains Mutzabaugh. To wit, airlines such as Singapore and Emirates, which boast a fleet of double-decker A380 jumbo jets, allocate space for their first class clientele to enjoy what is essentially a small apartment, complete with king-sized beds and showers. But Airbus has all but discontinued the A380 and there's simply no room for these sort of shenanigans inside a single deck fuselage.
As for domestic carriers such as United, business class has pretty much leapfrogged first to become the premier product in the sky. "United's domestic first class offers spacious seating in which travelers can stretch out in premium seats," says Remy Milburn, a spokesperson for the airline. This amounts to plush La-Z-Boy-style seats with a slightly greater recline than you'll encounter in economy. By comparison, in United's business class (known as Polaris), passengers can look forward to semi-private pods with lie-flat seats and luxury bedding. And while that configuration is more regularly found on international flights, cross-country flights between major hubs such as New York and Los Angeles or Boston and San Francisco often feature the Polaris cabins in place of first class seats.
"United First and United Polaris Business Class are two separate United offerings," adds Milburn. "There are currently no plans to phase out one or the other."
"Today, business class is typically as good—if not better—than what we would have thought as first class a decade ago," Mutzabaugh confirms.
So, no, first class is not dead. It's merely undergone a rebrand. And it remains, on average, about four to five times the cost of the same flight ticketed in coach. As such, whatever name the airline chooses to call its premier cabin, most passengers are going to continue calling it the same thing: overpriced.