A First Timer's Guide to a Vanlife Road Trip
Thinking about embracing #vanlife? Take some advice from someone who's done it.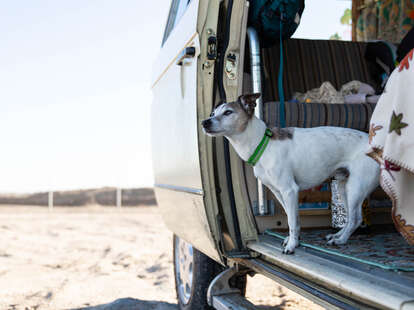 Buckle up and enjoy the ride.

| Photo courtesy of Outdoorsy
Buckle up and enjoy the ride.

| Photo courtesy of Outdoorsy
Fasten your seatbelt and adjust your mirrors—this is Rerouting, your one-stop-shop for mapping out the ultimate summer road trip, no matter what gets your engine going. Cruise over to the rest of our coverage for pit stops at offbeat roadside attractions, sweeping desert panoramas, epic mountaintop vistas, oceanfront oyster bars, dynamic public art, and so much more.
I hadn't washed my hair in five days. I did the math while squatting for a morning pee next to Suerta, the rented camper van I had just driven 1,068 miles through the wilds of Arizona. I felt dirty, bloated, exhausted, and utterly fulfilled.
On a reunion adventure with my best friend, Erin, I captained a camper van for the first time ever—relying on side mirrors, the slow lane, and small miracles to get us from Phoenix to the Grand Canyon, to Sedona and Saguaro, and back again.
If you love road trips and the great outdoors, I highly suggest jumping on the camper van bandwagon. While I wasn't quite ready to sell all my belongings and actually live in a van, I was jazzed to spend five days exploring the desert in one. Suerta was a trusty companion, though for a first-timer, her husky size took some getting used to.
Here's everything I learned during my first-time foray into vanlife.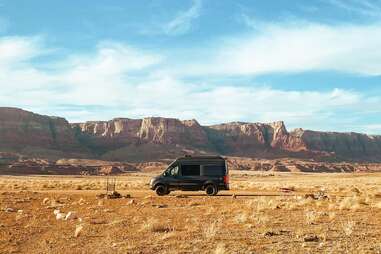 Securing your home-on-wheels
Getting into the camper was easy. I hopped on the site Outdoorsy—basically an Airbnb for camper vans, RVs, and trailers. Using the handy-dandy filter tool, I found a slew of vans to choose from, each with their own personality.
I was immediately drawn to Suerta's spunky interior—she had me at the purple string lights and the mural adorning the long interior wall. She came equipped with a small stovetop burner, plates and cups, storage, and even a blackout curtain by the front windshield for privacy. As a bonus, her name meant "lucky," and I figured I'd take what I could get. Suerta's owner met us at the airport to give us a rundown of the van's inner workings, quirks, and even some solid suggestions of where to go. Just like with Airbnb, the amenities and overall experience with Outdoorsy will differ from van to van, but if you're stumped, there are plenty of other rental outfitters out there. LA-based Texino, for example, rents tricked-out Mercedes vans that come stocked with kitchens, camping gear, linens, and other creature comforts.
Climbing into the driver's seat
At first, I was dead set on renting a vintage trailer, like a cute Airstream or scamp. "Just think of the photos!" I told myself. "But you've never towed one!" I argued back.
They look cool on Instagram, but unless you've manned a ginormous RV or mastered a trailer's weird turning radius, it's probably wise to steer clear of those vehicles. A small camper van is not only easier to maneuver, it also allows you to get off the beaten path, all while rocking some pretty impressive gas mileage. You can cram all your stuff in there, and still park comfortably in most lots.
Still, camper vans are top-heavy and can be a challenge to drive for first-timers. I'll admit that I skirted over no less than seven curbs as I gained my van-legs thanks to Suerta's affinity for wide turns. The driver's seat was perched unbelievably high (which was cool) and the rearview mirror was basically useless (not cool). I was pleasantly surprised that Suerta was able to keep up with traffic on the busy highways leading out of Phoenix; she had some pep in her step. That is, unless any elevation change was involved. She did not like going up or coming down any sort of hill. Same, girl, same.
I shut the van's back end doors with a satisfied "we bought everything we needed and now we'll be on our way" type of slam. Food and adult beverages filled the fridge and cabinets. If we went off-grid, we'd be all set. Suerta was locked and loaded.
"Oh my God. We forgot the water. And we're IN THE DESERT," I exclaimed to Erin, my best friend of 26 years and fellow van-venturer.
Rule number one: Don't forget water, especially in the desert.
Water also becomes crucial for "bathing" once you have dirt rings on your legs from days of hiking and sweating in the rampant heat. (I also committed a camper van sin when I forgot to pack deodorant. Yikes). Suerta didn't have a true shower, but she did come with a couple of options. The first was a solar water bag that poured sun-warmed water out of a spout when hung from a tree branch or the van door. The second was a big water jug with a pump and shower head that required a bit more dexterity.
Other packing essentials included a headlamp and camp chairs (or hammocks). Wine with a screw cap is far better than wine with no screw cap and no bottle opener. Also, after eating half my weight in hot dogs and ramen, I highly suggest bringing a variety of meal options.
Rule number two? Don't eat hotdogs four days in a row. Trust me.
To flush or not to flush?
When choosing our camper van, I knew I didn't want to deal with emptying waste. I purposely picked a van with no toilet, for both the grossness and size factor (toilets take up a lot of otherwise useful space).
I definitely second-guessed this decision in the pitch-black of our first night in Kaibab National Forest, when the thought of mountain lions lurking nearby induced major pee fright. But, that's what headlamps, flashlights, and friends are for: scanning for man-eating beasts while you cop a squat.
Pooping posed a different set of tactics. When possible, we utilized gas stations or rest areas en route to our next destination. If nature called and we couldn't put it on hold, we had to channel our inner savage and employ the "200 feet away from the campsite" rule. If you can't go in the wild, or if you're planning to travel for an extended period of time, consider choosing a van with a toilet, or book a campsite with facilities.
Turning your house into a home (so to speak)
We didn't pay for one single campsite throughout the entire trip. The trick is to take advantage of BLM land (Bureau of Land Management), where you can snag free, dispersed campsites away from the crowds. All you have to do is download a map of forest lands detailing appropriate campsites.
Another solid option is HipCamp, where you can book campsites on private farm or ranch land, hosted by the owner. In some cases, you can even set up at a brewery or winery to enjoy some booze with your views.
Speaking of views, strategize where and how you park your van in order to create the ideal campsite vibe. I liked to sidle Suerta right up to the best vista vantage point, with the big sliding door opening to reveal incredible sunsets.
Leave plenty of time in the itinerary to just sit back and enjoy being where you are. If you're the active type, picking a campsite that has hiking, fishing, or kayaking nearby will help maximize your time. No matter what, be prepared to roll with the vanlife punches. Have a couple of back up plans for other campsites or activities when the unexpected inevitably strikes.
And, as always with road trips, an offline map downloaded to your phone is a smart safety net in case you lose cell service.
Pulling into the fast lane
Despite the ungraceful dance of sharing a tiny space and never remembering which cushion the pots and pans were stored under, Erin and I eventually got into the swing of things. We sipped coffee out of deliciously tacky cactus mugs in picturesque locations, gawked at the dusk and dawn light in the Arizona sky, explored uncharted paths, and toasted to happy hour against the backdrop of the Vermillion Cliffs. Washing dishes was even enjoyable, especially while overlooking an impossibly beautiful landscape.
In our forest land post outside of Sedona, we marveled so hard at the display of stars above us, I'm pretty sure I drooled. As if it couldn't get any better, we awoke to hot air balloons floating atop the red rocks in the early morning light.
Rule number three: Wake up for every sunrise possible.
Lauren Breedlove
is a freelance writer, travel photographer, and the girl behind
girlwanderlist.com
, a list-based travel blog where she keeps it real on the regular. She thrives on random adventures, offbeat destinations, and grilled cheese. Follow all her travel exploits on Instagram,
@girlwanderlist
.