Flight Attendants Share Their Most Awkward Passenger Pick-Up Stories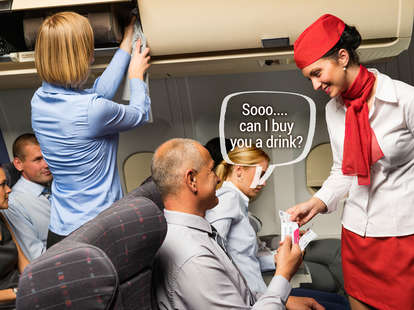 There has always been something sexy about flight attendants. Yes, it's usually the uniform. But there's also an inherent allure about a person who flies from city to city without (seemingly) much attachment to anything back home. And while that stereotype isn't really true, it's led dudes (and ladies alike) to try everything in the book to win over a fly attendant's affections before the plane touches down.
Since unwanted come-ons top the list of things that infuriate your FA, we thought it'd be fun to ask a bunch of them to share the most appalling, awkward, corny, and occasionally effective things people have said or done to try to pick them up. This is what they told us.
Oh boy, the one-liners...
"One guy asked, 'Why stay in a hotel room on your layover when I have a 10,000sqft house with a hot tub and a shower built for two?'"
"Had a first-class passenger ask to take me to dinner while he was in Atlanta for rehab... at that point I cut him off."
"I asked a passenger if he needed sugar for his coffee, and he said: 'You can just stir it with your finger!'"
"A guy had his tray table down before departure, so I asked him to put it up for takeoff. He said, 'Yeah, actually I just had it down so you'd stop and say something to me. I need your name and number before I get off this plane.'"
"I'm 5'10" and once had [this exchange with] a very nice Caucasian man while I was pouring his coffee:
Me: Cream or sugar, sir?
Him: No, thank you. I like my coffee like I like my women... tall and black."
Oh yea, it gets worse...
"I had a gentleman old enough to be my father ask me out. As it happened, my mother was also on the flight so, in a joking way, I told him that he needed to get her permission. To my surprise, he was serious and went to talk to her! She told him that it was up to me although later wrote him a note saying, 'You're too senior.'"
"A first-class passenger on his way off blocks everyone from leaving the plane in order to give me his business card and tell me how beautiful I am and that he really wants to take me out. He said he wouldn't leave until I give him my number... so I gave him a fake to get him out of the way."
"I went out with a passenger once after exchanging numbers on the flight, but he was such a jerk, I left in the middle of dinner while he was in the restroom. He still texts me once in awhile calling himself (my airline's) elite flier and requesting a date because he's a VIP."
From the boys…
"There was a passenger I could see who was pretty clearly on Grindr one flight when his phone was supposed to be off. So I went on, matched with him, and told him he needs to switch his cell phone to airplane mode."
"I had a passenger chatting it up in the back galley with me while half the crew was on rest. She was saying how handsome I was and asked if I was into older women. After telling her she was barking up the wrong tree, she told me she was on her way to Dublin to cheat on her husband with a guy she met online!"
Success...
"One guy told me he wanted to take me out on his new canoe, so when I laid over in Palm Beach we went out on... his huge yacht!"
"Back in the day, men would simply give us their business cards. My girlfriends and I would throw them all in a bowl, drink some wine, pull out a random card and give [the guy] a call."
"On Lufthansa back in the '70s, we wore these super short dresses. One flight, this guy sat across from me on a 747 and just stared at my legs. He was so handsome, though, I got cheese and a small champagne bottle from first class and treated him. We got married a year later on a six-day Philly layover."
Sign up here for our daily Thrillist email, and get your fix of the best in food/drink/fun.
Matt Meltzer is a staff writer for Thrillist who always brings chocolates for FAs. It has never worked. Follow him on Instagram @meltrez1.